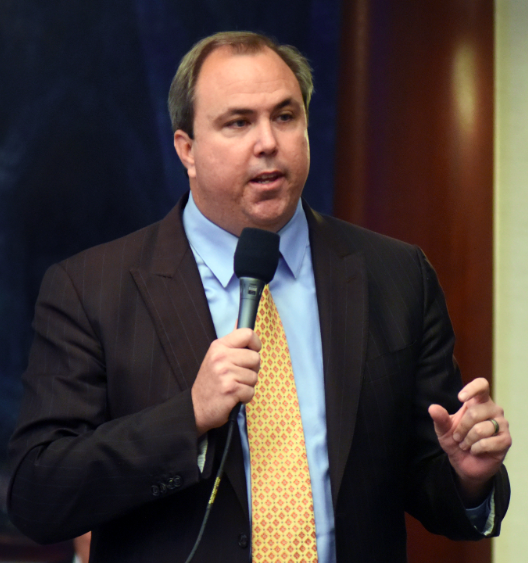 Democrats voiced concerns bill will hurt law-abiding immigrants.
A day after Florida Democrats decried a ban on so-called sanctuary cities, state Sen. Joe Gruters' legislation advanced in the Florida Senate.
In a hearing that at several points devolved into angry rhetoric about federal immigration policy, Gruters, a Sarasota Republican, stressed that his bill will simply require cooperation among enforcement agencies.
"This is about criminal illegal aliens," Gruters said. "This helps law-abiding American citizens and illegal immigrant families trying to feed their family as well."
The Senate Infrastructure and Security Committee advanced the bill (SB 168) on a party line vote.
Florida Democratic Party chair Terrie Rizzo immediately issued a statement slamming the vote.
"SB 168 is a Trumpian attack on the diversity and inclusiveness that has made Florida great," she said.
"This bill uses fear, hate, and lies to divide our state — and will make Florida less safe. By demagogically attacking sanctuary cities — which don't even exist in Florida — Republicans are endangering the safety of both immigrant and non-immigrant families in our state."
In the committee hearing, state Sen. Annette Taddeo, a Miami Democrat, said she worried the bill will make witnesses to crimes fear working with law enforcement.
Under the bill, she said the definition of a criminal would be "having a deportation order."
Gruters said only individuals who have past serious crimes would likely have such orders. That means, for example, someone stopped with a bad taillight need only fear a stop if 15 years ago they got deported after stealing a car.
Taddeo initially pushed for amendments to protect witnesses to crimes and to those stopped by law enforcement at school facilities. But Gruters agreed to speak with Taddeo about potential changes at a later date instead.
Meanwhile, state Sen. Travis Hutson, a Republican, said he feared provisions granting such protections will lead to abuse of the law.
"Unless there is an intent to shield people from prosecution from the law for a crime they committed, you may need to find a better way to draft this," she said.
State Sen. Janet Cruz, a Tampa Democrat, said she thought the bill would threaten constitutional rights of undocumented residents in Florida. She stressed the Supreme Court has ruled those individuals remain entitled to due process.
Discussion of the bill incited anger on both sides of the issue. Robin Williams, a Sarasota County resident, said the bill abandoned America's history as a nation of immigrants. A Jewish American with family killed in Auschwitz, she said the legislation repeated mistakes of the past.
"It's our moral duty to provide sanctuary to refugees," she said, before ultimately being escorted away from the dais by security.
On the flip side, Robert Windham of E-Verify Now said illegal immigrants murder 400 Floridians a day.
"The carnage has to stop," he said. "That does not count the many Floridians killed on our roads. Those families are permanently separated from their families."
Gruters stressed repeatedly the bill doesn't set immigration rules; that's the jurisdiction of federal lawmakers in Congress.
But it does say Florida's jails and corrections facilities must cooperate with Immigration and Customs Enforcement, not release people despite detainers or refuse to inform federal officials when individuals get arrested.
"This bill is about rule of law," Gruters said.