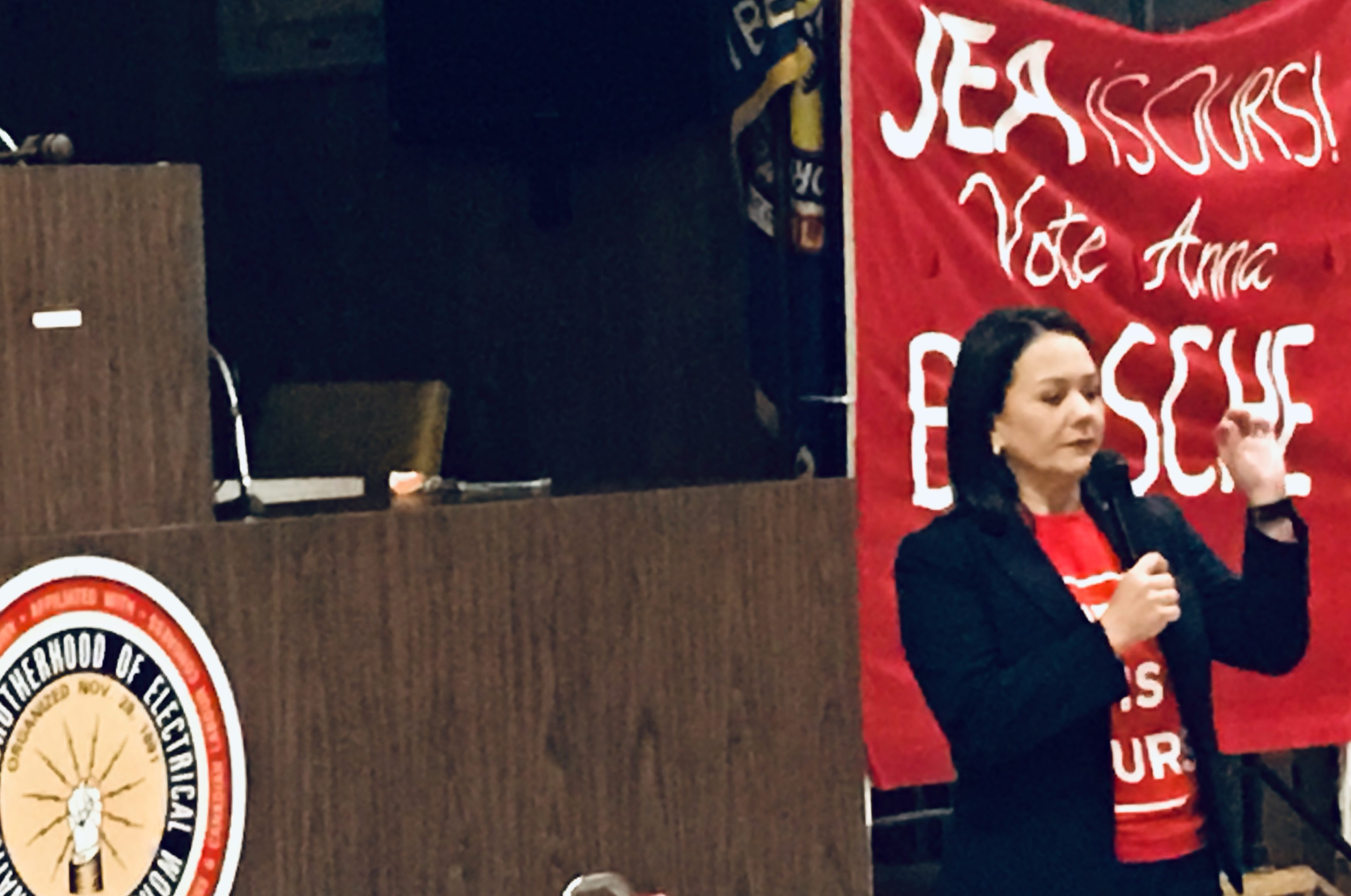 "This has been a plan since before he got elected."
Republican Anna Brosche was Jacksonville City Council President 13 months ago when she exercised a parliamentary prerogative that shocked local political observers.
And, in retrospect, launched the current mayoral campaign.
At a special meeting of the Council called over the then-President's objections, Brosche refused to allow fellow Republican Mayor Lenny Curry to speak.
Curry was interested in a "mature conversation" about the "market value" of local utility JEA. Brosche went to the press and detailed what she depicted as a full-spectrum pressure campaign to privatize JEA.
The administration had been able to count on Brosche before; earlier in her term, she had shut down Council members squawking about the environmental impact of dredging of the St. Johns River.
But by that point, six months into her Presidency, Curry and his inner circle openly mocked and derided Brosche. She had not been helpful on certain issues, including children's program reforms.
While Curry says he's not interested in selling the utility, Brosche doubts his sincerity.
And at a town hall on the subject Brosche held with the supportive Central Labor Council Thursday night, roughly 100 people who agreed (many JEA employees) showed up to back her.
Brosche was thumped in the fundraising battle, and Curry has over a million dollars on hand at last check, roughly 10 times what Brosche has. Polls show Curry with over 50 percent support; barring a collapse, the election is over Tuesday at 7:01 p.m.
However, as she has for the over two months since qualifying, Brosche pushed through, making familiar remarks to familiar faces at the IBEW Hall, where local Democrats meet monthly.
"I would replace all of Curry's yes people," Brosche said regarding the JEA and Kids Hope Alliance. "We have too much power in a Mayor who may have an agenda."
"There are only 19 people who can introduce legislation," Brosche said. "There are so many ways a sale can move forward."
"I absolutely believe it would be back on the table," Brosche said. "This has been a plan since before he got elected."
Brosche vowed to keep the utility local, noting advantages for local control.
But the current CEO is a non-starter for her, a "five-figure donor" as she described it.
If elected, Brosche vowed not to have "secret meetings" at the JEA tower with sale proponents.
"To come back later and say they had nothing to do with [the sale] was really unbelievable," Brosche said.
"There is a concern … from Tallahassee, other places … folks in the community hearing those rumblings," Brosche asserted. "You can't help but wonder what's happening behind closed doors now."
The candidate also reassured the audience that she was not fazed by the rough and tumble political scene in Jacksonville, even as many Council members fall prey to "pressure" from a "bullying, vindictive Mayor."
"As you can tell, I don't take things personally. I have a really thick skin," Brosche said.
Mayor Curry entered March with over a million dollars on hand and leads of over 30 points in polls against Brosche, Republican Jimmy Hill, and independent Omega Allen.
He is polling above 50 percent in public polls, and he will need to maintain that threshold to win outright on Tuesday.
Brosche has been hampered by over two months of negative advertising funded by Curry's political committee, and the binary race that analysts expected months back has morphed into a group of challengers just trying to force a runoff.