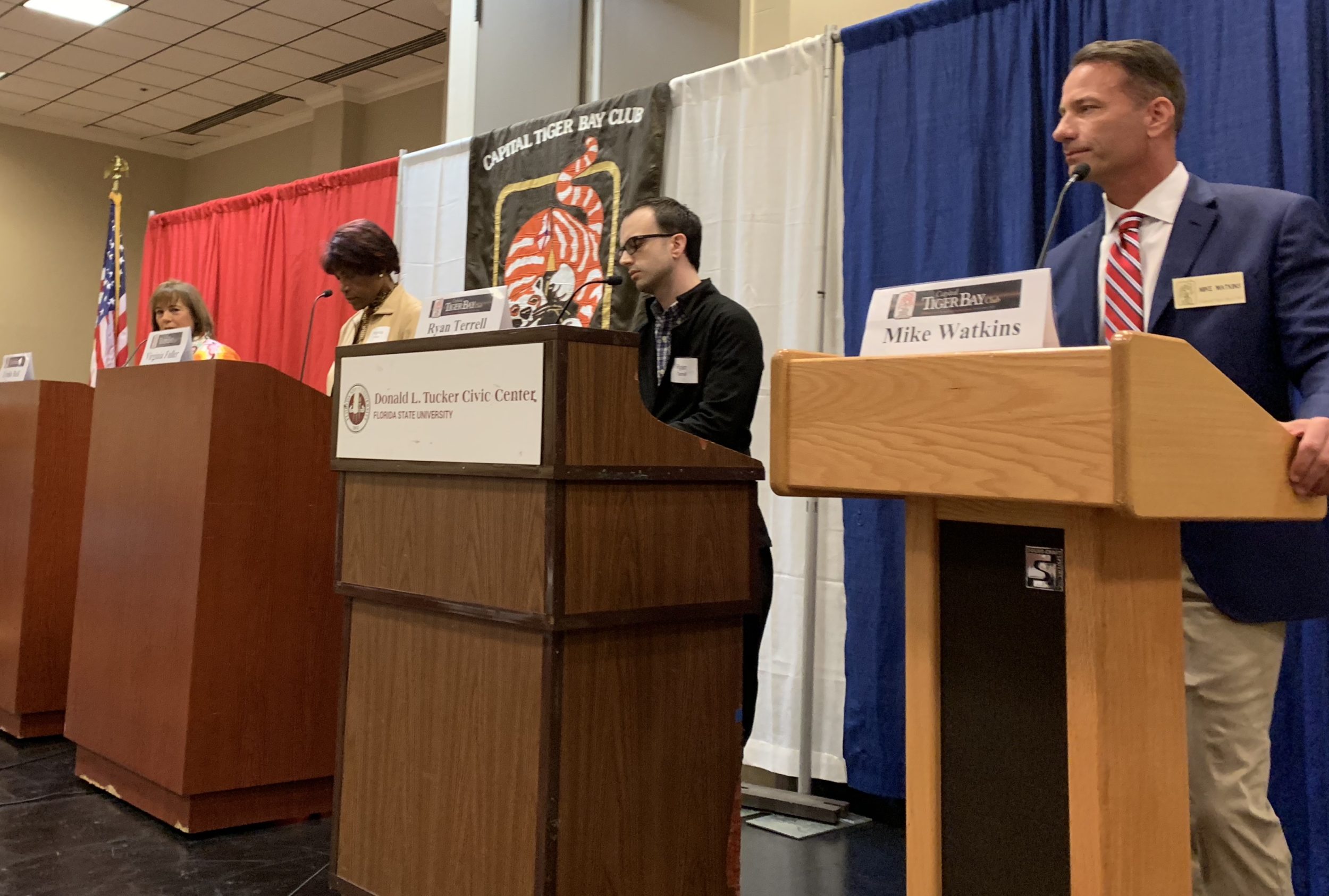 Candidates told a "tale of two recoveries."
There's plenty of discord in the crowded race to replace former state Rep. Halsey Beshears. But there's also harmony.
Four candidates for House District 7 engaged in a tame discussion on Friday at the Capital City Tiger Bay Club in Tallahassee. Early voting for the April 9 GOP primary begins Saturday.
The district stretches across the Big Bend area, spanning from Port St. Joe to Mayo. The territory almost brushes up against Mexico Beach, where the near-Category 5 Hurricane Michael made landfall on Oct. 10.
"We don't have representation," said Ryan Terrell, the Democrat who will compete against whoever emerges from the four-way GOP race. "We don't have a vote in the Legislature right now."
Three competing Republicans — Mike Watkins, Lynda Bell and Virginia Fuller — agreed: The storm-battered area needs help. (Jason Shoaf, another Republican, did not attend because of a funeral.)
Watkins, the CEO of Big Bend Community Based Care, contrasted the east and west portions of the sprawling district that covers or touches 10 counties.
"There's really no remote comparison between the two sides of the district," Watkins said. "So far apart."
Watkins said he met a voter west who had lived in a now-condemned trailer.
"The ability to actually procure and get the dollars in place to buy a new trailer … is her big challenge," Watkins said.
Bell, the town manager for a locale just north of the district's territory, commended the state and federal response to the hurricane. But she added that there is usually "room for improvement" and that sometimes things "lag" in months after a disaster.
Fuller, who last year waged an unsuccessful GOP bid against nearby Democratic U.S. Rep. Al Lawson, said that she's met voters on the campaign who live in "homes that are not safe."
Fuller also suggested there's an imbalance in relief.
"Those that have clout, those that have connections always get attended (to) first," Fuller said.
Terrell said there's a "tale of two recoveries."
The insured and well-connected have been able to recover, Terrell said, but relief is inadequate for inland communities, rural areas and "people who don't have insurance."
The discussion pivoted to politics, with candidates talking issues relevant to the Legislature.
The Republicans all said they opposed last year's gun-control measure passed by the Republican-led Legislature and signed into law by then-Gov. Rick Scott, now a Republican U.S. Senator.
The law among other things bumped the gun-purchasing age to 21, up from 18.
Watkins took the time to also dismiss the idea of an assault-weapons ban, something Democrats in the Legislature have pushed for in the past and proposed this Session. 
"If Sen. Bill Montford had an AR-15, would anybody in this room have a concern?" Watkins asked, referencing the well-respected Democratic lawmaker from Tallahassee. "I don't think so."
A Tiger Bay straw poll put Watkins at the top at 40 votes. Terrell came in second with 24 votes, followed by Shoaf (11), Bell (7) and Fuller (6).