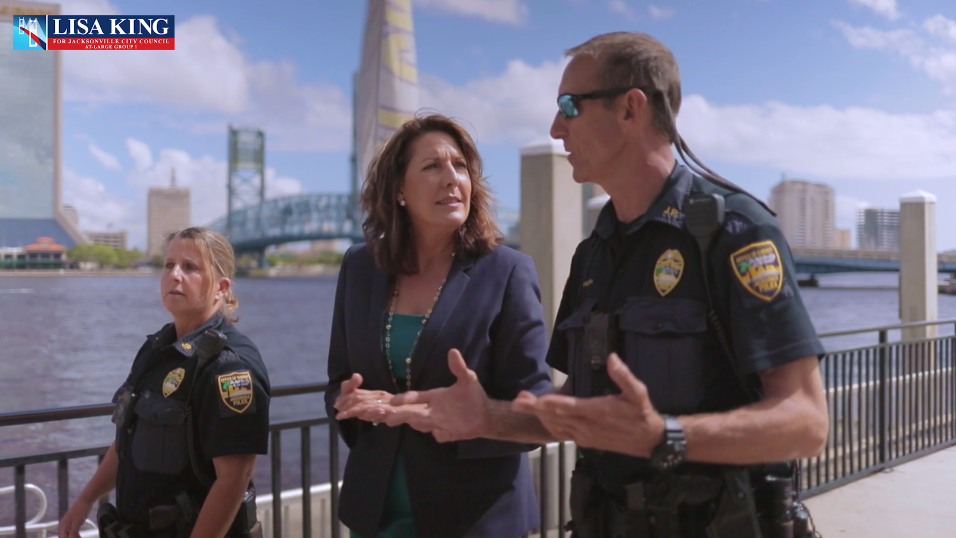 Some candidates rake it in; others self-fund as they can.
With three weeks until Jacksonville run-off elections, the campaign finance narrative continues to clarify for the five remaining City Council races.
Reports were due Apr. 19, representing money raised from Apr. 6 through Apr. 12.
Early voting begins Apr. 29. Election Day is May 14.
—
At Large Group 1: Republican Terrance Freeman continued to build his cash on hand lead over former local Democratic Party chair Lisa King, even as King actually outraised him in the most recent week of fundraising.
Freeman, who raised $8,400 from various scions of the local political establishment, has roughly $50,000 on hand between his campaign account and his state-level political committee.
King raised $9,395 during the same period, including money from the Realtors PAC, former Duval County School Board Chair Paula Wright, and Delores Barr Weaver.
However, she spent over $11,000 in the same period, the bulk of the allocation for costs for a mailpiece.
King had roughly $17,000 on hand as of Apr. 12, but she was nonetheless able to roll out a television ad starting Mon. Apr. 22.
When asked about specifics on the buy, the campaign said it was "substantial" and would be on the air through Election Day.
Other sources say it's a 150 point buy on broadcast, with roughly $13,000 committed spend so far.
Those sources say Freeman will have a television buy also.
King, endorsed by the local police and fire unions, vows to "put more police on the streets" and improve after school programs if elected.
The negative ads have yet to fly in this race, but Freeman is a Lenny Curry candidate, so they're coming for King soon.
—
At Large Group 3: No drama here, as incumbent Democrat Tommy Hazouri seeks to close out against resource-challenged Republican Greg Rachal.
Hazouri, a former Democrat Mayor who has been embraced by Republican elected officials in what he calls a "last hurrah" campaign, raised over $16,000 in the most recent week of fundraising to push him over $68,000 in hard money.
Among Hazouri's donors: TECO Energy, developer Michael Munz, and the consulting company of Susie Wiles.
Hazouri also added another $25,000 to his political committee: the big donor there was Tom Petway, who routed $15,000 to the account via three different sources.
The political committee has over $23,000 on hand.
Rachal has struggled with fundraising the entire campaign. He loaned his campaign $7,000 of the $8,612 raised in the most recent week of fundraising. He has just over $10,000 on hand.
—
District 14: Of the three district races, the battle between Democrat Sunny Gettinger and Republican Randy DeFoor  is the only interparty battle.
DeFoor, who secured 40 percent of the vote in a four-way March race, is the favorite of the Lenny Curry machine. And the favorite, at least in the most recent week, of donors, as she brought in over $24,000 in hard money during that period.
Among the donors of note: former Gov. Bob Martinez, Mike Hightower, Councilman Bill Gulliford, and a political committee associated with state Rep. Wyman Duggan.
DeFoor has nearly $72,000 in hard money on hand, and an additional $1,800 in a state-level political committee.
Gettinger, who has kept pace financially for most of this campaign, now finds herself in a closing sprint against the Mayor's machine.
The Democrat raised under $8,000 in the week, giving her just under $65,000 on hand.
Gettinger has at least one fundraiser slated for this week: helming the host committee for the event are former mayoral candidate Audrey Moran, a Republican, and former state House candidate Tracye Polson, a Democrat.
Gettinger draws on similar types of support as candidates like Lisa King and former mayoral candidate Anna Brosche: people who look at things a bit differently than the donor class whose priorities are closely reflected in city policy.
—
District 8: Democrat Ju'Coby Pittman, appointed to fill an unexpired term last year by Gov. Rick Scott, continued to press her resource advantage in the most recent week of fundraising.
The Republican political establishment is dealt in.
The incumbent raised $8,665 in the week ending Apr. 12, with Tom Petway coming through, as well as former Jacksonville Jaguars' owner Wayne Weaver and developer Peter Rummell.
Pittman has over $30,000 in hard money, giving her a sizable advantage over Democratic challenger Tameka Gaines Holly.
Holly, who has just over $5,000 on hand, loaned her campaign $3,619 in the last week.
The downtown money is staying away from Holly at this point in the race, clearly indicating a Pittman preference.
—
District 10: The money race here is deceptive, as this race is Democrat Brenda Priestly-Jackson's to lose.
The former Duval County School Board chair almost won outright in March, getting nearly 45 percent of the vote in a crowded field.
So while she raised just $3,000 in the week, and has just $5,000 on hand, it won't matter as much in what is a grassroots-driven district.
Opponent Celestine Mills, also a Democrat, raised $1,171 with $1,000 of that coming from the local police union.
Though she has over $6,000 on hand, she has not run a particularly engaged runoff campaign thus far.