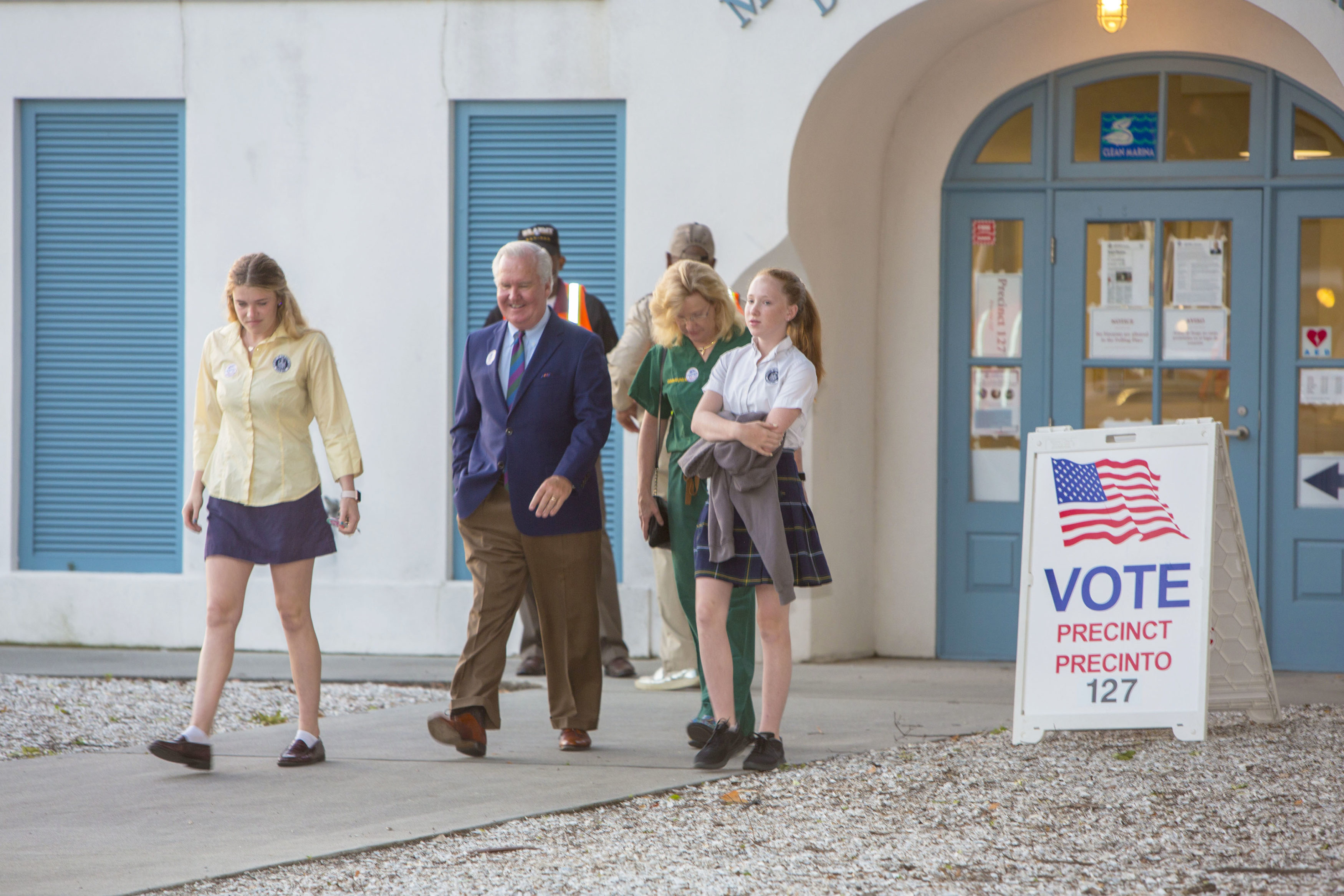 "The Straz campaign has been like watching a dumpster fire."
As polls opened early Tuesday morning, Tampa Mayor Bob Buckhorn cast a ballot for Jane Castor to be his successor as Mayor.
It's the last ballot he'll cast as Mayor.
While the day is bittersweet for a Mayor who claims no one will ever love the job as much as he does, it was also an extra-special day for Buckhorn. It's the first time his eldest daughter, Grace Buckhorn, has ever voted. She turned 18 last week and this was her first eligible election.
Grace Buckhorn voted for Castor, too.
She joined her dad along with her mom and younger sister at the Marjorie Park Marina polling place on Davis Islands, where the Buckhorn family lives.
The last time Buckhorn voted he was mum on who he supported. This time he enthusiastically offered his support for Castor.
Buckhorn endorsed Castor the day after the March 5 Municipal Election. He's been critical of the Straz campaign, but after casting his vote Buckhorn's tone shifted from critical to appalled.
"It was like watching a dumpster fire. I haven't seen a campaign like that in quite some time and the people around him who advised him ought to be charged with elder abuse," Buckhorn said.
Buckhorn was referring to the massive amount of money pouring out of Straz's campaign. He's spent about $5 million of his own money on the campaign. That spending has done little for Straz on the campaign trail with polls showing Straz trailing Castor as much as 36 points.
Straz's campaign has focused mostly on negative campaign tactics.
"It was mean spirited, it lacked a vision, it was unfortunate and this community deserves better," Buckhorn said.
Buckhorn's endorsement was one of the most important Castor received this election. Buckhorn has been a popular Mayor throughout his eight years in office and polls show most residents both approve of his job performance and think the city is headed in the right direction under his tenure.
Meanwhile, voters throughout the city were making their way to polls before heading into work or otherwise starting their day. Campaign signs for both Straz and Castor dotted the easements heading into polling places with supporters waving signs posted at some of the busier sites, based on a quick scan of some of the city's precincts.
Voter turnout on election morning so far was steady. By 8 a.m., an hour after polls opened, about 1,000 people had cast a ballot. That's slightly less than the March election when about 1,200 voters cast a ballot in the first hour. By 9:00 that number grew to just less than 2,100 putting overall voter turnout at about 17 percent. 
Polls are busiest in the early evening hours. In March, about 2,700 voters cast a ballot in the last two hours of voting.
Turnout in the March 5 election was just 21 percent.
Castor has yet to vote. She's expected to cast a ballot at her polling place near Seminole Heights this afternoon.
Straz hasn't said when he plans to vote or if he already had.