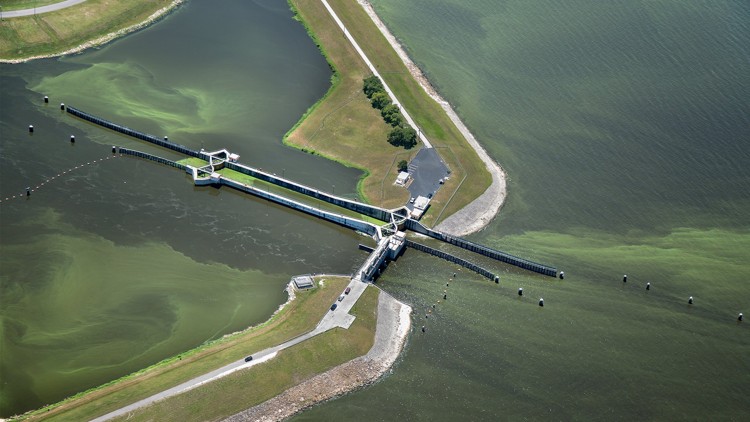 99 percent of inflows so far this year came from north of the lake
Data from the South Florida Water Management District shows none of the water that's flowed into Lake Okeechobee this year was pumped from the Everglades Agricultural Area.
Through Monday, 99 percent of water entering the lake came in via surface inflows from the Kissimmee River Caloosahatchee, Kissimmee and St. Lucie rivers, which contributed 8.2 inches to the lakes water level.
Another 1 percent arrived from waterways south of the lake, adding 0.1 inches to the lake.
The breakdown was confirmed at the most recent meeting of the SFWMD board.
At the same meeting, SFWMD chief engineer John Mitnik said there has been no back-pumping from the EAA into the lake since Hurricane Irma hit in 2017 when flood control for the Glades cities occurred.
There has been a long debate about who is responsible for the nutrients, specifically, phosphorus, in Lake O and other bodies of water.
Water from the EAA — which flows south, not north into the lake — has been blamed for the algal blooms in the past, though recent research shows nutrient levels in the region have cratered in recent years.
In a briefing delivered to the Senate Agriculture Committee earlier this year, former Department of Agriculture and Consumer Services official Rich Buddell said the agriculture industry is far ahead of schedule in reducing the amount of nutrients released into Florida waters.
Meanwhile, aging septic tanks have seen their pollution contributions to area water bodies skyrocket. Unrestrained development north of the Lake has also been a major contributor.
The nutrient levels in the lake have been blamed for algal blooms in recent years, including the major bloom last year that coincided with a late-season red tide.
A map of the inflows is below.