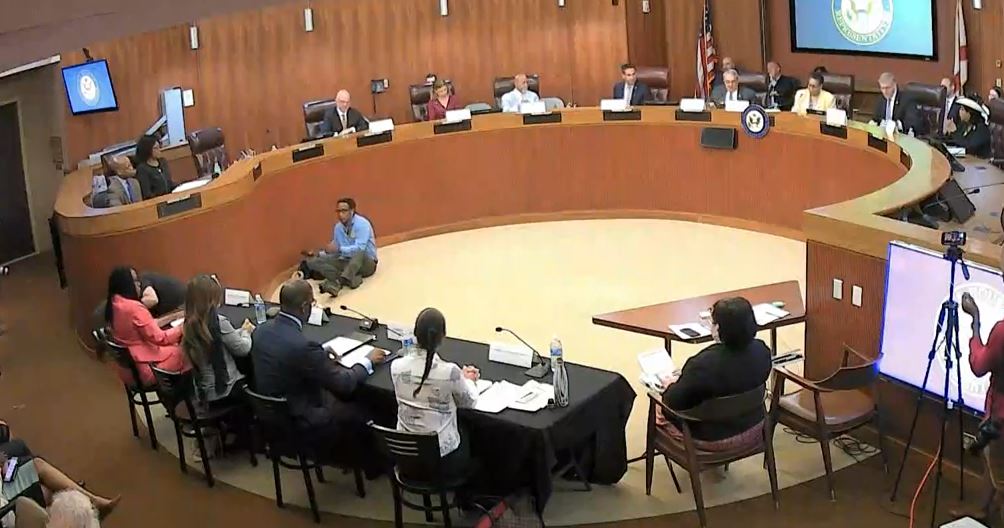 "Florida has one of the most repressive disenfranchisement policies in the country."
Democratic representatives did not hold back at a Monday field hearing on election administration issues in Florida, accusing officials of instituting various "voter suppression" policies and implementing a "poll tax" on ex-felons.
Those comments were part of a hearing held in downtown Fort Lauderdale by the Elections Subcommittee under the Committee on House Administration.
The meeting is one of several the subcommittee is holding in regions across the country. Monday's version featured testimony from several individuals including former Democratic gubernatorial candidate Andrew Gillum.
U.S. Rep. Marcia Fudge of Ohio, who chairs the subcommittee began by unloading on Florida's history on elections.
"Florida has one of the most repressive disenfranchisement policies in the country and has made it extremely difficult for those convicted of a felony to have their voting rights restored," Fudge argued.
Fudge was referencing in part Florida's efforts in past years to remove inactive voters from the rolls. Democrats have criticized those efforts as "voter purges."
She also directly referenced implementing legislation passed by Republicans this past Session aimed at setting parameters for ex-felons seeking to restore their voting rights following voters' approval of Amendment 4.
That bill required those released from prison to pay back fines and restitution prior to having their voting rights restored. Republicans argued individuals' sentences aren't completed until the payment of those fines. Fudge countered that the law wasn't even needed.
"This bill is wholly unnecessary, as Amendment 4 was self-executing and did not require implementing legislation," Fudge said.
"This measure is nothing but a poll tax that would effectively disenfranchise those who are unable to pay."
The framing of the law as a "poll tax" was a common one for Democratic members of the subcommittee, as well as some of the panelists on hand, including Gillum. He argued the passage of Amendment 4 "has been under assault these last several weeks in the Florida Legislature."
U.S. Rep. Debbie Wasserman Schultz, who was also in attendance, called the recently-passed law "illegal."
"They made what I believe is an illegal decision to interpret the voters' intentions when they passed Amendment 4." Wasserman Schultz also labeled it a poll tax.
The measure does allow a process for individuals to seek for a court to waive those costs, and allows for community service to be substituted for payment in certain instances.
Gillum's  political committee, Forward Florida, is aiming to register one million voters across the state ahead of the 2020 election. On Monday, he went back-and-forth with the lone Republican on the panel, U.S. Rep. Barry Loudermilk of Georgia, regarding the state's efforts to remove voters from the polls who are not eligible to vote.
"Mr. Gillum, you are not opposed to legal purging of the voter database to remove those who are not eligible to vote," Loudermilk prodded.
"I would say I don't trust the purging process in this state," Gillum replied, arguing the process is targeted at hampering the minority vote.
Gillum has made unsubstantiated claims in the past arguing Florida's election administration isn't on the up-and-up. He argued that the discounting of contested votes in the 2018 election may have cost him a victory in the race for Governor.
The members also discussed faulty ballot design in Broward County, which studies showed may have been cost former U.S. Sen. Bill Nelson several thousand votes in an election he lost by just over 10,000 votes.
"I feel so terrible about what happened to Bill Nelson," said U.S. Rep. Frederica Wilson.
Ultimately, those on hand argued for several reforms present in an elections reform bill recently passed in the Democratically-controlled U.S. House, including same-day voter registration, protections from "voter purging," and several other reform measures.
However, that bill has virtually no chance of getting through a GOP-controlled U.S. Senate.