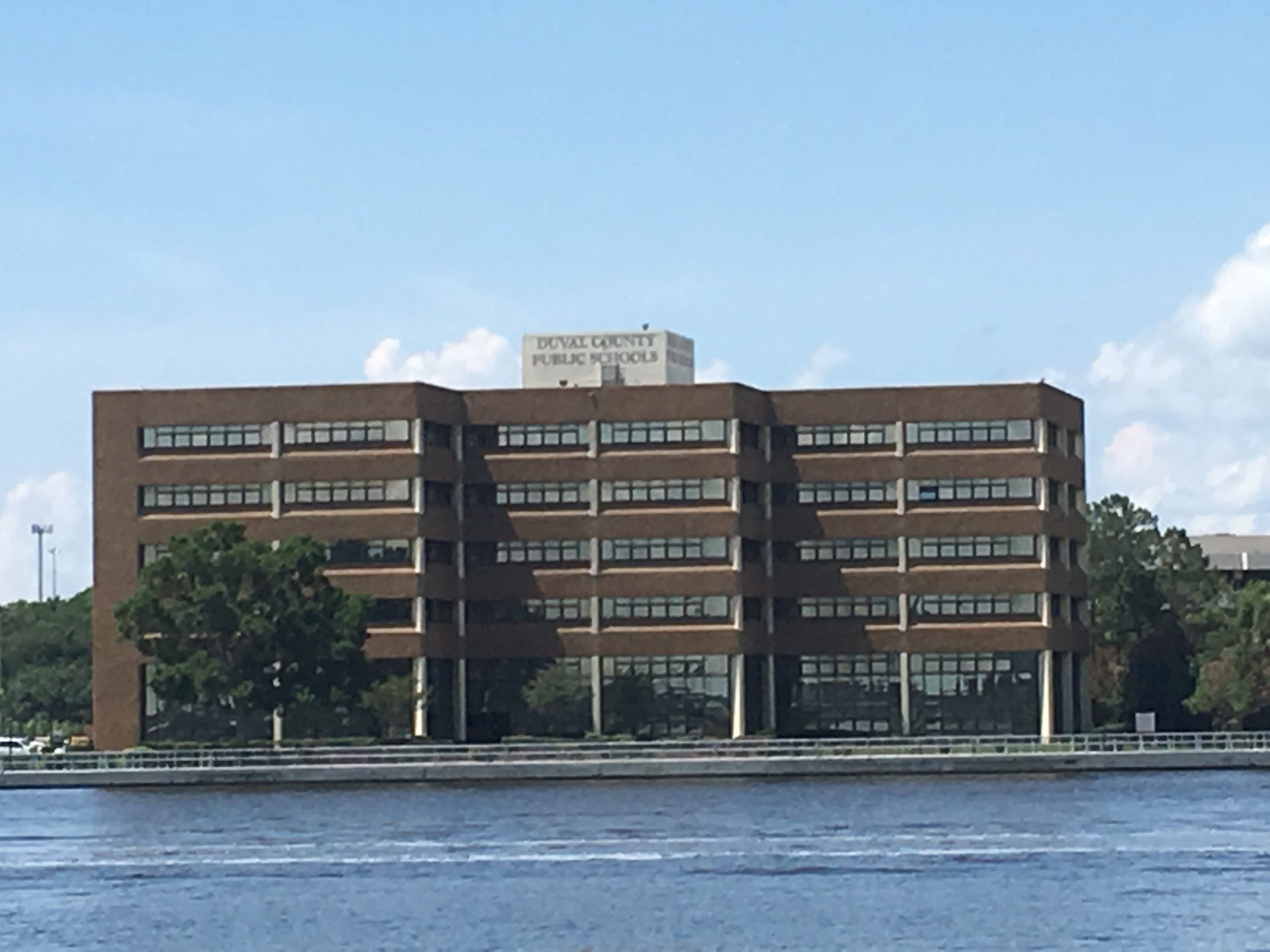 The vote likely would be Nov. 2020, should the City Council approve.
On Tuesday, the Duval County School Board moved toward a showdown with power brokers across the river at City Hall.
Despite discouragement from representatives of other governmental agencies, the seven-person board passed a resolution asking the City Council to put a sales tax referendum on the ballot.
The vote was 6 to 1.
Board chair Lori Hershey called this a "line in the sand" moment, an "opportunity for voters to weigh in."
"We can no longer hesitate to take charge," Hershey said, noting that over the next five years, "repair costs will increase to over $1 billion,"
Hershey blamed external factors, such as decreased PECO funding and millage rollbacks.
Noting that the Jacksonville General Counsel's office said the City Council could determine the timing of the election, or whether it happens, Hershey said the board doesn't want an "adversarial relationship." 
Hershey said multiple members of the City Council were "encouraging" when they talked to her ahead of the vote, though it remains to be seen if those members have real juice given they weren't named.
The board is on record as wanting a vote this year, and that would require a standalone special election and quick action from the City Council to make that happen.
Superintendent Diana Greene noted the age of DCPS facilities, maintenance costs ($500,000 a month and rising), and a need for increased student programming as reasons for the nearly $2 billion capital expansion that the proposed half-cent sales surtax would allow.
Not all board members supported the referendum.
Charlotte Joyce said her Westside communities needed to be given some capital spending in the master plan. Without codified assurances, she wasn't comfortable pushing for a referendum.
"Running past these known concerns to a costly special election is a mistake," Joyce said.
However, the consensus was that the district had been starved of funds for over a decade, with even Mayor Lenny Curry ally Warren Jones pushing for a referendum.
"It's not about what we want," Jones said. "It's what the students need and deserve."
Darryl Willie, who represents an urban core district, added that "the window is now."
Board veteran Ashley Smith-Juarez noted that in Duval, "growth is not paying for itself."
"Our revenue stream covers about a third of what we need just to keep the building stock we have now," Smith-Juarez contended. "The time is now. We have done the due diligence."
The board, which contemplates an additional ½-cent sales tax to pay down a $1.95 billion capital backlog, will face some institutional roadblocks ahead of said window.
For one, Jacksonville General Counsel Jason Gabriel issued Monday a preemptory legal opinion that noted referenda timing and whether they happen at all is a sole judgment of the Council.
"The Council has legislative discretion regarding whether and when to place the sales surtax referendum on the ballot … nothing in the statute explains why a court should limit the council's discretion to merely the date, or the form, of the election," Gabriel added.
Typically, the official position of this General Counsel reflects prevailing policy currents in the Mayor's Office, as was spotlighted with attacks on the then-wayward Police and Fire Pension Fund not too long ago.
Council President Aaron Bowman told the Florida Times-Union that the bill would be on a six-week cycle, doubting a "need to rush" through a vote on this.
But there is a reason to rush: Any referendum happening after the end of this year, per HB 5, must be on a general election ballot.
One bit of good news for referendum proponents: The bill's original ask for a two-thirds supermajority for discretionary sales surtax referenda was scotched during back and forth with the Senate.
Bowman does not support the measure, and that's a view shared by some in Curry's orbit. At least one prominent consultant has a strategy to kneecap the proposal should it be needed.
And it's a reasonable assumption that this Council may not have ten votes at this time for the measure. Without Curry in favor, that likely will hold true as the capital budget is formulated for districts this summer.
Curry was coy on Twitter commenting on the referendum resolution.
This was one for best battles of all time. It was beautiful for a sports and boxing fan. But I'm not interested in this metaphor applying to me and school board. We have the same goals. I've got 3 kiddos in that System. Let's get it right. 😁

— Lenny Curry (@lennycurry) May 8, 2019
However, the School Board was not a Curry room, with strong consensus toward bucking the Mayor's Office and pushing for ballot access.
There is a recent regional precedent for this type of vote: A couple of years back, St. Johns County voters approved their own referendum to raise school taxes.
The campaign, which succeeded by a 22 percentage point margin, was not through osmosis. Proponents cited an intense ground game and targeted appeal to early voting supervoters.
Jacksonville has seen two successful referendums of its own in recent years.
Bestbet spent $2 million to persuade Duval County voters to expand gambling operations, getting 57 percent of the vote. And the Curry machine spent big to authorize pension reform, scoring 65 percent of the vote.
The marketing operation behind the bestbet referendum was multifaceted, with intentionally non-aggressive television ads positioning the measure as "something we can all agree on." As well, there were aggressive field efforts at early voting locations in Northwest Jacksonville over the weekend, to build the GOP-backed measure's strength with Democrats in the area.
The "Yes for Jacksonville" pension reform effort saw a variety of donors, mostly institutional stakeholders, pushing the pension reform referendum's coffers over the $2.1 million mark.
That referendum required considerable voter education to get to 64 percent, even with no organized opposition.
Voters in tax-averse Duval County needed convincing of the wisdom of extending a ½-cent infrastructure sales tax past its expected sunset date of 2030.