The most expensive district level Council race on the ballot.
City Council District 14, west of the St. Johns River in Jacksonville, sprawls from Riverside to NAS Jax. And in 2019, it saw some of the most aggressive fundraising of the municipal campaign cycle.
Democrat Sunny Gettinger and Republican Randy DeFoor combined to raise over $550,000 in hard money over the course of the campaign. Of that sum, DeFoor raised more than $337,000.
DeFoor's Safe and Prosperous Jacksonville political committee reported $44,000 of its total $87,000 raised in April, with the Jacksonville Jaguars coming through with $10,000. Since that is a state-level committee, we won't know May contributions for another month.
This has been an expensive campaign, one that didn't heat up between the two runoff participants until after the March "first election." One school of thought was that DeFoor's campaign wanted to eliminate Democrat Jimmy Peluso in the first round and isolate Gettinger one on one.
But heat up the campaign eventually did.
DeFoor made an issue of Gettinger's fundraising, stealing a typical Democratic attack line on Republican donors.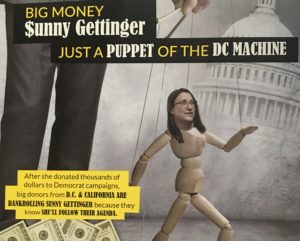 DeFoor's operation is an adjunct of Mayor Lenny Curry's machine, and consultant Tim Baker has delighted in stealing attack lines from the other side this campaign season, which has generally been slow to exploit holes in Baker candidates (and this race was no exception).
Gettinger has devoted much of her paid argument during the stretch run to defending herself against DeFoor mailers: a position that has certain risks built into the model.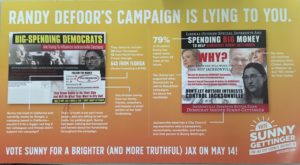 Both Republicans and Democrats who are unaffiliated with the campaign have questioned the strategy. Time will tell if Gettinger's personal branding is enough to carry this approach through.
Gettinger did not use oppo available to her in this race, preferring instead to run a positive campaign. With the resources she had available, one DeFoor partisan questioned that strategy, saying "a mailer … or six" would have been a wise spend.
Those with memories that extend back months can remember a similarly reactive play in a big money race between a well-funded Democrat and a Lenny Curry Republican.
Former state House candidate Tracye Polson closed her campaign with this appeal: "When your opponent is a professional lobbyist, special interests can't wait to falsely attack you."
Polson felt compelled to respond to ads from Republican Wyman Duggan and the Republican Party of Florida linking her with flag-burning Resistance drum circle types and socialized health care.
Essentially, this is the same script, in the same geographic area: a swing district where Democrats try to win early and Republicans bide their time and close in the end.
One private survey of the race showed this as a 15 point race. If the margin is anything close to that, this will be seen as another missed opportunity for Duval Democrats.