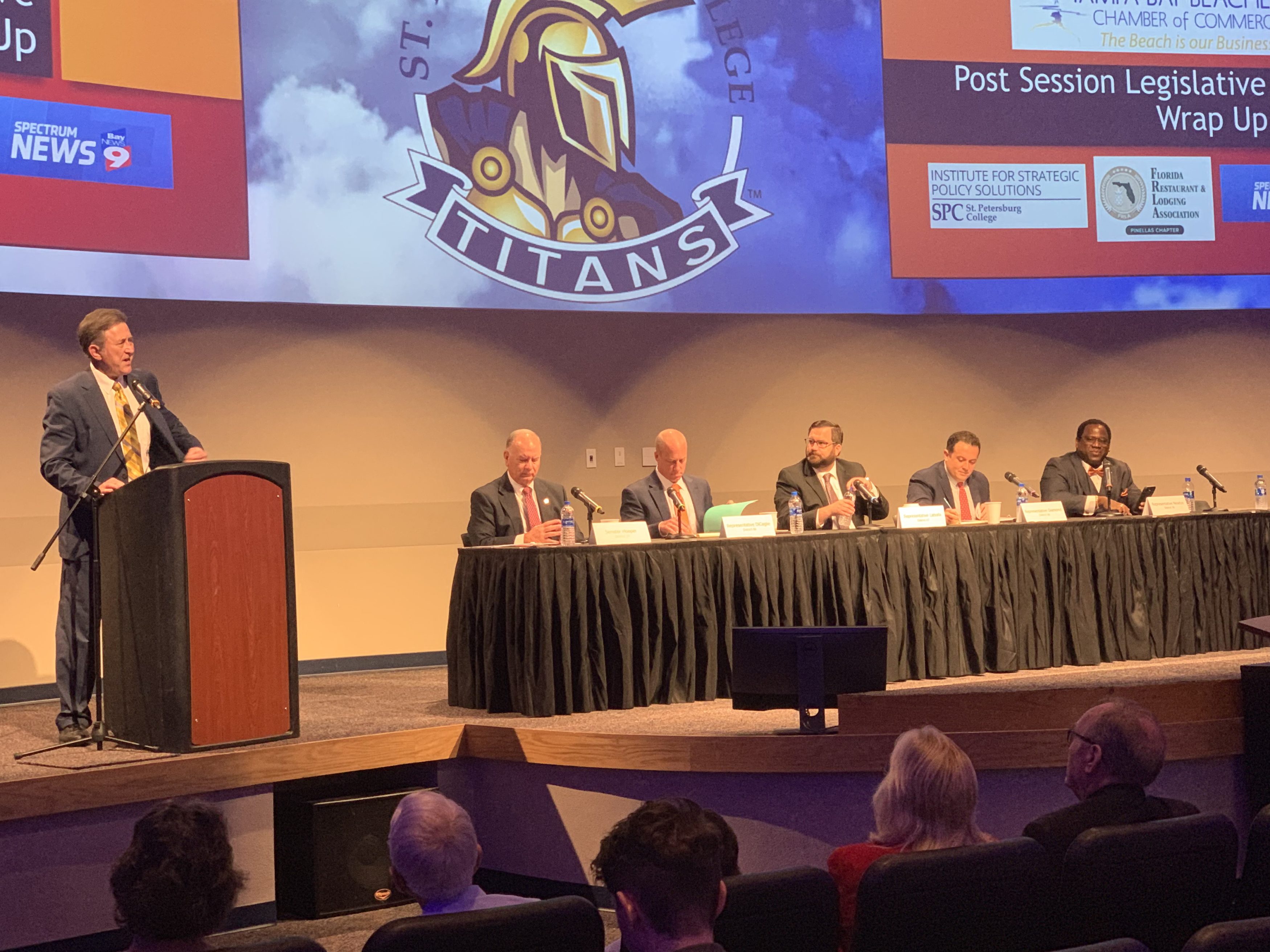 The state's education budget this year increases per pupil spending nearly $250 per student.
Education improvements and safety measures dominated a Pinellas County Legislative Delegation recap session Thursday.
All of Clearwater Rep. Chris Latvala's committee assignments this Legislative Session were on education-related boards. Latvala played an integral part in expanding per pupil funding for education and ushering through the expanded school guardian bill that has become more known for its language that would allow some teachers to carry guns on campus.
Latvala and other Republican lawmakers on the delegation including Sens. Ed Hooper and Jeff Brandes and Rep. Nick DiCeglie, defended the school safety bill.
"It didn't arm schoolteachers," Latvala said. "It allows districts to decide whether to expand the Guardian Program."
Latvala pointed to the rigorous requirements teachers must undergo before carrying weapons in class. First, teachers must work in a district that has approved the program. That won't be the case in Pinellas County or neighboring counties whose school board leaders have already said they won't participate.
If a teacher does work in a participating district, they'd have to undergo 144-hours of Sheriff-approved training. Latvala said at any point the Sheriff in that district could remove a teacher from the program.
"They have to pass a class at a higher level than law enforcement," he added.
The bill was hugely controversial and was ultimately approved along party lines with Republicans supporting it and Democrats opposing it. Critics argue arming teachers could make students less safe by potentially putting teachers in high-stress scenarios where a snap second judgment could be deadly. They also worry it puts teachers at harm of being shot themselves as law enforcement arrives to active shooter scenarios not knowing whether the person with a gun is a good guy or a bad guy.
But supporters like Latvala argue it's a first line of defense for students.
Latvala said the hardest meeting he ever had was one with students from Marjorie Stoneman Douglas High School a week after the shooting.
"Their faces are etched in my mind," Latvala said.
He left out that those students were there to support gun control legislation, not arming teachers. But the emotion of that meeting, and subsequent meetings with parents of victims stuck with Latvala.
"The teachers that very much supported expanding the Guardian Program were at Marjory Stoneman where three teachers died basically being glorified human shields," Latvala said.
He called the on-campus security officer who reportedly hid during the first minutes of the incident "a coward."
Rep. Wengay Newton, a St. Petersburg Democrat whose district includes parts of four counties, supported another controversial education initiative providing vouchers for low-income public school students in low-performing schools to attend private school.
Newton broke from his party in supporting the bill. Most Democrats opposed the measure because it removes recurring funding from the public school budget and instead pushes that money into private, for-profit schools. The bill will provide vouchers for up to 18,000 students and alleviate the existing 13,000 student backlog on the state's existing tax credit voucher program.
Newton, an African-American lawmaker who grew up in the area that's home to Pinellas County's five "failure factory" schools, passionately defended his position.
"A lot of young people who look like me end up in the public school to prison pipeline," Newton said. "We send our kids to school to get educated and they come out with a criminal record."
The voucher program, he said, gives families the choice to remove their kids from schools that are failing them.
But not every education issue during the 2019 Legislative Session was controversial. The state's education budget this year increases per pupil spending nearly $250 per student. Another $364 million was appropriated for discretionary spending that can be used for teacher and support staff raises or any other way school districts see fit.
Lawmakers also weighed in on Amendment 4. House and Senate Democrats were disappointed in the implementing bill addressing how to restore nonviolent ex-felons' voting rights. The approved implementing measure would require individuals to satisfy not only all jail and probation requirements, but also financial requirements like restitution, court fees and fines.
Democrats argued that provision provided a barrier for low-income ex-felons who might not be able to afford the fees and that it was counter to voter-intent.
But Brandes argued fulfilling financial obligations was always part of the equation.
"We started calling judges," Brandes said.
Lawmakers asked them to define "term of sentence," which was language in Amendment 4.
"They told us it's the sentence, parole, it's restitution and any fines and it's court costs," Brandes said. "You may not agree with the way that it came out, but if you look at the evidence of what the testimony was before the Florida Supreme Court, if you look at the language, they listed very clearly on its website that restitution was included."
Lawmakers also weighed in on the controversial toll roads bill that includes more than 300 miles of additional tolled highways. One would connect the existing Suncoast Parkway from the Tampa Bay area north to the Georgia state line. The other would create a corridor between Polk County and Naples.
Newton also broke from his party in his support for the toll legislation critics argue is a waste of money and an environmental disaster. Newton argued the roads were necessary to get people out of the state during times of emergency. During floor debate he referenced the massive traffic backups along I-75 as residents flocked from Hurricane Irma in 2017. He argued the plan is not yet final.
"There will be 15-20 different local organizations that will be on the task force and before we do that final funding, another bill will come back before the House," Newton said. "This task force is set up to see where it will go and what impact it will have, but it's not a done deal."
Rep. Ben Diamond, a St. Petersburg Democrat, said the toll roads don't address the existing transportation problems, which are centered in urban areas.
"I'm hoping the Governor will veto the bill as someone who cares about the environment and who is also a fiscal conservative," Diamond said.
Gov. Ron DeSantis received the bill Monday. He has 15-days to sign it.