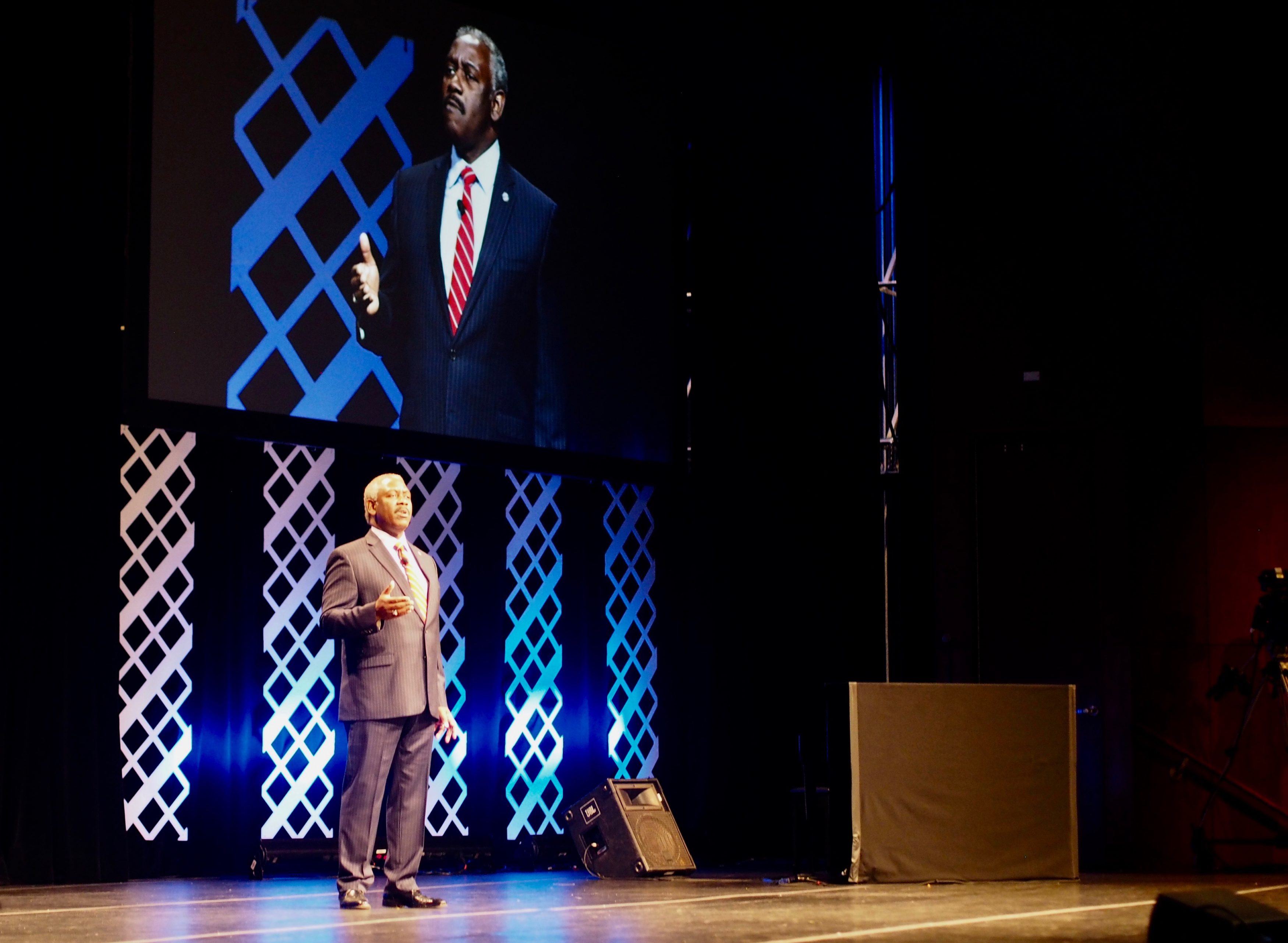 'It is my desire that those funds will impact everyone in our community.'
Orange County Mayor Jerry Demings outlined his long-vague plans for dedicated funding for transportation projects Thursday, announcing he'll push for a penny sales tax on the November 2020 county ballot to fund buses, trains and roads.
Demings, in his first state-of-the-county speech, went light on the usual chamber of commerce rah-rah about Central Florida's economy and the county's fiscal health, which had dominated such speeches from his predecessors former Mayors Teresa Jacobs and Rich Crotty.
In his speech, at the Orange County Convention Center, Demings instead focused on social challenges including transportation, affordable housing, public safety, culture and the arts, and wages.
He also announced he will increase minimum wages for Orange County government employees to $15 an hour.
"If we are going to be successful as a community we must find a way to help those most in need," Demings said afterwards. "Orange County is experiencing tremendous growth and it is projected that our population will grow by a net of 1,000 new residents each week. If we won't, if we don't do something now, our housing and transportation issues will only become more challenging."
The big news came as Demings laid out his proposed one-cent increase to the county sales tax, to raise it 7.5 cents, to create a dedicated funding source for transportation. The proposal is the first in Orange County since 2003 seeking to address the county's significant and worsening traffic and transportation challenges.
Demings introduced his proposal with a decidedly un-rah-rah video that showed interviews of several riders of the community's Lynx bus system. They all described 90-minute, two-hour or three-hour daily commutes, because Lynx's hub-and-spoke network provides little service between housing and employment areas, and because so many buses run only on hourly schedules.
"SunRail [the north-south commuter train] does not run as often as needed. Lynx bus routes do not meet the current demand. Half of the bus routes run every hour with the other half on 30-minute schedules. Lynx has 320 buses, yet Pittsburgh, which is of similar size, has over 700…. Workers wait in inclement weather to catch a bus and spend hours every day commuting to and from work," Demings said.
"Unlike other cities of comparable size both SunRail and Lynx are devoid of dedicated funding for operations. If our goal is to empower every resident and citizen, we will need to provide multiple options for transit including more buses, more routes, more trains, and a robust network that supports pedestrians and bicyclists," he said.
Not much gets done in Orange County without partnerships between the mayors of the county and city of Orlando. Demings said Orlando Mayor Buddy Dyer is supporting his plan and the county is reaching out to suburban mayors to seek their support.
After Demings speech, Dyer tweeted, "I am proud to serve alongside Mayor Demings as @citybeautiful continues to collaborate with @OrangeCoFl to ensure our community remains a great place to live."
Osceola County also has proposed a penny sales tax for transportation and that will be on the county-wide ballot next week. Yet Osceola officials rolled theirs out in a matter of months, and opposition has almost overwhelmed the county's pitch. Orange County officials vowed that their proposal would be developed through a far more deliberate and community-oriented process over the next year or so before anything is set in writing.
Orange County's sales tax currently is 6.5 percent. Osceola's currently is 7.5 percent, Seminole County's 7 percent. County officials also were quick to suggest Hillsborough County as a comparable match, where the sales tax is 8 percent.
Demings would not offer much details at this point, suggesting it all must be worked out through community discussions. However, it quickly became clear that the officials already are ready to steer clear of what was widely reported to have been the fatal flaw of 2003's "Mobility 20/20" proposal: that it focused on north-south transportation along I-4 and commuter rail. Post-election analysis showed the 2003 proposal failed because voters further to the east and west of I-4 voted overwhelmingly no.
"We will use those funds to help support Lynx, and perhaps SunRail, but also to build the infrastructure that we need as a growing community. It is our goal to have numerous meetings with our citizens to better define what it is our citizens want," Demings said. "It is our desire, it is my desire, that those funds will impact everyone in our community."
Demings also pledged the $15 an hour minimum wage for county employees, which would be phased in by the end of 2021. And he challenged the Central Florida business community to do likewise.
"The time is right. The time is now for other employers in our community to join me in this effort," he said.
Ultimately, Demings proposals and speech spoke of building a more innovative and inclusive community, and he finished with a flourish that had the feel, tempo and rise in energy of a preacher bringing his congregation to standing hallelujahs.
"We will build a community that is safe and secure. We will build a community that empowers our children to prosper. We will build a community that creates housing for all. We will build a community with a customer service mindset. We will build a community that thrives on innovation. We will build a community that welcomes tourists from across the globe. We will build a community that is prepared and positioned for future growth. We will build a community that efficiently meets our transportation needs," he pledged.
"Now is the time to move forward, and not go back. Now is the time to build a better quality of life not only for us but for generations to come," he concluded.