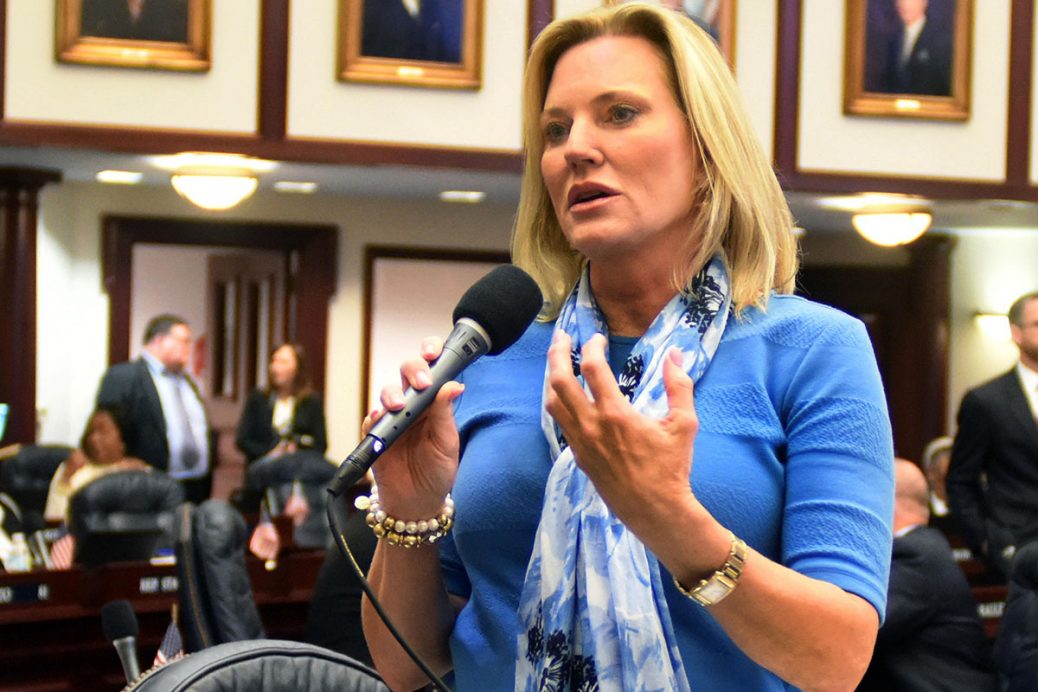 Fort Myers Republican also won't apply for Lee County Commission vacancy.
State Rep. Heather Fitzenhagen will not run for an open state Senate seat in 2020.
"I have come to the conclusion that there is not a path to victory for me in this scenario," the Fort Myers Republican tells Florida Politics.
The move clears a path to the Republican nomination for state Rep. Ray Rodrigues in Florida Senate District 27.
Rodrigues announced last week he will run for the Senate seat.
Within days, he announced nearly all of Southwest Florida's legislative delegation endorsed his candidacy. Incumbent Lizbeth Benacquisto cannot seek re-election because of term limits and has thrown her support to Rodrigues.
But Fitzenhagen remained conspicuously absent from the Estero Republican's list of supporters. Many figured that signaled her own ambitions. But she said it's a personal policy not to endorse candidates.
"I'd like every candidate to run their own race," she said, "and not to have it clouded by anyone else's endorsement."
Still, the growing list of Rodrigues' backers certainly drew her notice.
"I believe that it's clear allegiances at the highest levels of the Senate and the House have indicated their preferred candidate is Rep. Rodrigues," Fitzenhagen acknowledged. "That will make a big difference in his ability to succeed."
Rodrigues said the news caught him by surprise, "but obviously I'm pleased."
"Heather had a great session last year, spearheading certificate of need repeal, which was one of the Speaker's big health care priorities," Rodrigues said. "I look forward to working with her next session."
Had she entered the race, Fitzenhagen predicted the race would get costly and the stakes would grow high.
"While I did discuss with multiple people if I were willing to go down that road, I figure I just saved the people of Florida $6 million," she said. "That's probably what this race would have cost."
Rodrigues said he agreed boasting institutional support from leadership gives a candidate a clearer path to success; it's why he worked to get that. But he still suspects he will face an opponent in an open Senate race.
"These districts are won or lost in the districts," Rodrigues said. "More important to me was the grassroots support back home."
Fitzenhagen stressed she's not leaving politics anytime soon. She still has her work as a state representative in front of her.
In recent days, there has been growing speculation whether Fitzenhagen would run for Senate or seek a local post.
Throughout Lee County, political jockeying already started around a Lee County Commission seat. The post became vacant following the death of County Commissioner Larry Kiker.
At least five individuals have publicly expressed interest in the seat, including Kiker's widow Paula Kiker, former County Commissioner John Albion, former Fort Myers Councilman Liston Bochette, former candidate Dick Anderson and Estero Village Councilman Nick Batos.
Gov. Ron DeSantis ultimately will appoint someone to finish Kiker's term.
Some quietly wondered whether Fitzenhagen might apply for that post. Choosing Fitzehagen would allow DeSantis to also pick who served out her House term and let the individual run as an incumbent in 2020.
But Fitzenhagen doesn't have an interest in the commission post, she said.
"There are other candidates who would do an excellent job," she said. "I am really focused on doing what I can to help my constituents in my last session."
She notes the 2019 Session brought to fruition many long-time goals. Fitzenhagen's bill repealing the certificate-of-need process for hospitals finally passed in the Legislature. So did a human trafficking bill following years of work.
Fitzenhagen this year also cast some votes raised a little ire among local conservatives. Notably, she voted against a parental consent bill that passed in the House but ultimately died in the Senate.
That could have become a primary issue. Regardless, she stands by her vote.
"It's hard for me to be comfortable with parents having final say over someone's biggest life decisions," she said.
Will that be an issue that comes up again when Fitzenhagen returns to Tallahassee next Session?
"I don't know," she said. "I hope not."