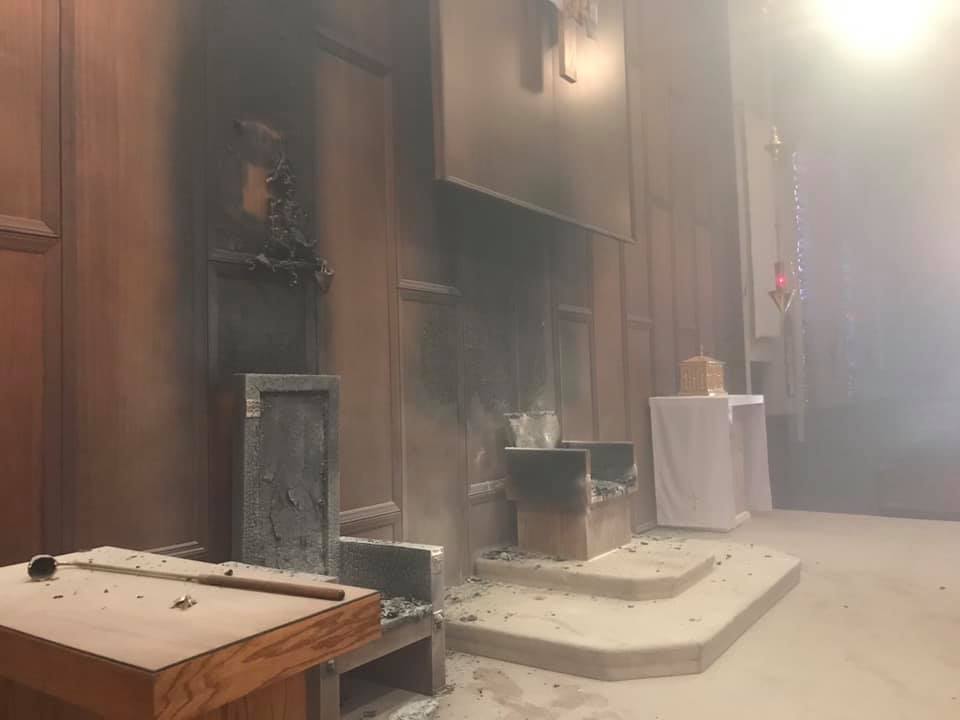 A defendant with the same name is charged in three other pending cases.
A 32-year-old homeless man has been charged with first-degree felony arson in a blaze that damaged the sanctuary of Tallahassee's Roman Catholic earlier this week.
Chief Financial Officer (CFO) and State Fire Marshal Jimmy Patronis announced Seth Z. Johnson's arrest on Friday afternoon.
"Investigators obtained fingerprints from evidence found on scene that matched those of Johnson," a news release said. "Johnson was placed into custody and taken to TPD (Tallahassee Police Department) for questioning. Patronis' Bureau of Fire, Arson and Explosives investigators established probable cause to arrest Johnson" for arson.
The church is known for hosting a "Red Mass of the Holy Spirit" every Legislative Session to "pray for divine inspiration and guidance for those serving in the executive, legislative and judicial branches of government and for members of the legal profession."
Police and firefighters responded to a fire in the cathedral's sanctuary around 4:30 p.m. Wednesday, according to reports. As the rector, the Rev. John Cayer, later explained: "The presider chair, deacon chairs and Cathedra (bishop's chair) were burned. The flames have charred the back wall, and smoke filled the church so densely that I could barely see."
Johnson was booked into the Leon County Jail, Patronis' office said, though he could not be found in the jail's online census as of Friday evening. The arson charge carries a maximum sentence of 30 years in prison.
A defendant with the same name faces three other misdemeanor cases in Leon County, according to online court records accessed Friday.
His listed address in at least one case is the same as The Kearney Center, described as a "comprehensive emergency services facility" for the homeless. A person who answered the phone there Friday said center director Jacob Reiter had "left for the day."
A misdemeanor charge of "failure to leave property" was filed against Johnson in March after he reportedly overstayed his welcome at the Ocala Road Publix supermarket. Dockets show that Leon County Judge Nina Ashenafi-Richardson ordered a "psychological eval/screening." The case remains open.
Another misdemeanor charge of petty theft was filed in May after he allegedly took a "cellphone and sunglasses" from a local Target store.
And still another petty theft charge was filed — coincidentally — the same day of the fire. Johnson allegedly stole two cans of Four Loko malt beverage, a bag of Tostitos tortilla chips and a jar of salsa — worth a total of almost $17 — from a West Pensacola Street gas station convenience store.
Both those cases also are open, dockets show.
"I'm thankful no one was injured and a suspect is in police custody giving some peace to all who call St. Thomas More their place of worship," Patronis said in a statement. "This arrest would not have been possible without the great investigative work by my arson detectives and the Tallahassee Police Department law enforcement officers."