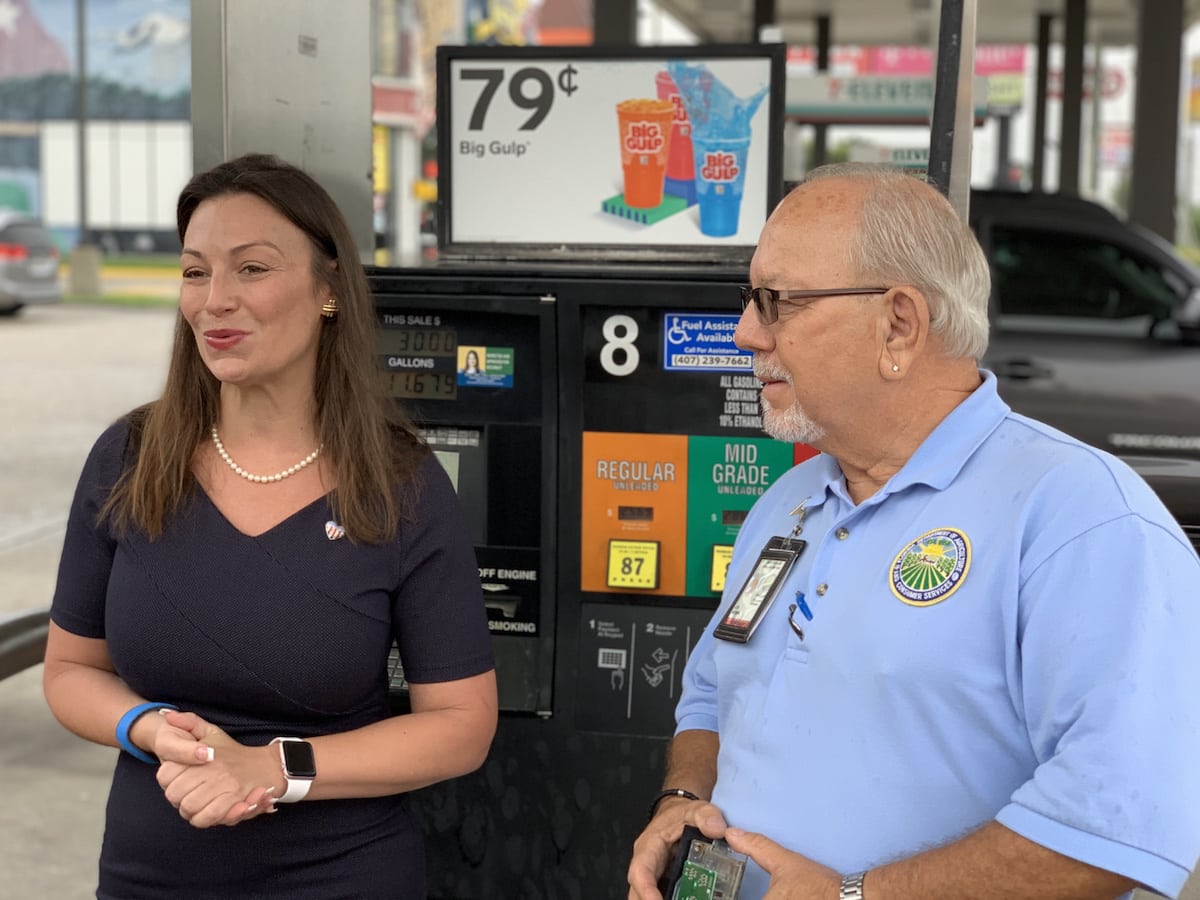 Hundreds of devices were found in a recent statewide sweep.
Agriculture Commissioner Nikki Fried on Saturday warned Florida consumers against gas skimmers and other scams.
"Florida is known for beaches, oranges, Disney, but also fraud," Fried said. "We are the top state for scams, and we can't let that continue."
Fried lamented the Florida Legislature didn't pass more reforms specifically addressing skimmers.
She specifically noted work by the Consumer Fraud, Identity Theft, and Skimmer Working Group statewide interagency task force.
That resulted in legislation filed by state Sen. Joe Gruters, a Sarasota Republican, in the Senate (SB 1652) and state Rep. Kamia Brown, an Ocoee Democrat in the House (HB 1239). But the legislation did not pass.
Skimmers constitute a major problem for Floridians. A recent sweep found 259 statewide in a matter of weeks, including 15 in Orlando.
Authorities in Florida have found more than 2,800 skimmers since 2015.
Fried accompanied Joe Scobbo, an inspector with the Division of Consumer Services, for an inspection an Orlando gas station Saturday.
"Since my election, I've made fighting consumer fraud and consumer protection top priorities in my agenda – and a big part of that fraud is happening at the gas pump," Fried said.
"It's important we're sharing with consumers exactly what to look for, because each skimmer can defraud consumers up to a million dollars. We're here to let Floridians know there's a lot of fraud out there, but we're working with law enforcement to crack down on this criminal activity."
Scobbo and Fried during a press conference offered consumer tips to avoid fraud.
First, they said consumers should always examine gas pumps before using them. If security tape has been stripped or consoles appear open or unlocked, don't use them.
Officials recommend using credit cards, not debit cards, because individuals are protected thereby by zero-liability policies. The same consumer safeguards don't exist with debit cards, which offer direct access to banking accounts.
Optimally, consumers are better off paying the cashier inside a station. It's much easier for scammers to install skimmers at pumps.
The pumps closest to stations are less likely to be targeted by scanners than those outside the line of sight of employees.
Finally, officials said consumers should take advantage of fraud alert services offered by banks and credit card lenders.
Florida suffers the highest fraud rate per capita, with $84 million lost to fraud over the coarse of 2018. Some 15 percent of all fraud reports nationwide come from the Sunshine State, which boasts 6.5 percent of the U.S. population.