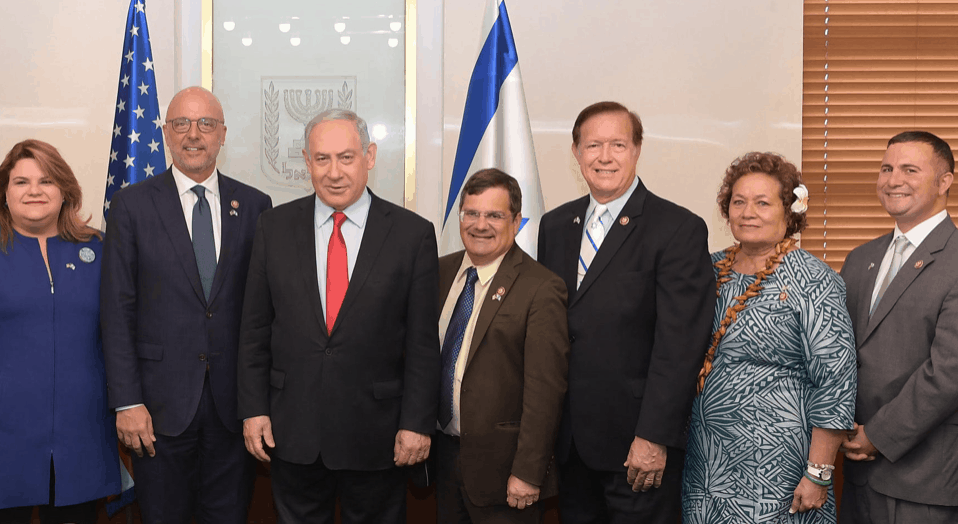 Meet with both Benjamin Netanyahu and Mohammad Shtayyeh
Democratic U.S. Reps. Ted Deutch and Darren Soto and Republican U.S. Rep. Gus Bilirakis concluded a three-day trip with seven other Congress members to Israel that included meetings with both Israel Prime Minister Benjamin Netanyahu and Palestinian Authority Prime Minister Mohammad Shtayyeh.
Deutch, who chairs the Subcommittee on the Middle East, North Africa, and International Terrorism of the House Committee on Foreign Affairs, detailed the trip in a news release issued by his office Friday.
In addition to Deutch of Boca Raton, Soto of Kissimmee and Bilirakis of Palm Harbor, the delegation included Democratic U.S. Reps. Henry Cuellar of Texas, Cheri Bustos of Illinois, Scott Peters of California, and Kathleen Rice of New York; and Republican U.S. Reps. Randy Weber of Texas, Aumua Amata Coleman Radewagen of American Samoa, and Jenniffer Gonzalez-Coon of Puerto Rico.
The group also attended the IDC Herzliya Conference, where Deutch delivered a speech on the bipartisan strength of the U.S.-Israel relationship
"Our delegation delivered a strong message of bipartisan support for our strategic ally Israel. Amid complex challenges in the region — from Iran's dangerous and destabilizing activities to instability in Syria to Hezbollah's growing strength in Lebanon — we offered a bipartisan commitment to Israel's security," Deutch stated in the news release.
The delegation met with Shtayyeh and Palestinian business leaders in Ramallah, and discussed U.S. policy, prospects for peace and economic development, and efforts to improve conditions for the Palestinian people in the West Bank and Gaza, the release stated.
"We also discussed the prospects for a two-state solution and my continued belief that two states, a secure Jewish State of Israel and a demilitarized Palestinian state, achieved through direct negotiations between Israel and the Palestinians must remain the goal of Americans, Israelis, and Palestinians," Deutch stated.
Soto and Bilirakis were listed as delegation representatives of the House Committee on Energy and Commerce.