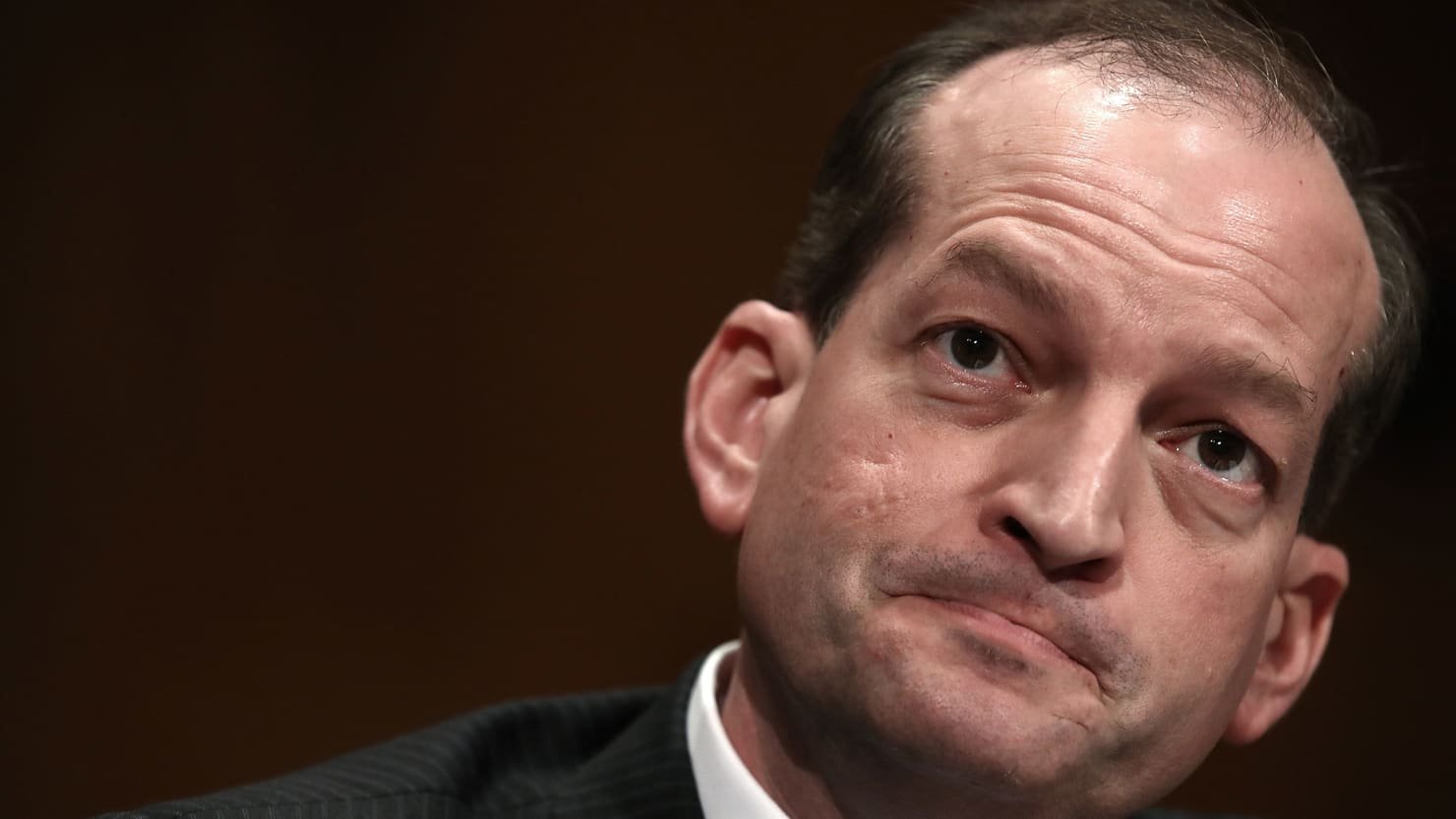 "Congress should open a full investigation."
Several organizations say they plan to organize a protest Wednesday night in Washington, calling for U.S. Labor Secretary Alex Acosta to be removed over a lenient plea deal given to sex offender Jeffrey Epstein during Acosta's time as a U.S. Attorney.
Now, advocacy groups such as UltraViolet, the American Federation of Teachers, CREDO Action and MoveOn plan to project a message onto an undisclosed building on Capitol Hill that bears the message, "Acosta enables sex trafficking. Acosta must go."
Epstein is now facing a pair of sex trafficking charges from the Southern District of New York that could see him spending decades in jail. Epstein is accused of recruiting teenage girls into giving him massages that eventually turned sexual.
Another reported victim came forward Wednesday morning, accusing Epstein of raping her when she was just 15 years old.
The charges, along with a 2018 investigative piece from the Miami Herald, are pointing the spotlight on Acosta's tenure as U.S. Attorney in the Southern District of Florida. That office declined to pursue federal charges against Epstein and his alleged accomplices after similar accusations arose in the late 2000s.
Instead, Epstein faced far less stringent state-level charges. Though Epstein was forced to register as a sex offender, he spent just 13 months in jail. And federal prosecutors agreed not to charge any potential co-conspirators, who were accused of helping Epstein recruit the girls.
In addition, none of the victims were informed of the non-prosecution agreement. A judge recently found that prosecutors, under Acosta, broke the law in their handling of the case.
The planned protest comes after Acosta spoke Wednesday afternoon, argued his office "proceeded appropriately" regarding the case against Epstein. Many lawmakers have called for Acosta to resign from his position as Labor Secretary.
Shaunna Thomas, executive director of the women's advocacy group UltraViolet, issued a statement explaining her group's support of the Wednesday evening protest.
"Congress should open a full investigation into why child sexual predator Jeffrey Epstein was protected over the survivors of his abuse," Thomas said.
"That means investigating every single enabler of Epstein's abuse, from Labor Secretary Alex Acosta to President Donald Trump, and every celebrity and business mogul in between, and includes starting impeachment proceedings into Acosta, who broke the law to hand a serial pedophile a sweetheart deal. The American people cannot afford a President and Labor Secretary who would rather shield wealthy sexual abusers from prosecution than protect sexually trafficked children."
Epstein was known to socialize with Trump, former President Bill Clinton, and other high profile individuals. Both Trump and Clinton have denied knowing of Epstein's alleged crimes.