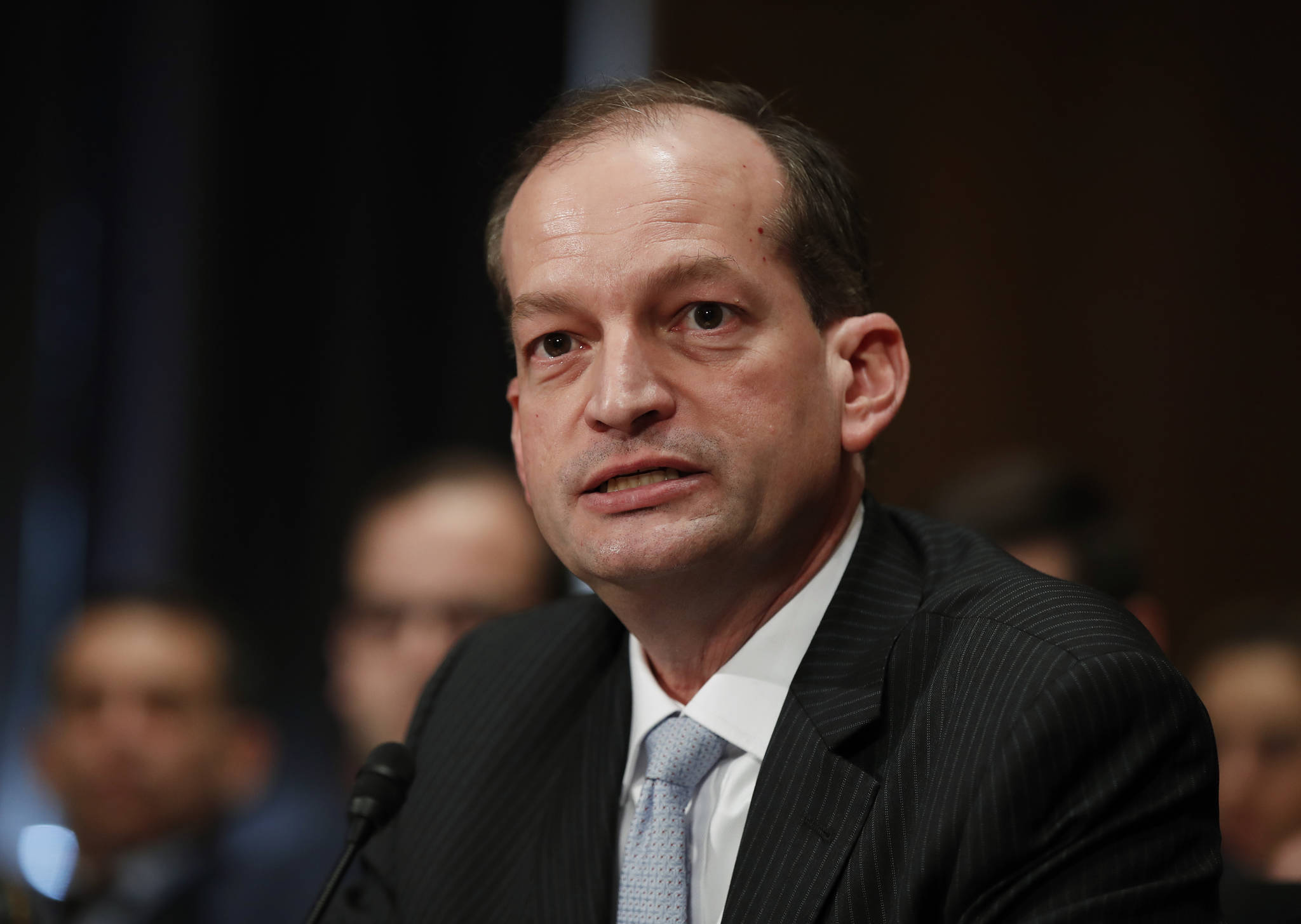 "The resignation of Alex Acosta is a victory for crime victims everywhere."
News broke Friday morning that Labor Secretary Alex Acosta would resign from his position due to criticism of his handling of a prior case against accused child sex trafficker Jeffrey Epstein.
Acosta served as the U.S. Attorney for the Southern District of Florida back in 2008, when Epstein secured a lenient non-prosecution agreement. That agreement also blocked potential charges against any potential co-conspirators who were accused of helping Epstein recruit the girls.
Epstein is facing new charges from the Southern District of New York. He's accused of recruiting teenage girls into giving him massages that eventually turned sexual. Another reported victim, Jennifer Araoz, came forward Wednesday morning, accusing Epstein of raping her when she was just 15 years old.
The renewed pressure on Acosta prompted his resignation. Florida lawmakers and attorneys who have handled similar cases were swift to react upon hearing the news that Acosta was stepping down.
U.S. Rep. Debbie Wasserman Schultz
"While the wheels of justice will grind slowly for the survivors of this monster Jeffrey Epstein's heinous actions, they clearly moved today. In the words of Martin Luther King Jr., 'Darkness cannot drive out darkness, only light can do that.' The days of men protecting predatory men without consequences are over."
U.S. Rep. Frederica Wilson
What a difference a day makes! You may be out of a job, @SecretaryAcosta, but the inquiries into your actions in the Epstein case are not over.https://t.co/UJC5XrGSbS

— Rep Frederica Wilson (@RepWilson) July 12, 2019
U.S. Rep. Donna Shalala
https://twitter.com/RepShalala/status/1149695167387054081
https://twitter.com/RepShalala/status/1149695168716640256
U.S. Rep. Debbie Mucarsel-Powell
"Acosta should have stepped down when I first called for his resignation in February after a federal judge found that he broke the law when he violated the Crime Victims' Rights Act. This law requires prosecutors to inform victims of any plea deal and be involved in negotiations, which he failed to do. Acosta not only violated the victims' rights, but he also acted unethically by shielding a sex trafficker and pedophile and agreeing to an inappropriate sentence. His resignation is long-overdue. There is no place in public office for sexual predators or those who protect sexual predators."
State Sen. Lauren Book
"The resignation of Alex Acosta is a victory for crime victims everywhere. Acosta aided and abetted criminal sex predator Jeffrey Epstein — and was rewarded with one of the top positions within the United States government … until the truth caught up with him. The former Secretary is correct about one thing: today's world does treat victims very differently. And we treat abusers differently, too. We work to hold them accountable. Jeffrey Epstein, and all other accomplices: you're next."
Takisha Richardson, a career sex crimes prosecutor now with Cohen Milstein
"Acosta's claim that the evidence of Mr. Epstein's attacks was unavailable years ago is willfully ignorant at best and perhaps far worse than that. Any prosecutor knows that there are multiple ways to gather evidence in sex crimes cases and his actions, or lack thereof, failed not just dozens of young women but also the justice system that was supposed to protect them. Mr. Acosta had no business serving as a public official, and his removal from office should be a reminder that prosecutors must always enforce the law fairly regardless of money or power."
This is a developing story, and this piece will be updated.