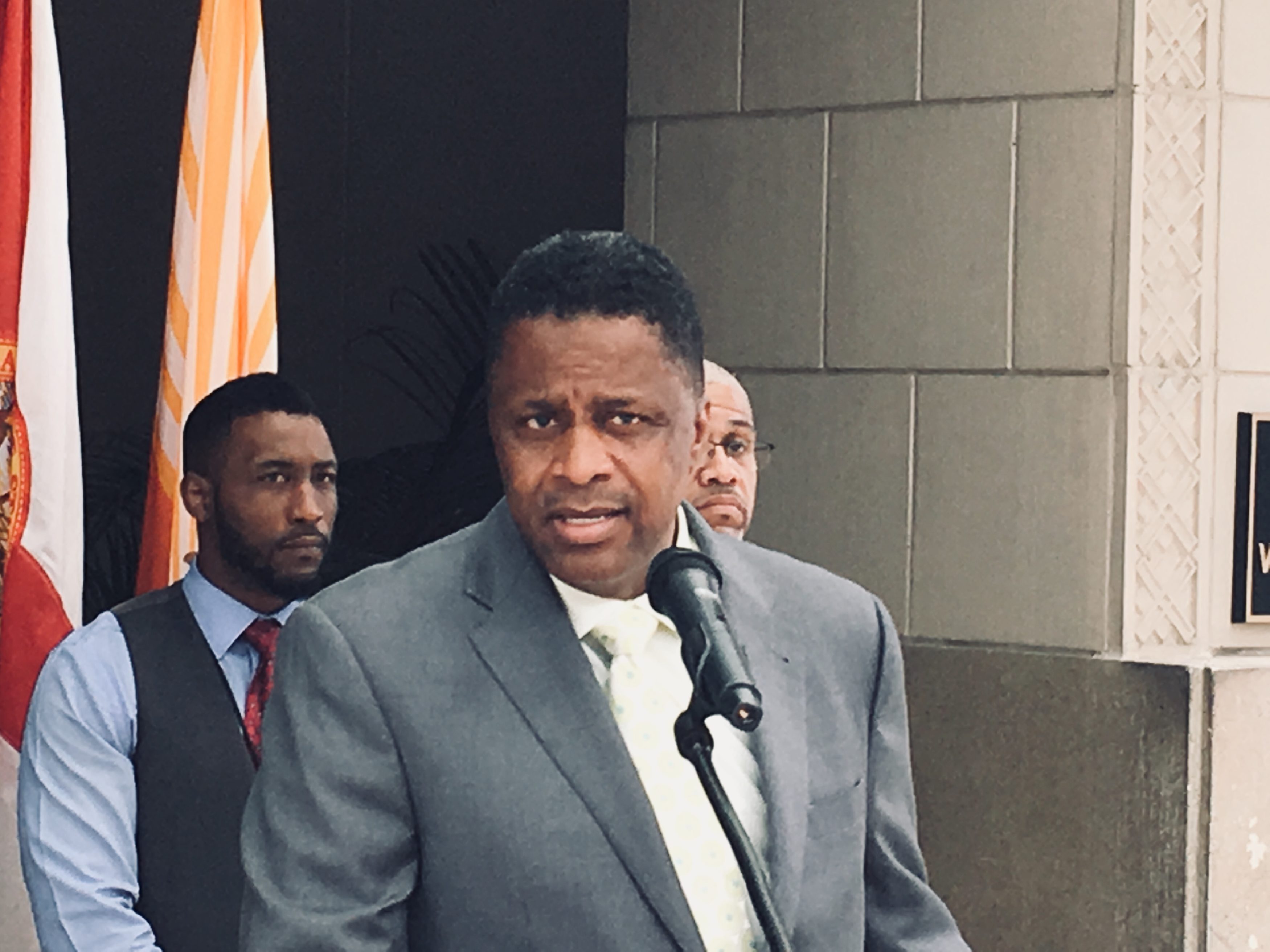 Trial is slated for next month.
An economic incentive deal from the beginning of this decade involving a Jacksonville BBQ sauce company is being hashed out in federal court this summer.
On Monday, a federal judge ruled against a motion filed last week from a former Jacksonville City Councilman wanting his trial thrown out just weeks before jury selection.
Reggie Brown, a Democrat who served on the City Council from 2010 until his suspension in 2018, asserts that numerous procedural delays violated his right to a speedy trial. Central to Brown's position is that co-defendant, alleged co-conspirator, and former Council colleague Katrina Brown's motions for delay compromised his defense.
Federal prosecutors disagreed, saying that only 22 days of the 70-day period had elapsed. Reggie Brown attorney Richard Landes attempted to lobby presiding Judge Marcia Morales Howard otherwise, but to no avail.
Earlier this year, the two defendants requested separate trials, saying their defenses could be "mutually antagonistic." But that request was denied.
The prosecutors' memo notes that Katrina Brown requested a continuance in January. Despite Reggie Brown objecting, the extension was allowed to allow Katrina Brown's lawyers to prepare for trial.
The federal argument has been for the efficiency of a joint trial. Judge Howard was sympathetic to that read, saying that Brown's arguments were "foreclosed" by the need for continuance for the "ends of justice."
"An additional five months was necessary for the preparation of an adequate defense [for Katrina Brown]," Howard said, adding that Reggie Brown failed to present an argument in favor of his motion.
"He's made no effort to show the delay in the trial impacts him in any way," Howard added.
Jury selection follows on Aug. 15 and 16th, ahead of an Aug. 19 trial date. The prosecution case should take a week.
The two Browns, who are unrelated, are accused of a 38-count conspiracy to defraud, say federal prosecutors. The pair is accused of extracting hundreds of thousands of dollars for personal use from a Small Business Administration-backed loan provided for Katrina Brown's family's barbecue sauce plant.
The complete list of charges: 13 counts of wire fraud, another 13 of mail fraud, five counts of money laundering, as well as attempted bank fraud for Ms. Brown and failure to file a 1040 form from Mr. Brown.
Expect two other individuals to testify that they helped launder money for Ms. Brown, corroborating the government's case.
Other motions also were ruled on Monday, with one actually going the defendant's way.
That motion in limine sought to exclude a vote Reggie Brown cast in 2010 benefitting KJB Specialties, the barbecue sauce company of Katrina Brown's family, securing $640,000 in economic development funds that led to fraud charges.
Prosecutors contended that showed Reggie Brown had foreknowledge, amounting to retroactive knowledge of the incentive deal. Judge Howard thought it was a potential red herring, and ruled with the defendant.
One of Katrina Brown's attorneys turned around and whispered "good job" to Reggie Brown's lawyer.
Katrina Brown motioned to enter forensic accountant testimony to pin the alleged fraud on Biz Capital, the bank that loaned her money.
Katrina Brown's CoWealth originally borrowed $2.65 million from Biz Capital, via the Small Business Administration loan, in addition to $380,000 of loans from the city of Jacksonville and $220,000 of grants, for the sauce plant.
This motion, objected to by prosecutors as "irrelevant," was intended to make the case that one of the Small Business Administration lenders had violated fidicuiary responsibility by how it handled the disbursement of funds to her company.
"The bank let this loan go on and on and on, until default," Attorney Richard Landes said, saying the bank was "an interested witness," and did not provide the company with sufficient capital
Judge Howard did not rule either way the testimony, though she questioned the proposition that the bank could be considered "negligent" given governing case law, as well as the idea she was "set up to fail" by lenders.
"You can't argue to the jury that negligence of the bank is a defense," Howard said.
As well, Katrina Brown filed some voir dire suggestions. Included among them, questions to potential jurors as to whether she's related to her co-defendant, or to her former political patron, Rep. Corrine Brown.
"I read a lot of hateful and nasty comments [on online articles about the codefendants and I don't know jurors would own up to that," argued Richard Landes for Katrina Brown.
Judge Howard was skeptical of the impact of this pretrial publicity.