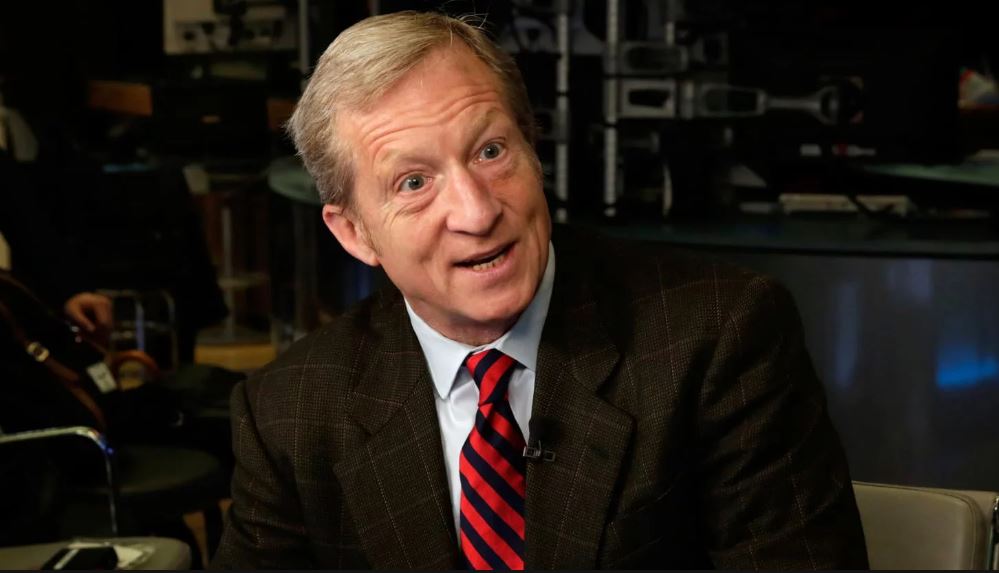 "It's imperative that we beat Donald Trump in 2020, and I'm the Democrat who can do it."
A new survey from Morning Consult has Democratic presidential candidate Tom Steyer earning 4 percent support in early states, despite tepid support overall just weeks after entering the race.
That puts Steyer tied for sixth among voters in Iowa, New Hampshire, South Carolina and Nevada.
Former Vice President Joe Biden is in first with 34 percent support, followed by U.S. Sen. Bernie Sanders of Vermont at 18 percent, U.S. Sen. Kamala Harris of California at 13 percent and U.S. Sen. Elizabeth Warren of Massachusetts at 11 percent.
South Bend Mayor Pete Buttigieg sits just ahead of Steyer in fifth place with 6 percent support. Steyer is tied with U.S. Sen. Cory Booker of New Jersey.
"I'm excited to see that my focus on reclaiming our government from corporations and pushing power to the American people is resonating with voters," Steyer said.
"It's imperative that we beat Donald Trump in 2020, and I'm the Democrat who can do it. I can't wait to take the debate stage in September and address the American people directly."
The billionaire hedge fund manager and activist joined the contest in early July after previously announcing he wouldn't run for President. Steyer also spent millions backing Andrew Gillum's 2018 bid for Florida Governor. Gillum was defeated in November by now-Gov. Ron DeSantis.
Steyer has frequented the early primary states, even before officially joining the race.
The first votes of the 2020 primary will be cast during the Iowa caucuses on Feb. 3. That will be followed by the New Hampshire primary on Feb. 11.
Nevada will hold its caucus on Feb. 22, followed by the South Carolina primary on Feb. 29.
That Steyer has pulled into a tie for sixth in those states just weeks after entering a field of more than 20 candidates could be a good indicator that he'll be able to build support.
But Steyer still has a ways to go. That same Morning Consult survey had him at less than 1 percent support among all Democratic primary voters.
A separate Emerson poll, released Monday, had Steyer doing better nationally. That survey had him tied for 7th with former tech executive Andrew Yang at 2 percent support.
Democrats will take the stage Tuesday night for their second round of debates.
Steyer did not qualify for that stage because of his late entry into the race. But he did announce a $500,000 ad buy that will begin running during CNN's predate coverage.