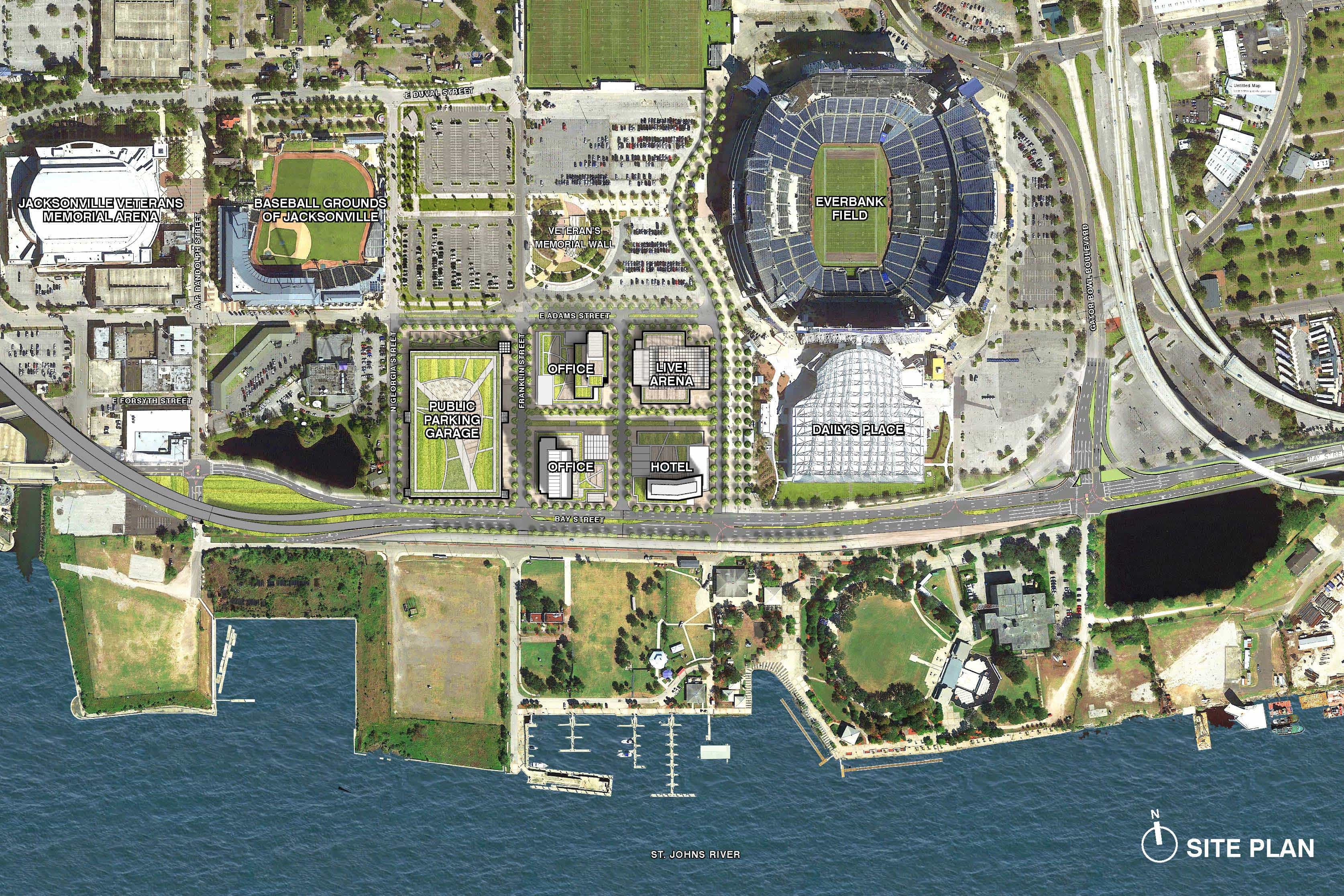 Private investors will spend $450M on development.
The big news out of Jacksonville Wednesday: Mayor Lenny Curry announced a deal is ready for legislative votes on Lot J, the long-discussed but still, up until now, conceptual project.
Curry noted that $450 million of private investment would move toward the Sports Complex if City Council and the Downtown Investment Authority ratify the deal.
As one would expect with a deal this size and a partner as reliable as Jaguars' owner Shad Khan, there would be a robust package of incentives. But those weren't rolled out Wednesday
Those details, via a draft version of a term sheet, are emerging Thursday morning. The hard money spend is proposed to be just over $200 million, a number that some Curry opponents may balk at.
The city is on the hook for up to $50 million cash to develop the Live! Entertainment District. Another $92.8 million is slotted toward infrastructure improvements. And an additional $65.5 million will be spent to "facilitate development of the project."
Additionally, a roughly $25 million ad valorem tax rebate (Rev Grant) is expected.
Essentially, the city will bear a third of the cost of the project, which is expected to become an economic engine that does what has yet to be done: lift the Eastside and Greater Downtown with synergy at the Sports Complex.
In terms of proportionality, this is the best deal Jacksonville has struck with Khan on a development project.
The city has partnered with the Jaguars/Khan before on two major projects.
In Curry's first term, the city and Khan split evenly the cost of $90 million in stadium improvements, including reconfigured club seats, a practice field, and an amphitheater.
In Alvin Brown's term, the city signed off on an ambitious capital investment: $43 million into EverBank Field upgrades, highlighted by the so-called world's largest scoreboards. That was more than half of hard costs.
Those deals sailed through City Council, and this looks likely to also.
The "Lot J Development Project" will be a "joint venture between Gecko Investments, LLC (an affiliate of the Jacksonville Jaguars) and The Cordish Companies."
Recall that in Curry's first term, he and senior staffers toured some Cordish developments. That vision flowers here.
The project, asserts the term sheet, will look similar to those in Baltimore and Kansas City.
The goal will read aspirational to some: "a transformational new neighborhood in downtown Jacksonville that will not only position the City of Jacksonville to attract events of national and international significance but will also serve as a catalyst for further downtown development."
In what is a clear statement of Mayor Curry's intention for the area, the term sheet adds that "this new neighborhood will become the preeminent place for people to gather, work and live."
An entertainment district with a 300-unit luxury high rise tower, a 200-unit boutique hotel, and a 120,000-square-foot office tower likely will be a major draw.
"The Project will bring economic benefits to downtown Jacksonville, including increased tax revenues and jobs (both during construction and on a permanent basis to support the new facilities). The first-class, iconic Project will also attract additional investment in, and elevate the profile of, downtown Jacksonville," the term sheet contends.
The developer will get a big chunk of what will be prime real estate: "the property for the luxury high-rise residential tower(s), the boutique hotel, the office tower and the mid-rise residential building(s)."
Lot J looks to be the first pillar of Mayor Curry's second term vision. People have raved about the concept.
Now, they know the hard costs.