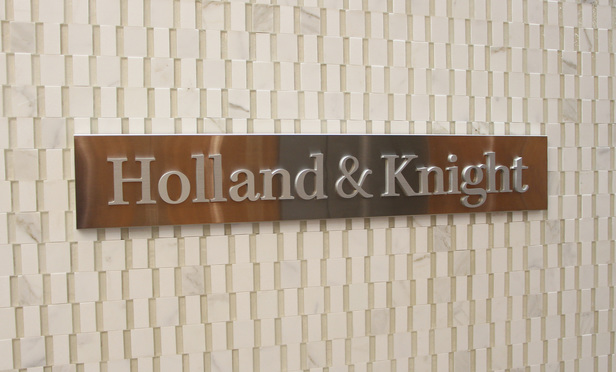 The firm could have reeled in as much as $710,000
The team at lobbying firm Holland & Knight racked up an estimated $465,000 in earnings during the second quarter of the year.
The team of Joshua Aubuchon, Kimberly Case, Lawrence Curtin, Mark Delegal, Janna Lhota, Bob Martinez, George Meros, Lawrence Sellers and Richard Stephens juggled about 40 clients during the reporting period.
Those contracts brought in $300,000 in legislative lobbying pay and another $165,000 in executive lobbying pay.
Compensation reports list per-client pay in $10,000 ranges. Florida Politics uses the middle number of those ranges to estimate quarterly compensation.
The lead spot on HK's legislative compensation report was held by State Farm, which tossed $25,000 the firm's way last quarter. A heap of clients, including Heineken, Osceola County and Shands Teaching Hospital, followed in the $10,000 to $20,000 pay range.
The balance of the report was made up of $5,000 contracts. Among them were the Florida Press Association, the Florida Chamber of Commerce, the Hillsborough Area Regional Transit Authority and Park Place Behavioral Healthcare.
The executive report featured mostly the same clients. The most lucrative principals on that sheet were the National Public Finance Guarantee Corporation and Wawa, both of which paid $15,000 in fees last quarter. The list included 27 other contracts at the $5,000 level.
The bottom line of Holland & Knight's legislative report put their overall earnings in the $250,000 to $500,000 range. Executive lobbying netted the firm between $100,000 and $250,000.
If each of HK's contracts hit top dollar, the firm could have reeled in as much as $710,000 — $460,000 for lobbying the Legislature and $250,000 for lobbying the Governor and Cabinet.
Florida lobbyists and lobbying firms must name their clients when they sign lobbying agreements and must report their earnings from each client on a quarterly basis. Reports for the second quarter were due Aug. 14.