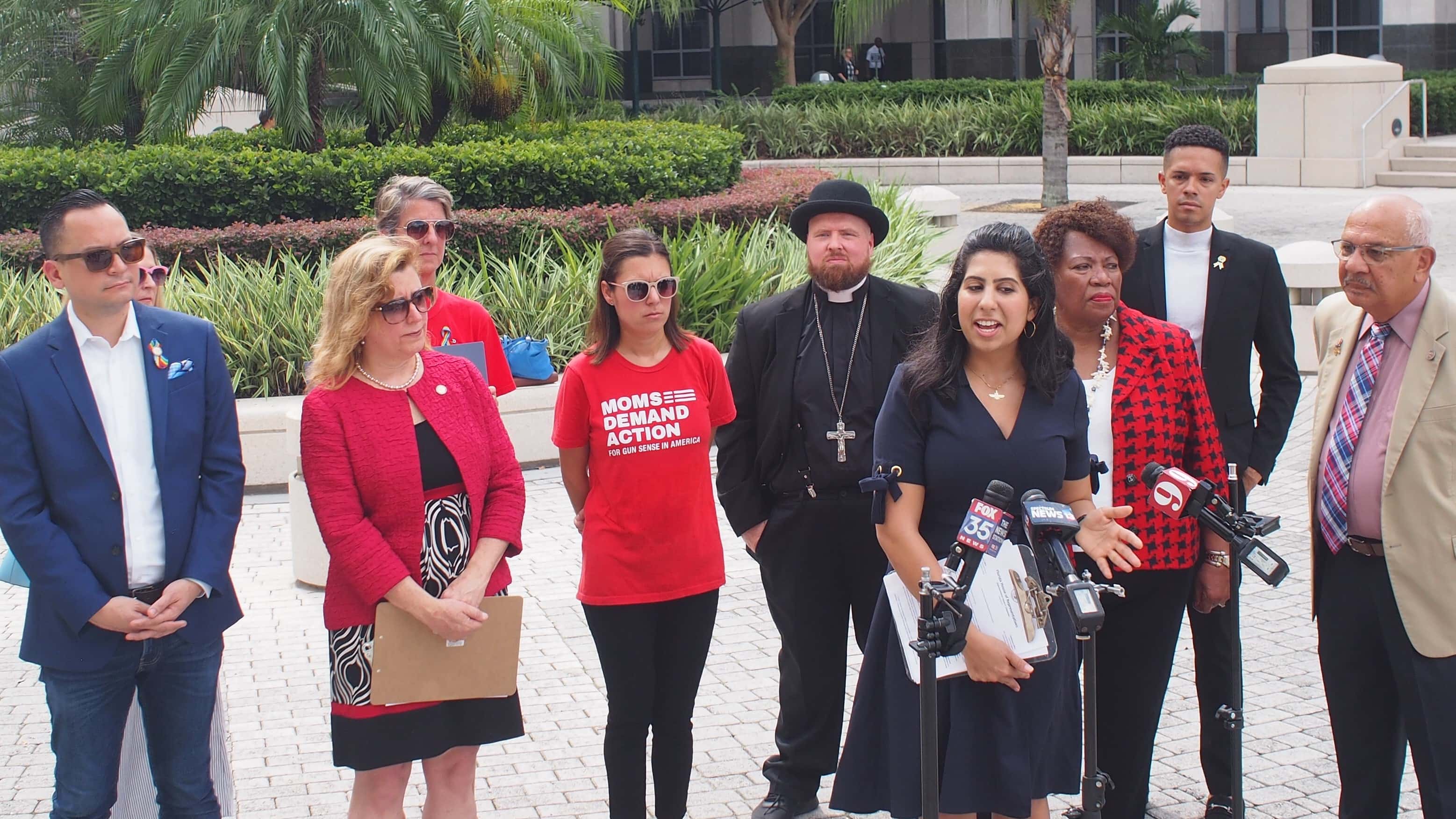 Democrats express frustration but support for petition drive
Decrying years of inaction on Democratic gun proposals as gun violence has accelerated, a group of Central Florida Democratic lawmakers demanded hearings in the Florida Legislature next year.
In a press conference organized by state Rep. Anna Eskamani of Orlando, she and four other lawmakers joined representatives of Moms Demand Action and others Monday decrying the Florida Legislature's decision Friday to refuse a special session.
But that decision, in the face of no Republican support for a Special Session, was only the latest point of  frustration expressed by Eskamani, state Sen. Victor Torres of Orlando, and state Reps. Carlos Guillermo Smith and Geraldine Thompson of Orlando and Joy Goff-Marcil of Maitland.
This press conference was a vow that the Democrats supporting such issues as background checks, bans on military-style rifles and high-capacity ammunition magazines, requiring gun stores to secure their wares overnight, and expansions of red-flag laws will not go away and will continue to push.
On Monday they once again demanded Florida Legislature committee hearings on their proposals.
Torres said he is viewing Senate President Bill Galvano's call for an open discussion on mass shooting as an opening.
"It is an opening and I would submit any legislation on banning assault weapons. But you know, I would like to be on the committee. Put me on the committee. You've got to see who is on the committee now. President Galvano is very fair and open-minded and I would like to see somebody like me, who'se been advocating banning assault weapons, and not arming our teachers," Torres said.
There was less confidence that there was an opening in the House of Representatives, leading to the lawmakers to repeat their previous requests.
"Let's get a hearing," Goff-Marcil said.
"Yes ma'am," Eskamani added. "Give us a hearing."
Smith, who has filed gun bills in the House each of the past two years, suggested Monday that while he and others will never give up trying, the longer they try, the greater the chance that a voter referendum might take the issue statewide. That starts now with the petition drive going on for a proposed Florida Constitutional amendment to ban assault weapons.
"You can actually work your way around the Florida Legislature through a ballot initiative. OK? We are going to continue to refile these bills every year until they're heard or they're passed," Smith said. "But let's be real. Is the Florida Legislature going to approve a ban on military-style assault weapons? Not likely. We will fail 100 percent of the time we don't try. So we are going to try.
"But we also want to encourage our advocates on the ground to sign the petition by Ban Assault Weapons Now," Smith said.