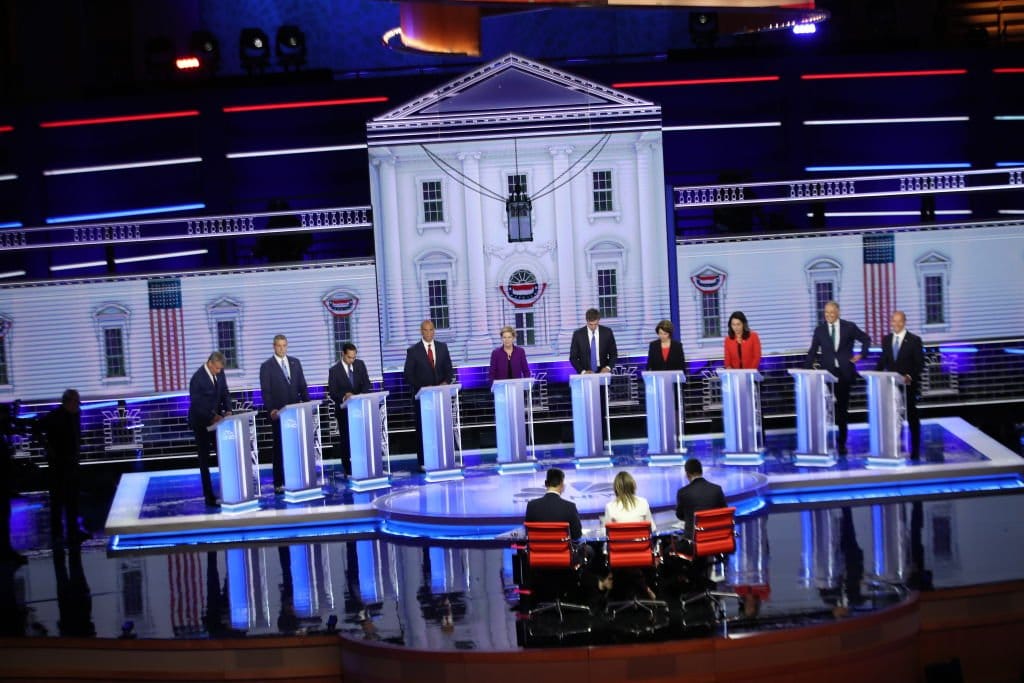 The next debate will take place in Houston on Sep. 12.
The Democratic debate field will be cut in half for the next debate, with just 10 candidates qualifying under a new set of stricter rules.
The Democrats' first two debates featured 20 candidates each. Those candidates were split into groups of 10, forcing those debates to span two nights.
But the next debate will take place in Houston on one night only, Sep. 12. That means the most popular candidates thus far will all take the stage together for the first time. Previously, the highest-polling candidates were split up across the two nights.
So who made the cut this time? Former Vice President Joe Biden, U.S. Sen. Cory Booker of New Jersey, South Bend Mayor Pete Buttigieg, former Secretary of Housing and Urban Development Julián Castro, U.S. Sen. Kamala Harris of California, U.S. Sen. Amy Klobuchar of Minnesota, former U.S. Rep. Beto O'Rourke of Texas, U.S. Sen. Bernie Sanders of Vermont, U.S. Sen. Elizabeth Warren of Massachusetts and former tech executive Andrew Yang will all take the stage in Houston.
To qualify, candidates had to court at least 130,000 donors and poll at 2 percent in at least four different polls sanctioned by the Democratic National Committee (DNC).
Those requirements were less stringent for the first two debates. Candidates needed a minimum of 65,000 donors and 1 percent support in three different polls.
And candidates could hit either of those benchmarks to qualify. This time, they had to hit both the fundraising and polling floors.
The newest entrant into the race, billionaire hedge fund manager Tom Steyer, just missed out on taking the stage in September. Steyer met the donor requirement, but was one poll short of the four polls needed to qualify.
Had Steyer made the cut and increased the field to 11 candidates, the debate would have once again been split into two nights.
U.S. Sen. Kirsten Gillibrand of New York also failed to qualify for the debate. She announced Wednesday night she was ending her run for the presidency.
As candidates have been matched up randomly over the course of the first two debates, many of the top tier candidates have faced off.
Biden and Harris had a memorable exchange at the first debate in Miami, which triggered a bump for Harris in the polls which has since faded. The second debate, in Detroit, saw Warren and Sanders share the stage, though they largely avoided going after one another.
One matchup we haven't seen is between the two current highest-polling candidates: Biden and Warren. Those two will share the stage for the first time on Sep. 12.