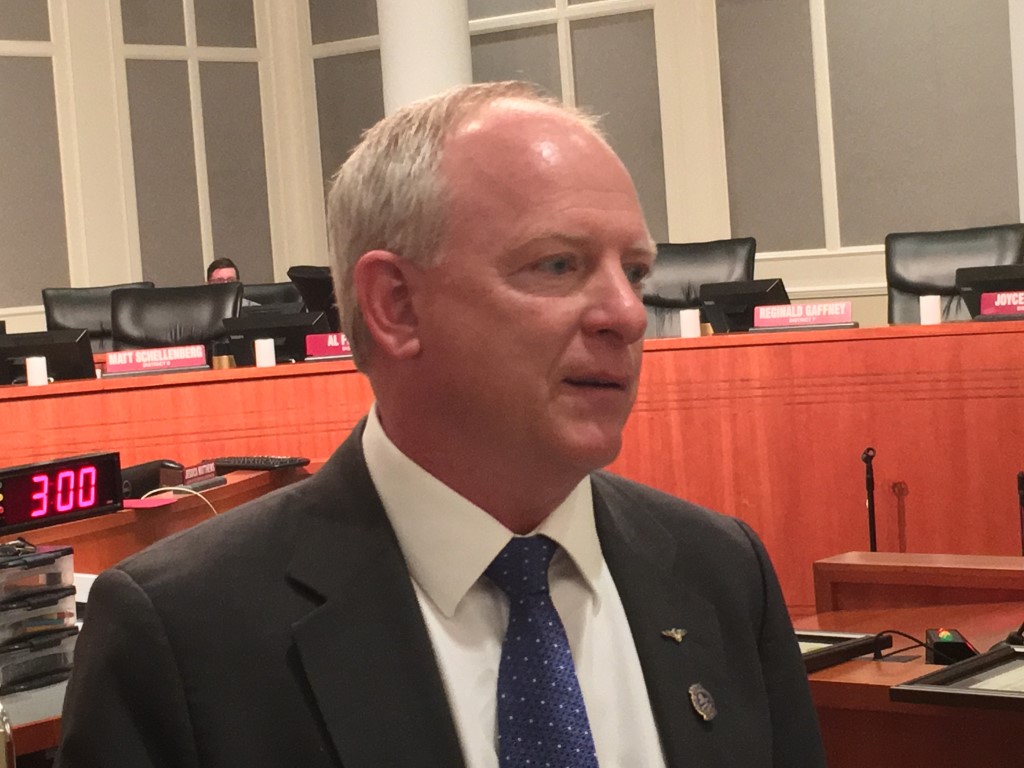 More personal rancor in Jacksonville politics.
Two prominent Jacksonville City Council Republicans exchanged sharp words in an email thread this week.
The nominal subject: divergence on the timing and the specifics of a proposed referendum for school capital sales surtax.
The debate, which has heated up over the summer months, boiled over into ad hominem attacks in a very pointed email thread Thursday.
This came just two days after the Jacksonville City Council voted to withdraw the Duval County School Board's referendum request.
The exchange started off when Finance Chair Aaron Bowman emailed Duval County School Superintendent Diana Greene regarding getting draft versions of timelines for proposed capital improvements for the schools.
Bowman wanted Greene to reach out no later than Tuesday morning about the documents that led to the district's proposed Master Facilities Plan.
Bowman's colleague Matt Carlucci (an at-large Councilman who notes he was the leading recipient of votes in the March elections) took issue with the "demanding" tone of the request.
This was an extension of his irritation that the School Board has not been heard by Bowman's committee.
"Aaron, You are a councilman. Please do us and your constituents a favor and Brush up on your humility. Dr. Greene is the Superintendent of al DCPS. Your Attitude only builds walls. Think hard about this, Matt. Ps: you did not behave like this when you came to me asking for support," Carlucci wrote.
Bowman fired back nine minutes later: "When you come to terms that you are a 'has been' , I suspect things will get better for you."
The exchange continued in an unproductive fashion before Bowman terminated.
"So obviously you have issues so I will automatically divert all of your email to file folder. If you have something that you need to discuss, please call me … or get an appointment. Sad to watch you fall but I can only control one council member and certainly the way you attack your colleagues is disappointing and disgraceful and I will have no part," Bowman asserted.
Bowman noted that his issue with the document was that Council was "told it did not exist and then it magically shows up a few minutes before our meeting from a Council member, not the board or the Supe."
While he did not address the "has-been" jab at Carlucci, Bowman has not been averse to mixing it up with Council colleagues.
He has referred, for example, to Democrat Garrett Dennis as "Mr. Irrelevant," citing 18-1 votes opposed to one Dennis bill or another.
Carlucci said that "maybe" he's a has-been, but pointed to his institutional knowledge garnered in four terms on Council.
That institutional knowledge, he added, makes him a consensus builder, as opposed to "building walls."
"The lack of wanting to build consensus has hurt this," Carlucci said.
Carlucci had sought a postponement of the bill, keeping it live, but he could not build consensus for that move. Nor has he been able to build consensus to put the referendum on the ballot.
A statement by Bowman, saying that he would be the "worst nightmare" for a referendum as currently proposed, particularly nettled Carlucci.
While Carlucci continues to regard Bowman as a friend, it's hard to say if the feelings are mutual.