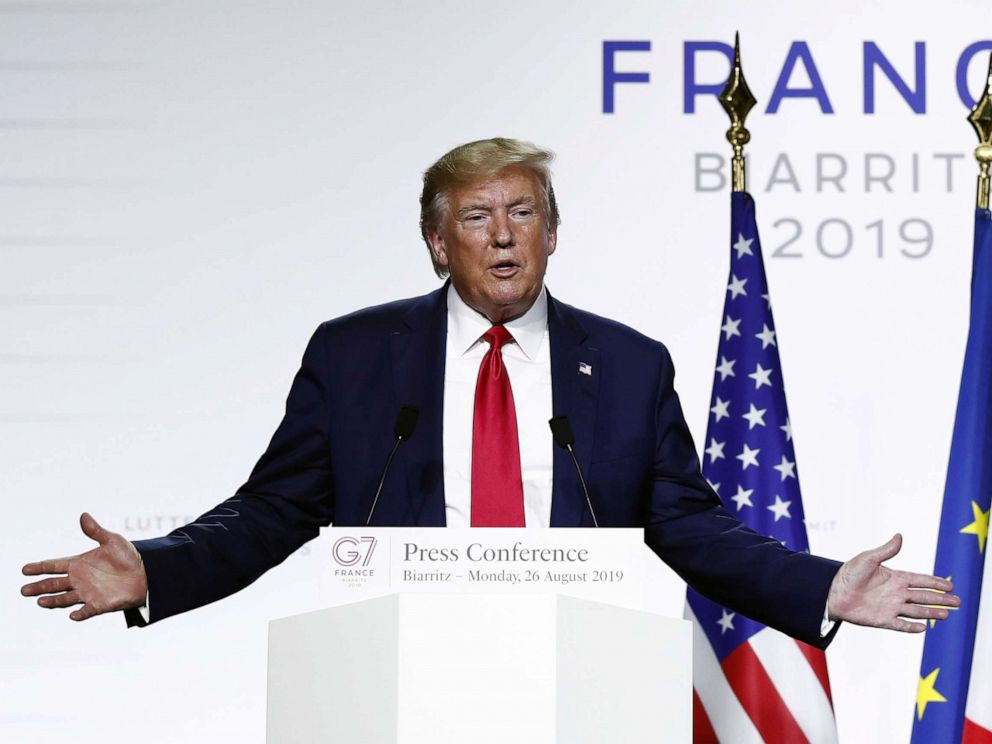 "The president must prioritize the safety of Florida's residents now."
Ahead of Hurricane Dorian's possible impact on Florida, several liberal groups are blasting President Donald Trump's decision to transfer federal emergency funds to address increased migration at the southern border.
Just weeks ago, the Trump administration informed Congress it would transfer $155 million from the Federal Emergency Management Agency (FEMA) Disaster Relief Fund. That money would go to immigration hearing facilities and would also be used for additional beds at detention facilities.
But with Dorian forming and taking aim at the Sunshine State weeks later, Trump is coming under fire for the move.
"As we saw most recently with hurricanes Maria and Michael, the president is all too comfortable with leaving people behind," said Aliki Moncrief, Executive Director of Florida Conservation Voters.
"The president must prioritize the safety of Florida's residents now, and move to reduce climate change impacts nationwide in the future. After the storm, we will need federal support and funding to recover and make Florida more resilient."
The danger posed by Dorian just weeks after the Trump administration's announcement is raising questions about the decision.
But the move to transfer FEMA funds isn't exclusive to this year, or even this administration.
FEMA money has been used to address issues at the border each of the last four years. In August 2014, the Barack Obama administration moved nearly $277 million of FEMA money, along with another $137 million from other agencies to help address the Central American migrant crisis.
But Daniela Martins, Florida Outreach Director at Priorities FL, argues Trump's move indicates a lack of concern for environmental catastrophes.
"While President Trump refuses to recognize the severity of climate change, Floridians feel firsthand the mounting effects of the climate crisis," Martins said.
"Floridians' lives rely on FEMA's disaster relief funds and hurricane preparedness. By divesting the funds from a real climate crisis to pay for his fabricated border crisis, President Trump is putting lives on the line."
FEMA has said that even with the $155 million transfer, enough money remains to address any potential impact from Hurricane Dorian.
Blake Williams, communications director at For Our Future Florida, still questioned the timing of the move.
"It's the beginning of hurricane season in Florida and this president is funneling over $150 million out of disaster resources to fund his family separation and detainment efforts," Williams said.
"We all know Mar-a-Lago will be rebuilt after a hurricane, but the rest of Florida deserves to know that their recovery will amount to more than just a paper towel toss from Trump."
And Marcos Vilar, executive director at Alianza for Progress, blasted the administration for moving money around that could go to help areas like Puerto Rico and the Florida Panhandle in the event of a strike.
While Dorian thankfully dodged the island, Puerto Rico is still feeling the effects from Hurricane Maria.
"If Puerto Rico is not the indication that there's something deeply wrong about Trump's choices, then Panama City surely is," Vilar said.
"Let us pray to God that Dorian does not harm our people in Florida as we face the real danger of another disaster, four more years of an administration bent on destroying the very core of what we stand for: democracy, citizenship and the freedom to pursue happiness."