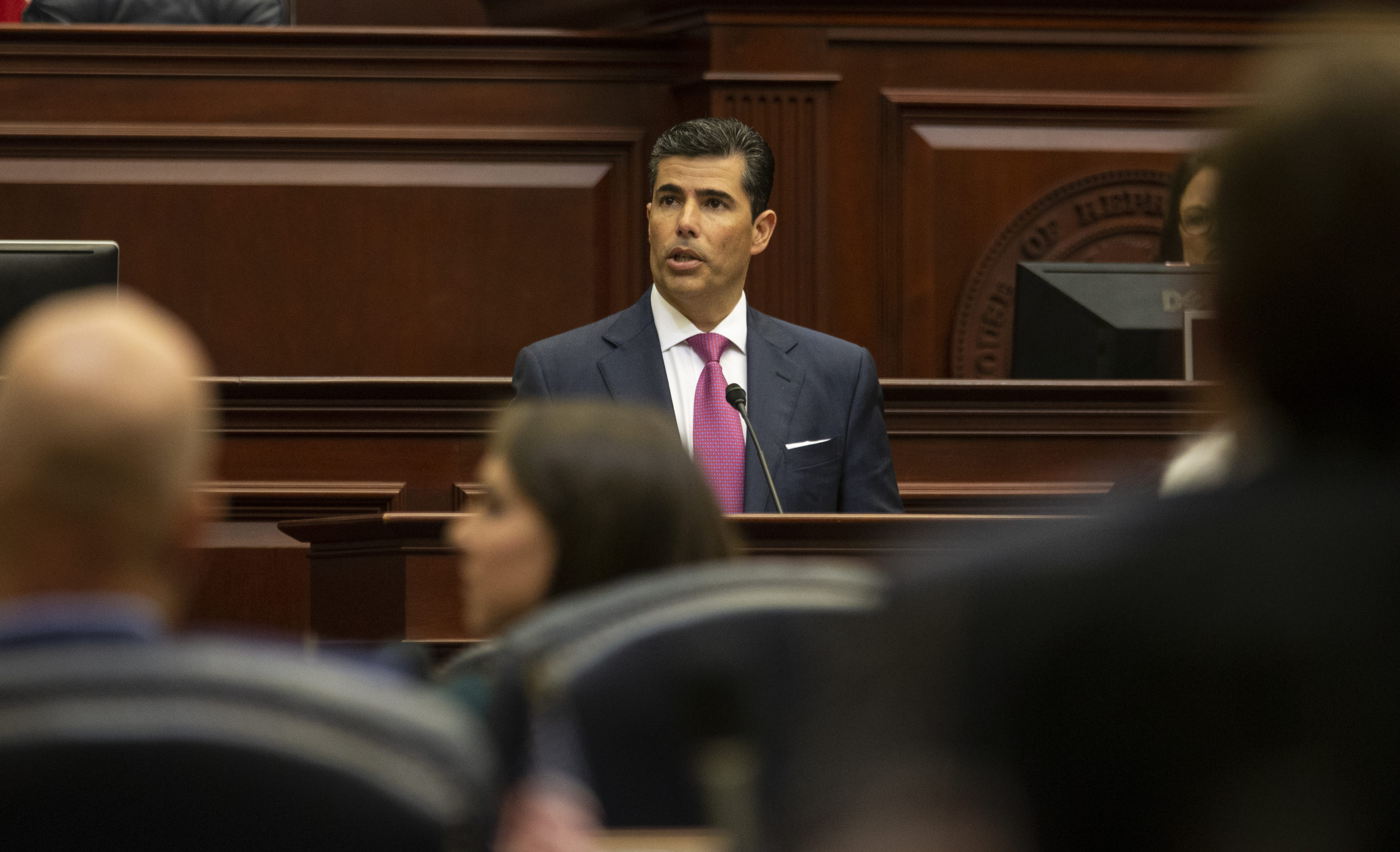 Travis Cummings will repeat as chair of Appropriations.
House Speaker José Oliva on Friday released committee and subcommittee assignments for the 2020 Legislative Session, the second and last one he will lead as head of the chamber.
Oliva, a Miami Lakes Republican, is term limited next year.
Travis Cummings, a Clay County Republican, will repeat as chair of the House Appropriations Committee. Also serving on the committee are Republican Reps. Cord Byrd, Byron Donalds, Randy Fine, Mike La Rosa, Chris Latvala, Tom Leek, MaryLynn Magar, Ralph Massullo, Cary Pigman, Rene Plasencia, Holly Raschein, Paul Renner, Ray Rodrigues, Chris Sprowls, Jay Trumbull, Jayer Williamson and Clay Yarborough. Democratic Reps. Ben Diamond, Bobby DuBose, Nick Duran, Joe Geller, Kristin Jacobs, Evan Jenne, Kionne McGhee, Carlos Guillermo Smith, Richard Stark and Barbara Watson round out the committee.
Another key committee, Health & Human Services, will be chaired by Rodrigues with Pigman serving as vice chair.
Bryan Avila of Miami Springs again chairs the Ways & Means Committee.
Notably, state Rep. Mike Hill, a Pensacola Republican, has been removed from the Public Integrity and Ethics Committee. He is, however, on the Civil Justice Subcommittee, the Judiciary Committee, and the PreK-12 Innovation Subcommittee for 2020.
Earlier this year, Hill caught flak for laughing at a joke made by a constituent at a town hall about executing gay people. Oliva and Sprowls, the next-in-line House Speaker, publicly condemned Hill over his reaction to the joke.
Rules will again be headed by Sprowls, a Palm Harbor Republican. Colleen Burton of Lakeland has taken over as vice chair, succeeding Jackie Toledo of Tampa. Of note is the addition of Rep. Daniel Perez, who will take over as House Speaker if Republicans hold a majority in the chamber after the 2024 elections.
In other notable assignments (all are Republican):
On the Children, Families & Seniors Subcommittee, Rick Roth of West Palm Beach replaces Cyndi Stevenson of St. Johns as vice chair.
On the Civil Justice Subcommittee, Bobby Payne of Palatka replaces Toledo as vice chair.
On the Gaming Control Subcommittee, Daniel Perez of Miami replaces Randy Fine of South Brevard as vice chair.
On the Government Operations & Technology Appropriations Subcommittee, Erin Grall of Vero Beach replaces Michael Grant of Port Charlotte as vice chair.
On the Insurance & Banking Subcommittee, Byron Donalds of Naples replaces Stevenson as chair. He previously chaired the now-defunct PreK-12 Quality Subcommittee.
A Local Administration Subcommittee has been added, with Scott Plakon of Longwood as chair and Toledo as vice chair.
On the Oversight, Transparency & Public Management Subcommittee, Stevenson has taken over the chair for Plakon.
On the State Affairs Committee, Payne has succeeded Plakon as vice chair.
On the Transportation & Infrastructure Subcommittee, Thad Altman of Indialantic is now vice chair, succeeding Burton.
The full list is below.