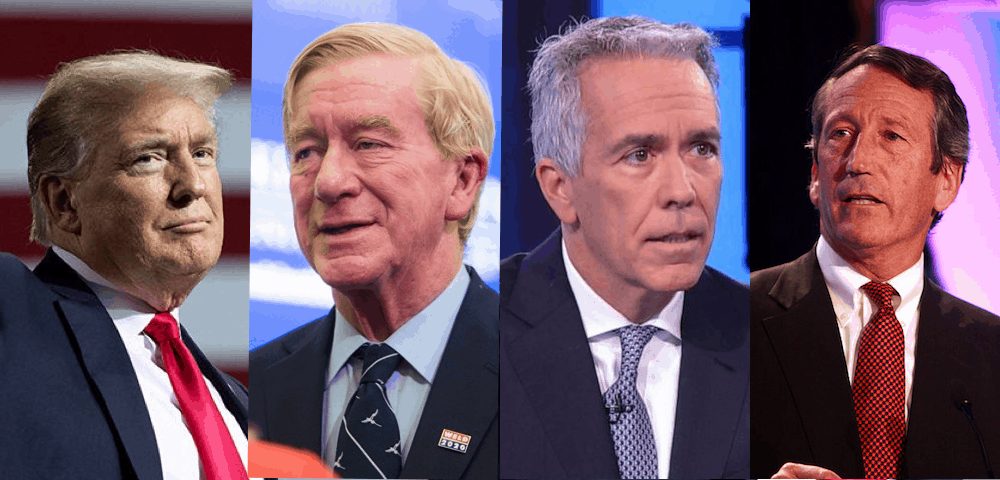 Bill Weld, Joe Walsh, Mark Sanford would need to pay $25,000 or qualify by petition.
Republican leaders in four states have canceled presidential primaries next year, but don't expect Florida to join them.
Republican Party of Florida chairman Joe Gruters said Party leaders already approved rules regarding the primary. While Gruters remains an enthusiastic supporter of President Donald Trump, canceling a primary won't be necessary.
"The support for Trump is overwhelming," Gruters said. "You don't need to close something off when you are going to win 90-10."
But there will be one less avenue available for candidates to get on the ballot. That's because in the event a Republican incumbent runs, the party won't hold a Sunshine Summit.
The presidential primary on the Republican side has become a bigger deal as more high-profile Republican candidates surfaced.
On Sunday, former South Carolina U.S. Rep. and Gov. Mark Sanford told Fox News he would run.
That follows former Illinois Rep. Joe Walsh announced a challenge from the right. And former Massachusetts Gov. Bill Weld jumped into the race in April.
But some states won't entertain a challenge on an incumbent president.
Four states — South Carolina, Nevada, Arizona and Kansas — won't have a Republican primary or caucus this year, POLITICO reported Friday.
Notably, the process for selecting a presidential nominee falls ultimately under party jurisdiction. If leaders for the Republican Party of Florida wanted to cancel the March 17 presidential preference primary here, they could.
But executive committee members at their last quarterly meeting also approved rules for making the ballot. Those allow for candidates to qualify for the presidential preference primary ballot three significant ways.
One of those methods is closed this year. During years without an incumbent, getting invited to the Sunshine Summit and attending would be enough to qualify. But no summit will be held if there's an incumbent Republican in the White House, which is the case in 2020.
But candidates can still qualify by paying a $25,000 fee to the Republican Party of Florida.
"I was Trump's Florida chairman in 2016, and I am still in full support of the president running and winning reelection," Gruters said. "But we hope to take people's $25,000 when they decide to qualify in Florida."
Candidates also can qualify by submitting 3,375 petitions from registered Republican voters. That pile must include at least 125 signatures from each of Florida's 27 Congressional districts.
Notably, the rules also allow one other path open only to an incumbent president. Trump need only submit a letter to the RPOF chair, asking for his name to appear on the ballot.
All of those qualification methods, including the letter from Trump, must be submitted to the party by 5 p.m. on Nov. 22.
Notably, no candidates have yet been in contact with the state party, so Gruters doesn't know what candidates will even try to qualify in Florida.
Since news broke that four candidates will forgo primaries or caucuses this year, Gruters has received queries from party members asking if Florida will follow suit.
For his part, Gruters expects any primary only to bolster the President's reelection efforts.
"I actually think that the primary will show the dominance, support and love Donald Trump has in Florida," Gruters said. "This is his second home. He spends more time here than anywhere other than D.C. We embrace him."