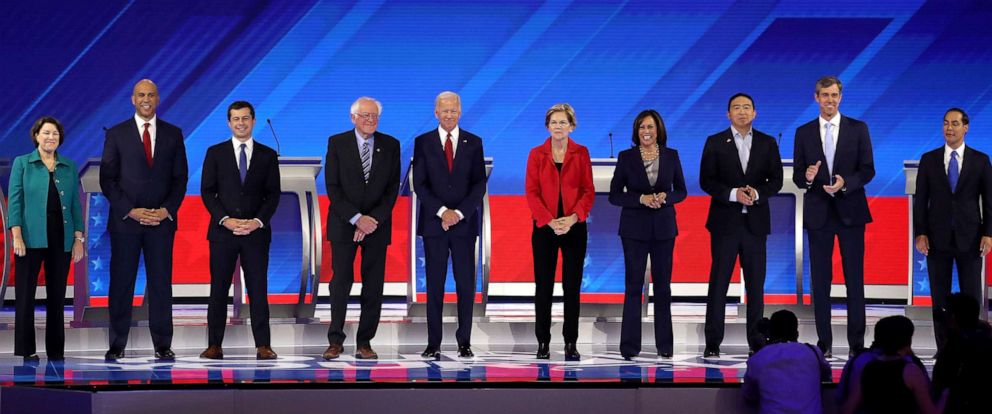 Can Joe Biden hold onto frontrunner status?
On Thursday night, ten Democratic candidates for President debated in Houston, Texas in the first one-night debate for the sprawling field.
Former Vice President Joe Biden, frontrunner for the entire campaign thus far, came into the evening continuing to shed support in polls to the two U.S. Senators polling second and third.
The big question going in: Would this be the night that Biden could assume the frontrunner mantle, or would he further be defined as a relic from the past?
There was no knockout blow against the Veep, though he flailed more than once when directly criticized.
Biden led off with a description of President John Kennedy ordering a moonshot, likening himself to the Camelot era; as was the case with Kennedy, Biden reckoned he too "refuse[d] to postpone" and make progress, that is, "once we get rid of Donald Trump."

Biden linked U.S. Sens. Elizabeth Warren and Bernie Sanders, flanking Biden on the stage and nipping on his heels in surveys, saying that their health care proposals lack funding.
"She's with Bernie; I'm with Barack," Biden chided.
Warren countered that families are being gouged for health care. Sanders contended likewise that Medicare for All was cheaper than the status quo.
"Families are paying … every time they don't get a prescription filled … every time they don't get a lump checked out because they can't afford the co-pay," Warren said.
Biden became exercised in his response.
"If you like your health care, you can keep it," he said, channeling Barack Obama again.
Warren's response?
"Let's be clear: I've actually never met anybody who likes their health insurance company," she said.
As the debate went on, Biden and Sanders sparred on the issue of Iraq.
Biden, for his part, regretted giving President George W. Bush authorization for war in Iraq, saying that Obama charged him with "get[ting] the troops home."
"With regard to Iraq, the fact of the matter is that, you know, I should have never voted to give Bush the authority to go in and do what he said he was going to do," Biden conceded.
Sanders noted his opposition not only to the Iraq War, but to "all three of Trump's military budgets."
The two-against-one dynamic in the top tier did not come without an undercard. The other seven struggled to create moments, occasionally at the expense of Biden.
Former HUD Secretary and San Antonio Mayor Julián Castro joined the line of candidates jabbing Biden, illustrating the age issue.
"Are you already forgetting what you said two minutes ago," Castro chided when Biden was flummoxed in crosstalk over health care.
Castro later characterized Biden as "wanting to take credit for Obama's work, but not answer any questions" about how the administration's legacy has aged.
California Sen. Kamala Harris, who was polling close to Sanders and Warren at one point, was made to account for shifting positions on criminal justice, including the Drug War.
"There have been many distortions of my record," said the former prosecutor, describing the criminal justice system as rooted in "racial bias" and vowing to hold "law enforcement, including prosecutors, accountable."
Harris' best moment was on the issue of assault weapons.
"People asked me in El Paso … do you think Trump is responsible for what happened? And I said, 'Well, look, obviously he didn't pull the trigger, but he's certainly been tweeting out the ammunition,' " she quipped.
Harris chided Trump on multiple occasions, saying he reminded her of the Wizard of Oz.
"When you pull back the curtain, there's a really small dude," she said.
Former U.S. Rep. Beto O'Rourke of Texas was the greatest beneficiary of the collective opposition to mass shootings, with an "instant classic" quote advocating mandatory gun buybacks.
"Hell yes, we're going to take your AR-15, your AK-47," he said, getting applause and finding a way finally to trend on Twitter.
O'Rourke went on to seemingly blame the President for the mass shooting in El Paso, closing the loop as the debate ended.
The "act of terror … was directed at our community, in large part by the President of the United States," O'Rourke contended.
Meanwhile, businessman Andrew Yang, polling in the low single digits like half the candidates on stage, seized the pre-debate headlines by spoiling his intro: A pledge to give away $120,000 to ten families as a pilot for his Universal Basic Income scheme.
"Everything revolves around the almighty dollar," Yang said, describing a campaign as "spending money on consultants and hoping it all works out," before inviting people to visit his website and pitch him on how they would spend $1,000.
South Bend, Indiana Mayor Pete Buttigieg, an Afghanistan veteran, noted that the "endless war" in Afghanistan is 18 years old, vowing that any authorization for military force would sunset in three years.
"If our troops can summon the courage to go overseas, Congress can summon the courage for them to vote to be there," Buttigieg said.