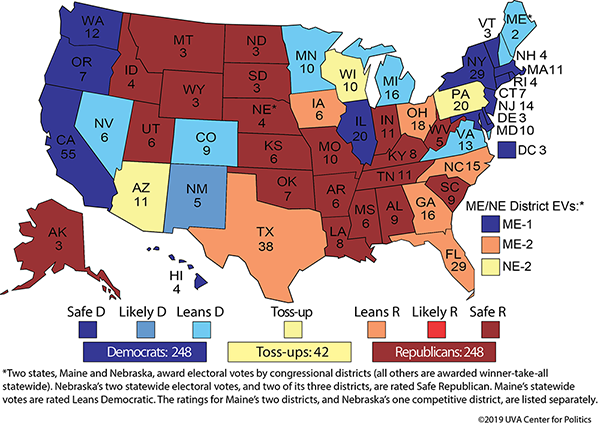 Prognosticators have kept Florida in 'Lean R' column since March.
While Sunshine State pols gear up for a 2020 battle, one prognosticator maintains Florida won't be a swing state.
Sabato's Crystal Ball, run by the University of Virginia's Larry Sabato, leaves Florida in the "Leans R" column.
That's not new. The outfit colored Florida pink when it issued its first 2020 map in March. But after three statewide races in Florida went to recount, the Sabato ranking still stuns with its stubbornness.
Interestingly, the map appears somewhat foreboding for President Donald Trump. The incumbent Republican counts 248 electoral votes on the map, including Florida's 29 votes. The map puts Democrats, who have yet to set a contentious nomination process, on equal footing.
In an accompanying write-up, Crystal Ball Managing Editor Kyle Kondik suggests Trump may need to expand his map if he wants a path to 270 votes and reelection.
"The President seems to be at least a small underdog in every Hillary Clinton-won state," Kondik writes.
The Sabato team this month moved New Hampshire, a battleground won by Democrat Hillary Clinton in 2016, to the "Lean D" column.
Kondik notes that nearly every President elected since 1856 to win two elections picked up at least one state their second go around. President Barack Obama stands as the only exemption; he actually lost Indiana and North Carolina the second go-around while picking up no new states.
Losing states isn't a catastrophe, Kondik notes. George W. Bush and Bill Clinton also lost states during successful reelection efforts.
But for the moment, Trump's reelection effort can go either way.
"We continue to see the 2020 presidential election as something of a 50-50 proposition," he said.
Crystal Ball has yet to start releasing compiled state polls from every state, and few exist yet that pits Trump against Democratic nominees.
Of course, the polling that exists shows a tight race. Florida Atlantic University this week released a poll showing Trump in a statistical tie with Democrat Elizabeth Warren, ahead 50.1 to 49.9 over the Massachusetts Senator. The same poll showed Trump up 1 percent over Democrats Joe Biden and Bernie Sanders, and up 4 points on Kamala Harris.
The newest write-up from Sabato doesn't indicate why it left Florida leaning rightward. But by default, the March justification still stands.
Then, Kondik wrote analysts couldn't get over Republican Rick Scott defeating longtime Democratic incumbent Bill Nelson for a U.S. Senate seat.
"This decade, Florida has featured two presidential contests, three gubernatorial races, and one Senate race each decided by a margin of 1.2 points or less," Kondik wrote then. "The Republicans won all but one of those races. Are the Democrats just unlucky, or does the GOP have a very small but steady edge in Florida?"
For the moment, the Crystal Ball team believes the latter.