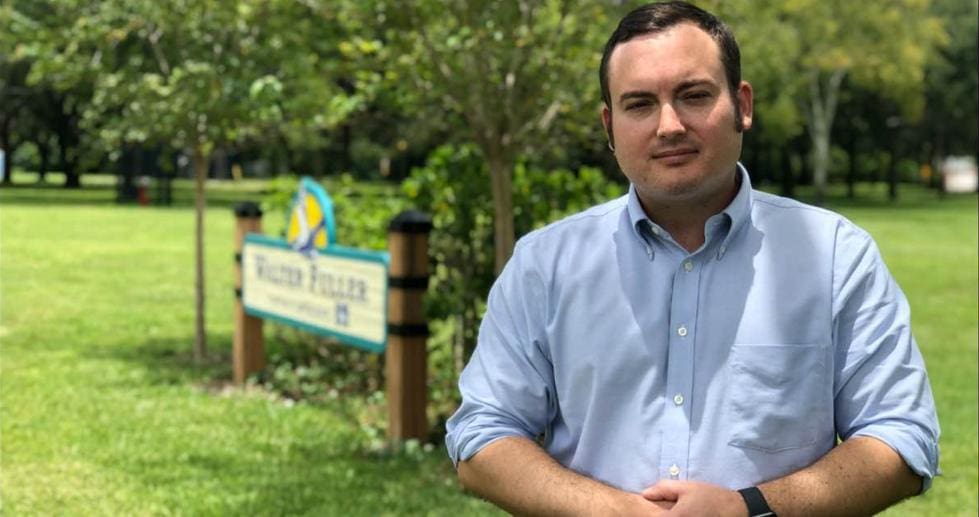 Hornbeck says his financial situation has changed.
John Hornbeck gave $14,000 of his own money to his St. Petersburg City Council campaign despite having claimed financial hardship to avoid paying a campaign filing fee.
He now says his financial situation changed since then, though the move still raises questions on exactly how Hornbeck can afford to self-fund his campaign.
Here's what happened: Hornbeck filed an application of undue burden when he qualified for office in February. That certified he was "unable to pay the fee for verification of petition signatures … without imposing an undue burden" on his "personal resources or on resources otherwise available."
In other words, he said he couldn't afford almost $500.
The waiver allows candidates to avoid paying the state assessment fee for filing for office that charges 1 percent of the elected office's salary. For St. Pete City Council races, that amounts to $480.28.
Hornbeck did, however, pay the $150 filing fee to the city. The only way to get out of that fee is to collect at least 500 petition signatures to run. The undue burden waiver does not require any action other than signing a form.
If Hornbeck has surplus funds after his campaign is over, that money must first go to the state to repay the assessment before funds are otherwise distributed to charities or other applicable distributions.
Only one other candidate on the November ballot used the undue assessment waiver to avoid paying fees — Eritha "Akile" Cainion, running in District 7 against incumbent Lisa Wheeler-Bowman.
On his qualifying documents, Hornbeck listed a net worth of negative-$210,000, caused in part by $245,000 owed in student loans. He listed his annual income as less than $24,000.
Asked how he could afford to contribute more than half of his annual income to his campaign, especially when he had significant student loan obligations, Hornbeck previously told Florida Politics that his wife's income covered the expense.
Hornbeck declined to say how much she earns, but his wife – Beth Hornbeck – is a pediatrician with St. Petersburg Pediatrics.
According to Glassdoor, a job hunting and recruitment site, the average salary for pediatricians in Florida is about $159,000. However, Dr. Hornbeck has had that job only since July, according to her Linkedin profile.
It is illegal to use loans from other people to put into a campaign in excess of the maximum contribution limits, which for this race are $1,000. Hornbeck previously "swore" to Florida Politics the money came from his and his wife's personal finances.
On the question of why he filed the application of undue burden and whether he would repay it, Hornbeck did not directly answer the question.
Instead, he sent a 392-word text message lamenting what he considers unfair media coverage and again explaining that his financial situation has changed since he filed for office:
"The reason your most recent question upsets me is just two weeks ago you're asking me how I can actually afford to contribute to my campaign (as opposed to me and my dad breaking campaign finance laws by us circumventing the rules) because of how LITTLE money I made last year, and now your (sic) asking if I really needed that hardship exception that I took, because I have TOO MUCH money?! Remember how you said 'Isn't your wife just a resident?' And I said, 'she was but as of the last few months she is (an) attending physician.' That might have something to do with why we have a little more money now than when that exception was took."
Hornbeck is running against Robert Blackmon in District 1, which covers west St. Pete. Incumbent Charlie Gerdes is leaving because of term limits. Blackmon is leading the race by 16 points, according to the latest survey by St. Pete Polls.