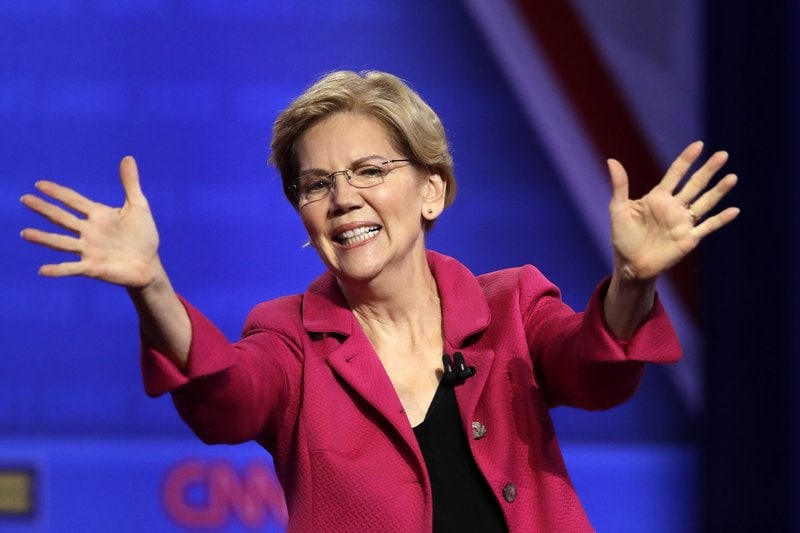 PolitiFact analyzed her plan and the trillions in extra spending that would be needed to pay for it
I saw a headline Monday from PolitiFact that probably caused heartburn for Elizabeth Warren and her supporters. It said Warren's spending plans total $7 trillion in new spending over 10 years, and that's before her Medicare For All idea.
It reminded me of a "West Wing" episode. President Bartlet was at a debate when his opponent got off a simplistic, canned response to a complex question.
"There it is," Bartlet said. "Ten-word answers will kill you in a political campaign. They're the tip of the sword."
The headline on the PolitiFact piece actually was 16 words, but close enough. I imagine every other Democratic candidate, except maybe Bernie Sanders, was giddy about that report. It had the look of Bartlet's sword tip.
Amy Klobuchar and Pete Buttigieg already pushed Warren hard in the last debate about the cost of everything she wants to do, especially with Medicare. Warren has been evasive, but PolitiFact gave Klobuchar and Buttigieg fresh material.
Health care is a vital issue everywhere, but especially in a state the size of Florida. A report from the U.S. Census Bureau showed the scope of the problem. Nearly 14% of Floridians had no health insurance in 2018. That's the nation's fourth-highest rate.
That's the problem, so can it be fixed? Taxes will go up; that's a given. Warren has vowed to increase taxes on rich folks, but that won't come close to paying for everything.
Klobuchar came up with her 10-word (OK, 16-word) response: "The difference between a plan and a pipe dream is something you can actually get done."
Warren's pitch sounds great on the campaign trail, but pushing it through Congress is another matter.
And details matter. In a true Medicare For All system, private plans like most people have now would exist only as supplemental insurance. Many voters might consider a deal-breaker by itself, and that's without considering the cost.
Warren has been surging in the polls, but that might slow if the cost of her plan becomes the story. That "pipe dream" comment could stick in voters' minds.
Dreaming big is central to Warren's campaign, which is OK until taxpayers see the price tag. They just saw one, so the question is: Now what?
If voters only remember 10 words — well, 16 — I think we know the answer.