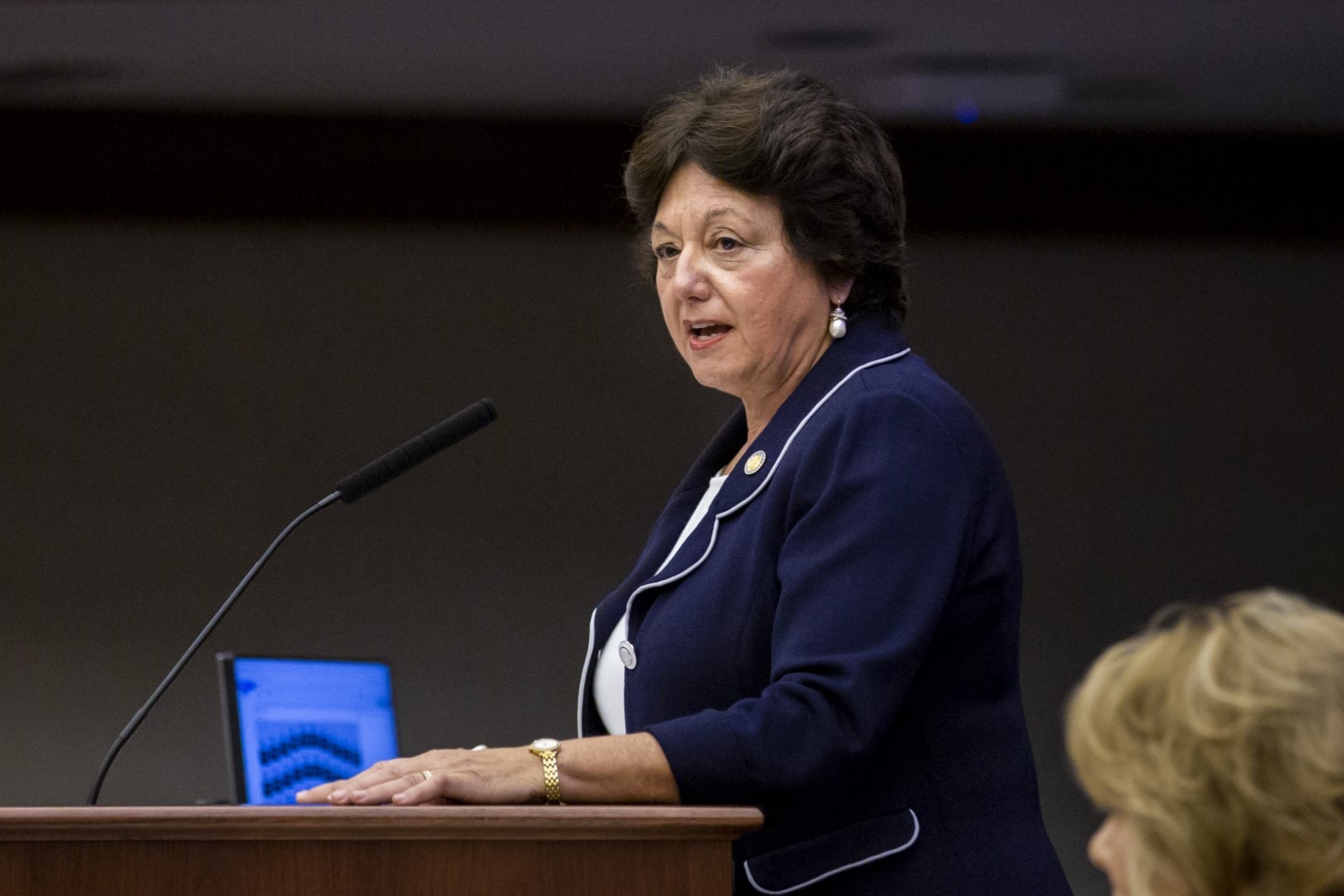 The Naples Republican will take the reins after the 2022 elections.
Naples Republican Sen. Kathleen Passidomo has won the race to be President of the Florida Senate beginning in 2022.
As reported by Florida Politics last year, Passidomo was competing against St. Augustine Republican Sen. Travis Hutson to take over the leadership position after Senate President-designate Wilton Simpson.
As far back as April 2018, Passidomo was considered the front-runner — even if only slightly. Her ascendance was helped along when former Tampa Sen. Dana Young announced she would not pursue the job.
In the year and a half since then, it has been a two-way battle between her and Hutson. At the time, Passidomo held a one- or two-vote lead among the 2016 freshman class of Senate Republicans.
The tipping point in the race came recently, with Rep. Ray Rodrigues and former Rep. Jason Brodeur, both of whom are running for Senate seats in 2020, breaking her way.
"I'm humbled to have the support of my colleagues in the Florida Senate, and I will do everything I can to make them proud in service to this great state and to the people of Florida," Passidomo told The News Service of Florida on Wednesday.
According to sources close to Passidomo and Hutson, there aren't any sour grapes — the northeast Florida lawmaker graciously gave her his pledge card.
On Tuesday night, Hutson confirmed Passidomo's victory and offered her his support.
"It was a very close race, but at the end of the day my newborn and my family business will take a lot of my time next Session," he said. "We agreed that she would be the best one to lead the chamber going forward."
"I asked her to treat everyone the same on both teams and let us all work together for a common cause. She agreed and I then graciously signed a card and gave her a big congratulations hug. She is the right person for the job and I encourage every member to support her as much as I will. I plan on working harder than ever under her leadership to ensure Florida is the best state it can be.
"Throughout this process she has been an amazing friend. I am excited for both of our futures."
While the race is over, Passidomo will still need to work on keeping a Republican majority in the Senate if she's to take over as Senate President in three years. All indications point to her doing just that.
In recent months, she has crisscrossed the state hosting fundraisers for most of the GOP candidates hoping to join the Senate in 2020.
Most recently, she partnered with Simpson and current Senate President Bill Galvano for an Oct. 28 fundraiser benefitting the Senate campaigns of former Rep. Jim Boyd, current Rep. Ana Maria Rodriguez and first-time candidate Jennifer Bradley as well as Rodrigues and Brodeur.
Passidomo has been in public office since her election to the Florida House in 2010. In 2016, she decided to forgo a fourth term in order to run for Senate District 28, which was then held by term-limited Republican Sen. Garrett Richter.
The decision put her in a head-to-head with former Rep. Matt Hudson in the heavily Republican district, but he proved no match — when the Republican primary came around, Passidomo won by a decisive 15-point margin.
Over the course of her legislative career, Passidomo has landed dozens of awards — the Florida School Boards Association, Children's Forum, Associated Builders and Contractors of Florida and the Elder Law Section of The Florida Bar are among the associations to have named her their "Legislator of the Year." Additionally, Naples Daily News named her "Citizen of the Year" in 2000.
In addition to her legislative service, Passidomo has been active on many boards, including the Statewide Council on Human Trafficking, the State of Florida Commission on the Status of Women, Collier County Juvenile Justice Council and the Collier County Senior Resource Center.
___
The News Service of Florida contributed to this post.