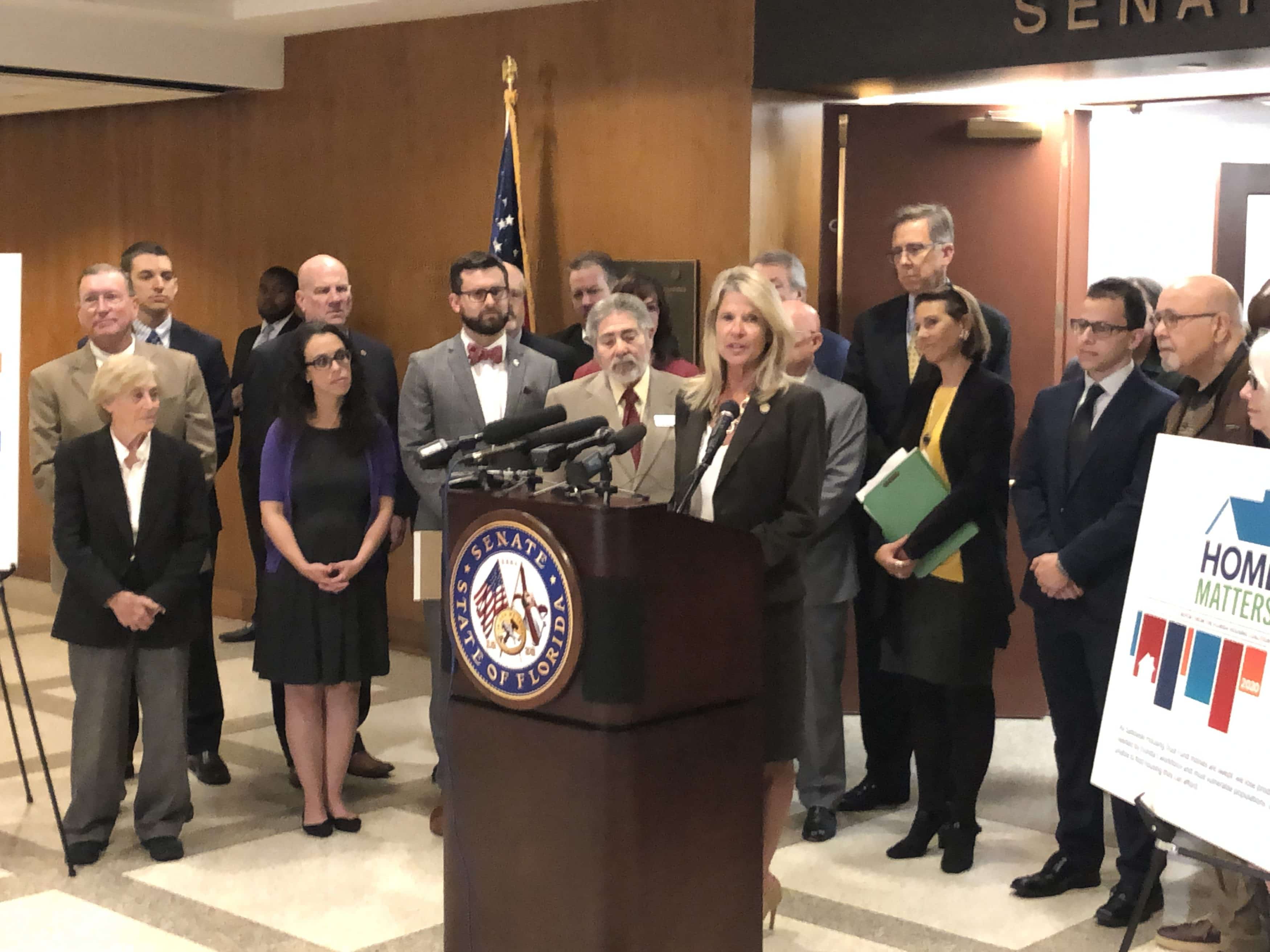 The bills would prevent sweeping affordable housing dollars to the general revenue.
A bipartisan group of lawmakers called Monday for the Legislature to preserve affordable housing trust fund dollars for that purpose.
Legislation (SB 306/HB 381) filed earlier this year would prevent the Legislature from pooling unspent local government and state housing dollars for use elsewhere in the budget without a deliberate re-appropriation. Both bills are backed by members of both parties, some of whom appeared at the press conference hosted by Jaimie Ross, facilitator of the Sadowski Coalition.
"The importance of safe housing that's affordable is not controversial or partisan. It's an issue that unites us," said Ross, who is also the president and CEO of the Florida Housing Coalition.
She added that using the housing trust fund dollars for its initial purpose would create 30,000 jobs and generate $4.4 billion in the economy.
Sadowski funds are supposed to be used for housing projects, though they are often directed toward other projects. Over the past decade, lawmakers have swept more than $2 billion from the state's affordable housing trust fund into general revenue.
Lawmakers sent the unspent $125 million of the $332 million from the 2019-2020 trust fund to general funds despite Gov. Ron DeSantis requesting they be reserved for housing. Another $115 million went toward Hurricane Michael recovery.
Sweeping funds began following the 2008 Recession as an emergency measure, said Rep. Sam Killebrew, an HB 381 co-author.
"During the Great Recession, we needed to use all the available monies to balance the budget, but when the recession ended, sweeping trust funds did not," the Winter Haven Republican said.
"In my community, Polk County, our SHIP program received less than $1 million after the sweep last year. Polk County should have received $8 million."
Even with the proposed bills, Sadowski fund dollars could be diverted for emergencies if the Legislature makes the decision. It has exerted that option over similarly protected funds in recent years.
"We know the Legislature could use the trust funds if needed in an emergency, but they wouldn't be the go-to kind of … slush fund that they are right now," Ross said.
Sen. Debbie Mayfield, SB 306's author, called the Sadowski fund vital to Floridians and the economy.
"There's a sense of pride in owning your own home, and that's what this program provides people and their family — a sense of pride of owning their own home knowing that they have a place to go to every single day when they come home from work, when they come home from school," the Rockledge Republican said.
The housing coalition has praised the Governor's proposed 2020-2021 $91.4 billion budget, who said this year's $387 million for affordable housing would go toward that purpose. Housing developers need to know in advance how much state funds will be available for them to use.
"Especially with rental developments, these things don't happen overnight," Ross said. "They need to be able to look at what the expected appropriations are and know if they can plan for an apartment complex, for instance, to be built."
The Sadowski Coalition is a diverse collection of 32 statewide organizations, including industry and business groups and affordable housing, low-income and veteran advocates.
Christopher Emmanuel, infrastructure and governance policy director at the Florida Chamber of Commerce, echoed Mayfield's
"The Florida Chamber of Commerce recognizes that affordable housing is important for Florida families and our state's economy," said Christopher Emmanuel, Director of Infrastructure and Governance Policy, Florida Chamber of Commerce, which is a member of the Sadowski Coalition. "That's why we're uniting the business community for good and working to ensure that the Sadowski Trust Funds are an important part of that solution."
Incoming chair of the Florida Housing Finance Corporation Board of Directors Ron Lieberman joined Ross and others in thanking the Governor for supporting the coalition's effort.
"Statewide data confirms the critical and ongoing challenge of providing housing in the state," Lieberman said.