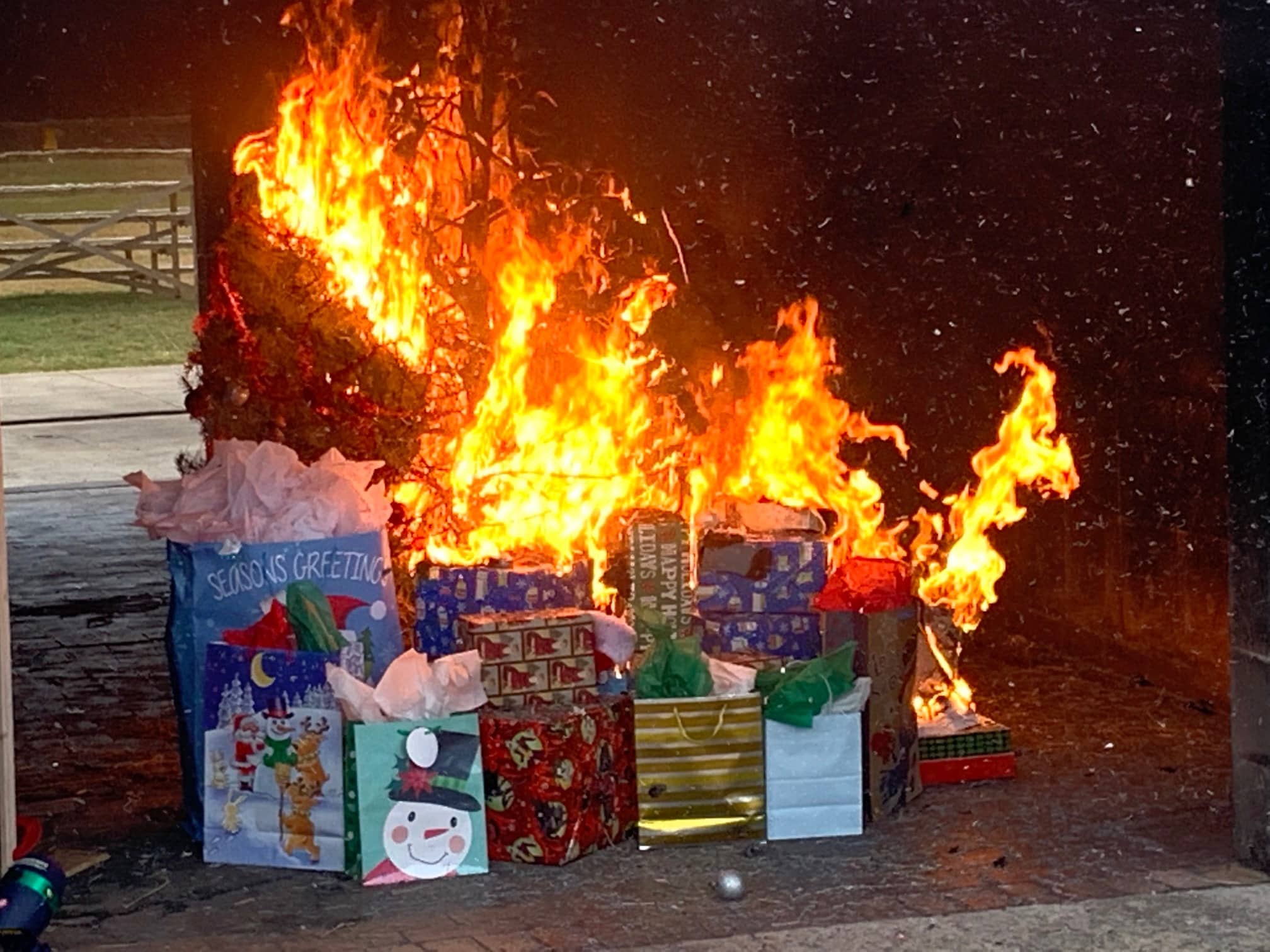 "Trees that are unwatered are going to go up extremely quickly."
Neglecting Christmas tree safety during the holidays can lead to homes going up in flames.
That was Chief Financial Officer Jimmy Patronis' message to Floridians ahead of the Christmas holiday. He and members of the Division of State Fire Marshall and Tallahassee firefighters gave out tips on Friday morning of what not to do.
And to drive the point home, they simulated an electrical short at the Tallahassee Fire Training Division to demonstrate how quickly a dry Christmas tree would catch fire.
"As you can see, it's already starting to smoke, said Casia Sinco, chief of fire prevention for the Division of State Fire Marshall.
"Trees that are unwatered are going to go up extremely quickly," she said. "As you can see, the fire started before the fire alarm we rigged up even went up."
Sinco said it's important to keep Christmas trees watered and turn off tree lights at night. She advises residents to refrain from placing them near fireplaces.
Patronis said he advises families to use lights that don't put out a lot of heat. LED lights are cooler to the touch than incandescent lights. His family is also worried about pets interfering with the Christmas lights.
"We got a shelter cat earlier this year named Lexi," he said. "My wife has been paranoid about letting the cat staying in the house because the fear of when we're gone, the cat getting into the tree because the dog – we got a shelter dog, chasing the cat all around the house. The cat's already been in the tree once."
Fire officials also advise residents to refrain from placing trees near fireplaces. They warn families just have a few minutes to escape a burning house.
Artificial trees do have some advantages over the real thing. Most are sprayed with fire retardant to reduce flammability. But others say artificial trees can be harder to recycle and can also catch fire.
Patronis and Sinco say they're not advocating people buy a certain type of tree. They say real trees can be beautiful and safe as long as they're watered, low heat lights are used and they're turned off at night.