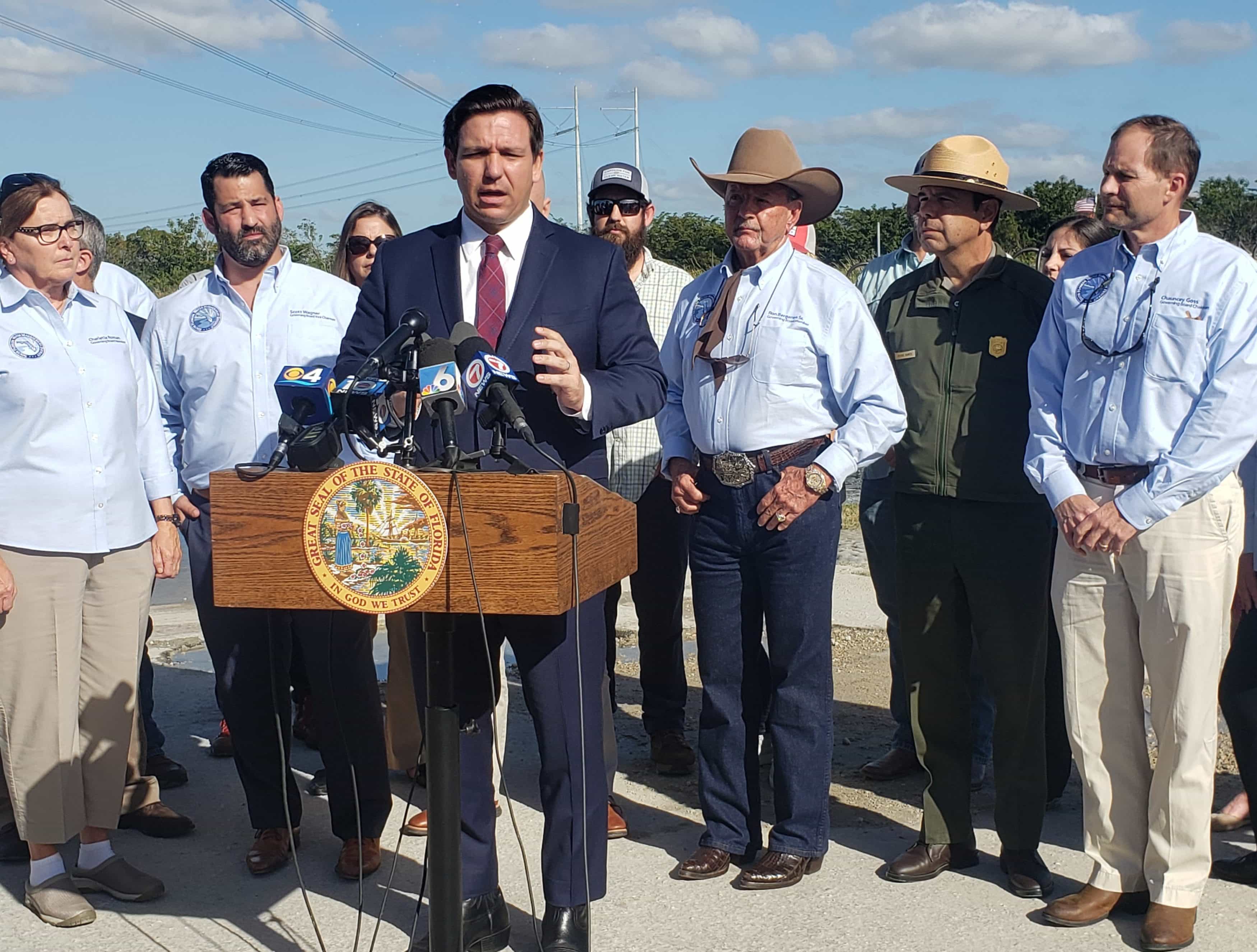 The land covers a 150-mile area between Miami and Fort Myers.
Gov. Ron DeSantis says the state plans to purchase land in the Everglades that was scheduled to be used for oil drilling.
Kanter Real Estate owns that land, which covers a 150-mile area between Miami and Fort Myers. The Kanter family had planned to use the land to drill for oil despite efforts by the Department of Environmental Protection (DEP) to block the required permits.
After an administrative judge ruled in Kanter's favor, DeSantis said the state sought an alternative to block those drilling efforts: buying the land outright.
"We have reached a deal to purchase 20,000 acres of land in the Everglades that is currently slated for oil production," DeSantis said Wednesday during a news conference at Everglades Holiday Park.
"This will permanently save the land from oil production."
DeSantis said the area is home to 60 endangered species as well. The Governor was joined by DEP Secretary Noah Valenstein in announcing the purchase plan Wednesday.
"We haven't seen a land acquisition like this in more than a decade," Valenstein said.
"This is guaranteeing that the heart of the Everglades is under public ownership and secure for future generations."
The Secretary described the purchase plan as an option agreement that is open for 75 days.
Valenstein said the deal has "a purchase price of $16.56 million if we're able to secure it in a short period of time, reaching up to an option price of $18 million through the year."
He says the funds will either come out of the DEP's bucket of available money, such as Florida Forever funds. The South Florida Water Management District (SFWMD) may also help contribute to the financing.
SFWMD Governing Board Chair Chauncey Goss joined Wednesday's news conference as well and praised the Governor's move.
"This is a great day for Florida's Everglades," Goss said.
"This is a really bold action to stop oil and gas drilling in one of the most pristine ecosystems in the world. This is an announcement that is going to be recognized nationally and internationally as an important step in restoring our Everglades."
DeSantis said he was motivated to make the purchase in part to protect progress on Everglades restoration under his administration.
"My thing is, we're putting all this effort in there. I don't want some type of accident causing all these problems and then putting us backwards."
Several environmental groups also praised the Governor's decision Wednesday.
"We applaud Governor DeSantis for his swift action in protecting these lands," said Eric Eikenberg, CEO of The Everglades Foundation.
"This is yet another demonstration of his commitment to restoring America's Everglades and ensuring that we achieve more now for Florida's environment."
Diana Umpierre, the Sierra Club Everglades Restoration Organizing Representative also added a statement supporting the move.
""This is welcome news. We are happy the state has taken steps to acquire the Kanter property within the Everglades Protection Area. This is an important purchase to protect the Everglades and the drinking water of millions of people. "