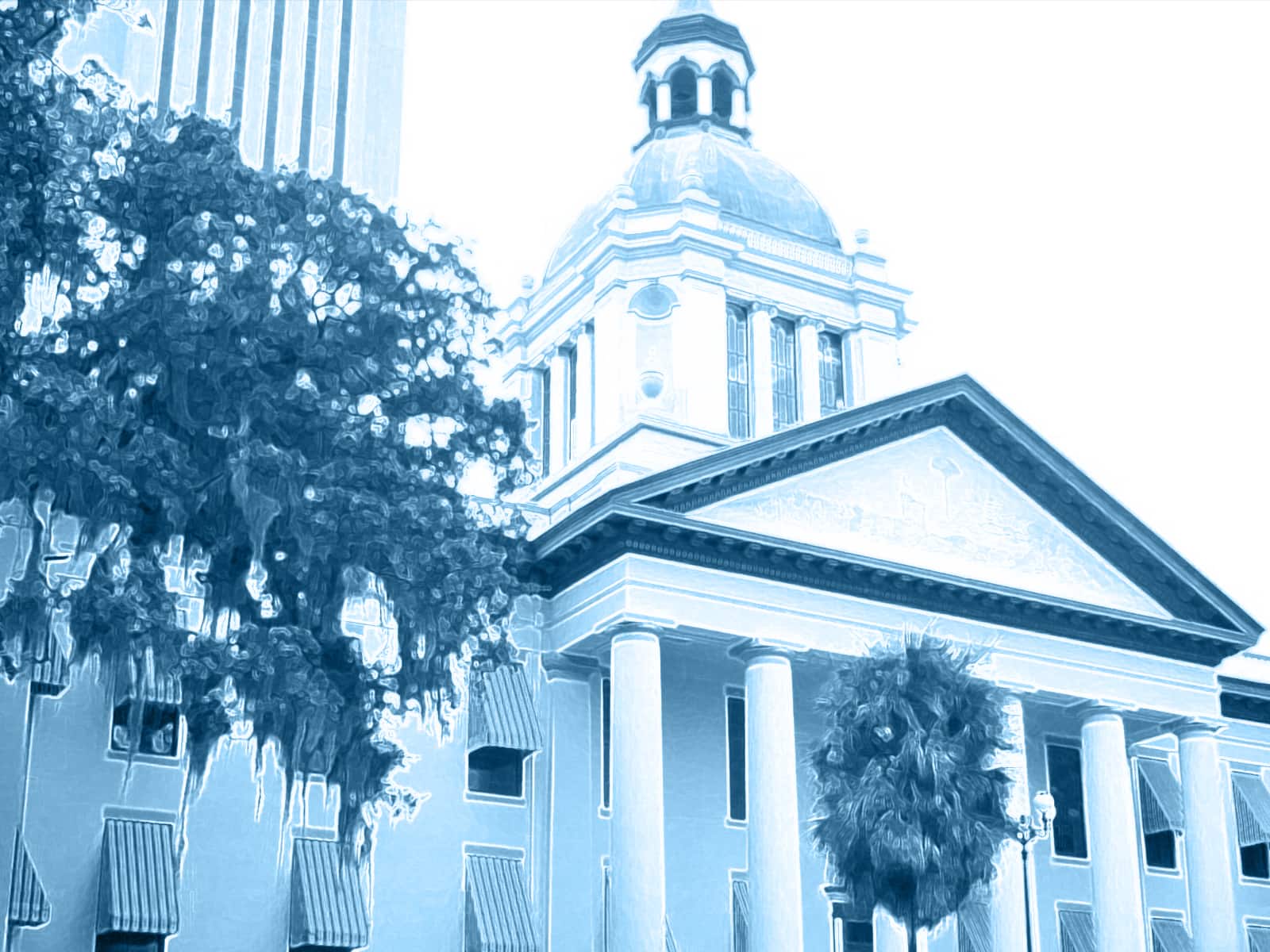 How are Floridians coping with COVID-19? We go into the field to find out.
Surveying Floridians' coronavirus concerns 
How are Floridians processing the unprecedented changes around us? What are our neighbors feeling, thinking and needing?
Karen Cyphers of Sachs Media Group (SMG) set out to provide some insights into these questions and more through a panel of more than 3,100 Florida voters, who have agreed to participate in a weekly survey relating to the pandemic and its impact on their lives.
Each month SMG conducts omnibus surveys drawing a fresh, random sample from the Florida Voter File each time. This makes it uncommon for anyone to be invited to answer two of our surveys in a row — or even two of our surveys at all.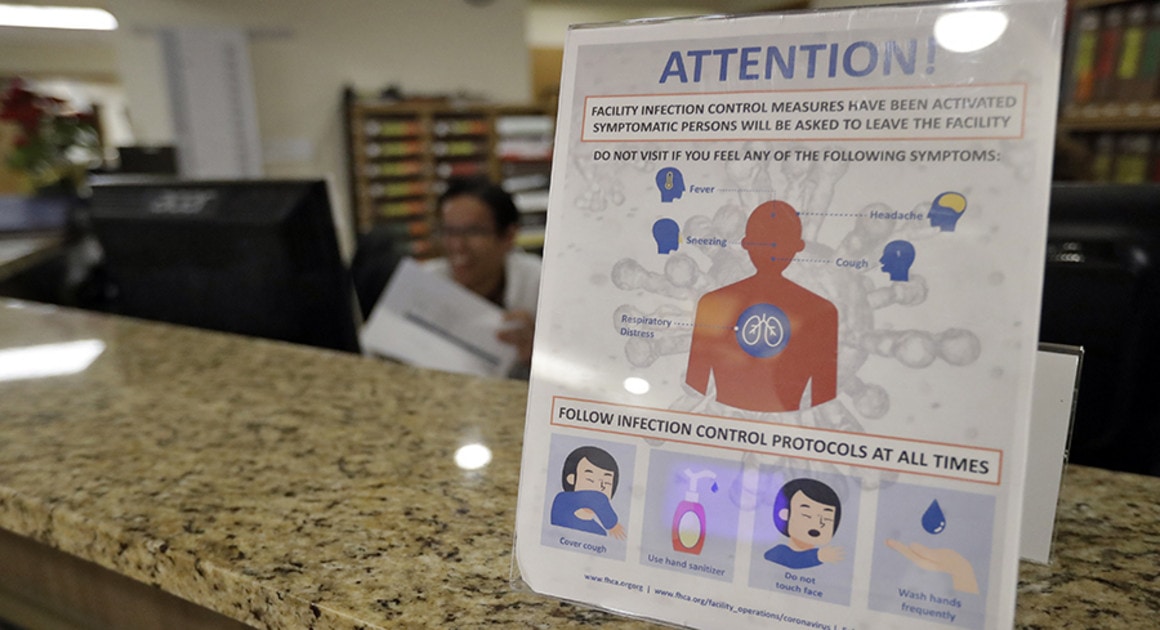 But there are some situations — such as where we find ourselves now — when it's preferable to poll from a common panel, asking the same people the same questions (and some new ones) over several weeks. This allows us to track changes and trends over time — not just at the population level, but at the individual level, too.
SMG began March 20, and can now report on the first week-to-week results — with perhaps the most noteworthy change being a 22% decline in one week in the number of Floridians who express "confidence that things will be OK."
The following findings reflect data from "Week 1" (March 20) and "Week 2" (March 27):
Floridians are taking this seriously and are tuned in.
More than 9 in 10 Florida voters are taking most, if not all, recommended precautions. Just 2% say they believe the COVID-19 situation is overblown and not worth taking seriously at all. Floridians are spending an average of just over an hour and a half (95 minutes) per day watching or reading COVID-19-related news, with just 10% consuming less than 10 minutes of related content each day.
Extroverts are finding isolation more difficult than expected, while introverts are feeling more anxious overall.
More than half of Floridians (56%) are finding more significant periods of isolation to be about as difficult as they expected it would be. The rest are roughly split evenly between those finding it less difficult (23%) and more difficult (21%) than expected. However, there are some differences in how this is playing out between self-identified introverts and extroverts. In essence, 29% of extroverts are finding it more difficult than expected, compared with just 15% of introverts. It may not be surprising that introverts tend to find isolation a bit less difficult, but in larger numbers they are reporting increased anxiety — 51% of introverts compared with 40% of extroverts.
Floridians are finding silver linings but are losing some confidence, too.
About 8 in 10 Floridians are finding at least one "bright side" to the current crisis, led by about 4 in 10 who feel they've been given a chance to reflect more on priorities and/or feel closer to their family. Another 2 in 10 say they are experiencing spiritual reconnection or an opportunity to develop their faith, while another 2 in 10 are finding more time to exercise. Indeed, in households with more than one person. Very few (just 7%) are reporting more fighting or bickering than before COVID-19 — and these portions have not changed from Week 1 to Week 2. However, one less-than-optimistic trend to note is a diminishing portion of Floridians who express "confidence that things will be OK" — this was at 45% during Week 1 but fell to 35% in Week 2.
Home-schooling is a new challenge for many.
Among employed Floridians with school-age children, 79% are expecting to have to home-school their children for some period. Notably, however, a significantly higher share of employed moms (86%) than employed dads (69%) are expecting to do. That said, as far as how home-schooling will go in practice, moms and dads share the same concerns: effectively working one's own job at the same time (66%); belief their children won't listen as well to a parent as they do to a teacher (46%); fear of feeling overwhelmed (40%); worry about their child missing social interactions (33%); a lack of training or materials to teach effectively (30%); and so on.
Even 'brand-loyal' Floridians are branching out in their purchases of household products.
More than half of Floridians (54%) consider themselves "brand-loyal" when it comes to household goods — choosing to buy the same brands each time. This is especially true for those over the age of 35 (59%) compared with those ages 18-34 (36%). However, due to product shortages (or the anticipation of shortages), even the most brand-loyal buyers are branching out: half (52%) have recently purchased brands they don't usually buy.
Working from home works for many.
During Week 1, 45% of employed Floridians had been asked to work from home instead of in an office setting. This week the number is up to 55%. For the most part, new work-from-home folks are finding it good (58%) or wonderful (23%) to do so, with 17% saying it's not too good and just 3% saying it has been terrible. Perhaps more importantly, a combined 69% are finding themselves either just as productive (38%) or more productive (31%) as when they are working from the office (38%). This leaves less than one in three (31%) who feel less productive working from home.
— via Karen Cyphers.
Do you have questions about how Floridians are coping with COVID-19? We're in the field each week and open to adding select questions. Email your suggestions to [email protected].
___
Coronavirus numbers, as of Friday night at 7 p.m.
Positive cases:
— 3,198 FL residents (+1,331 since 7 p.m. Thursday)
— 144 Non-FL residents (+34 since 7 p.m. Thursday)
Origin:
— 476 Travel related
— 562 Contact with a confirmed case
— 296 Both
— 1,720 Under investigation
Deaths:
— 45 in FL (+22 since 7 p.m. Thursday)
___
Here is the "Takeaway 5" — the Top 5 stories from the week that was:
Travel restrictions hit New Yorkers — Gov. Ron DeSantis issued an executive order requiring travelers flying in from New York, New Jersey and Connecticut to undertake mandatory self-isolation for 14 days or the duration of their stay. Violating the order will be treated as a criminal offense, DeSantis said. New York City Mayor Bill de Blasio said he understood the restrictions but suggested they were not the "most enlightened approach." But leaders at the Centers for Disease Control and Prevention credited the move. Over 190 direct flights still travel from the New York area to Florida daily.
Unemployment numbers reach record levels — More than 74,000 individuals filed unemployment claims in Florida in the past week, shattering the state's previous record of 40,403 in 2009 when the state was reeling from the Great Recession. The jobless reports marked a massive jump from the previous week when 6,256 claims were filed. Gov. DeSantis reported 21,000 Floridians filed claims Monday alone. The Department of Economic Opportunity reports it has fielded eight times the amount of calls it receives typically, surging from 28,000 to nearly 225,000.
Local government, not state, issue shelter orders — At least 10 counties in the state-issued stay at home or safer at home orders as domestic cases of coronavirus infections grew. Those jurisdictions directed residents to stay at home except for essential activities like getting food, seeking health care services, or going to work if they are employed by a business deemed essential. Some communities, including Leon County, have also imposed curfews, and many have threatened to enforce orders with arrests or fines as high as $500. But Gov. DeSantis, while authorizing local action, has resisted calls to issue any type of statewide shelter in place order.
Budget review put on hold — Gov. DeSantis' normal legislative and budget review process has been delayed as he deals with the coronavirus pandemic. He told reporters this week he will "let the budget sit for now," knowing changing events could alter how much he employs line-item veto power. At the same time, President Donald Trump's recent major disaster declaration in Florida could direct billions to the state. He has also been limited in a legislative review of bills sent to his desk. Those bills can become law without the Governor's signature 15 days after he received them, or he can sign or veto the legislation.
Judge signals Florida must expand felon voting — U.S. District Judge Robert Hinkle signaled that if the Legislature doesn't establish a clear process to determine if felons completed legal financial obligations, then he will grant class certification and overturn restrictions put in place by lawmakers. Hinkle ruled in October that it was unconstitutional to deny felons the right to vote if they are unable to pay all fines and obligations. The legal direction comes amid wrangling over the implementation of a constitutional amendment voters passed in 2018, calling for the automatic restoration of voting rights for most felons who complete all portions of their sentence.
Patronis stresses PPE need
CFO Jimmy Patronis stressed the need to provide firefighters and first responders with protective equipment to keep them safe from COVID-19 and to turn their tests around as quickly as possible.
Patronis, whose title includes State Fire Marshal, had a call Wednesday with the presidents of the Florida Professional Firefighters and the Florida Fire Chiefs Association.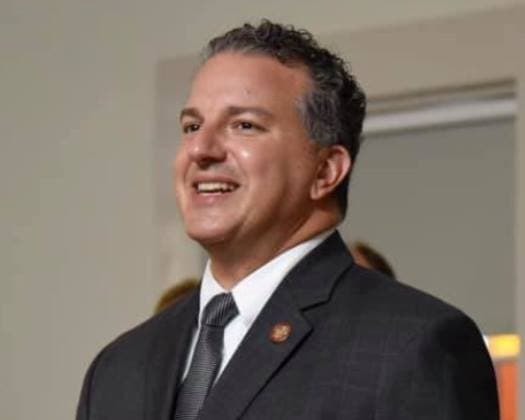 "It's important we move heaven and earth to make sure our first responders get their COVID-19 tests turned around as quickly as possible, get the protective equipment they need, and are in strong communication with hospitals and county health units," he said in a statement. "We know there will be stress on supply chains, and there may be situations where there are more needs than available resources, but when one firefighter tests positive for COVID-19, an entire unit of firefighters goes offline."
Several firefighters and first responders have already tested positive for the disease as the outbreak continues in Florida. Some drive-thru coronavirus testing facilities have first responder-only lanes to expedite testing for emergency responders who may have come in contact with an infected person.
On the call, Patronis committed to raising the issues to the Division of Emergency Management leadership and installing a representative from both organizations at the State Emergency Operations Center. He later noted first responders should receive fast-acting tests rather than others that can take more than a week to return.
"That's not an acceptable timeline for the men and women we need to not only fight the coronavirus but respond to other emergencies like fires," he said.
Putting out fires
Volunteer fire departments are getting some backup.
Agriculture Commissioner Nikki Fried, joined by the Florida Forest Service, announced this week that 40 grants had been completed and paid out to volunteer fire departments in counties impacted by Hurricane Michael.
The funding comes by way of the Volunteer Fire Assistance (VFA) Program, which provides federal financial, technical and other assistance to State Foresters to organize, train and equip fire departments in rural areas.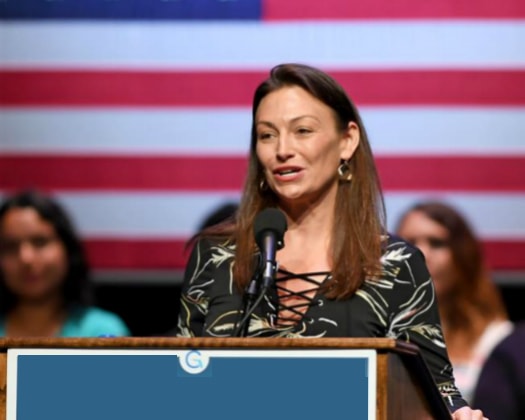 "I'm grateful for the cooperative relationships we've built and maintained with local fire departments in the Panhandle to protect residents still recovering from Hurricane Michael, as they rebuild their homes, communities, and lives," Fried said. "We're proud to provide this funding that will help our heroes in rural fire departments continue protecting and serving for years to come."
In the wake of the Cat 5 storm, the Florida Forest Service announced that 100% reimbursement was available in the counties that were walloped by Hurricane Michael. Traditionally, VFA funding covers 50% of eligible purchases, such as the purchase of wildland and structural personal protective gear, communications equipment, water handling equipment and training.
The Florida Forest Service aimed to deliver $500,000 in VFA grants to those communities. With $664,426 provided, it's now exceeded the goal.
"This program helps equip and prepare local fire departments to better respond to the wildfire threat left in the aftermath of Hurricane Michael," said Erin Albury, State Forester and Director of the Florida Forest Service.
Fried and the Florida Forest Service said funding is still available. Volunteer fire departments can fill out a grant application online or contact Fire Resource Manager Matt Weinell. The deadline to apply for 100% reimbursement is April 15, 2020.
No coronavirus malpractice
Some doctors are warning the Governor's Executive Order suspending elective surgeries could cause confusion — and even lawsuits — as Florida continues to respond to the COVID-19 pandemic.
The Governor has said doctors are given some latitude to determine what qualifies as essential or nonessential procedures. Several medical associations are warning that leaving the decision to doctors could open them up to liability.
William Large, President of the Florida Justice Reform Institute, highlighted some of those concerns.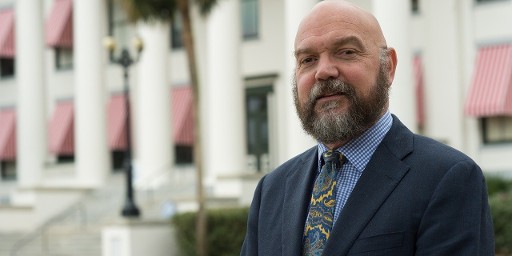 "Gov. DeSantis' bold leadership on this issue will require medical providers to make tough decisions," Large said.
"We're all in this together, and medical providers' first priority should be taking care of the sick, not worrying about being sued for trying to comply with a government order in a national emergency."
Ronald F. Giffler, President of the Florida Medical Association, also called for increased clarity.
The groups proposed some potential paths to protect doctors from liability. One is to issue an Executive Order making doctors "immune to civil liability for any injury or death alleged to have been sustained directly as a result of an act or omission by such health care provider."
Another option would be to extend the principle of sovereign immunity to health care providers — establishing them as agents of the Department of Health.
"The Florida Osteopathic Medical Association (FOMA) joins other providers in seeking guidance under the executive order and believe these suggested solutions will allow physicians to provide much-needed care for Florida patients," added Eric Goldsmith, the group's president.
Instagram of the week
Unemployment low … last month
The Florida Department of Economic Opportunity said Florida's unemployment rate held steady at 2.8% last month, with 195,000 more Floridians in the workforce compared to February 2019.
DEO said the year-over-year stats also show private-sector jobs shot up by 157,700, making for a job growth rate of 2%, which beat the national average of 1.7%.
A plurality of the new jobs, 35,600, were in the education and health services sector. Leisure and hospitality added 28,400; trade, trade, transportation, and utilities went up 27,000; professional and business services went up by 26,200, and construction jobs accounted for another 25,000.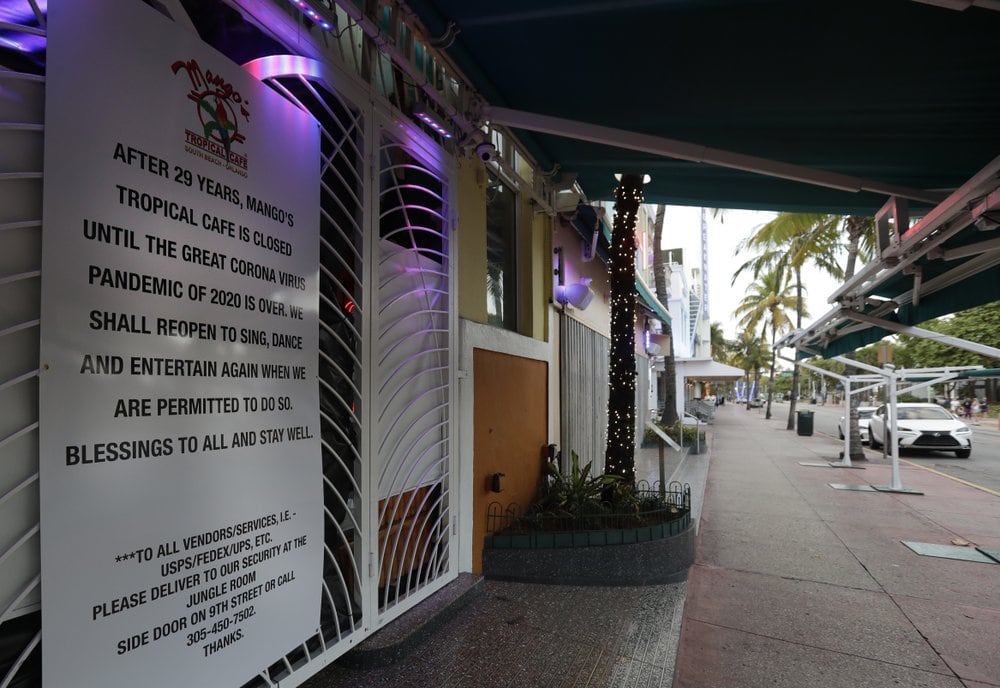 Those rosy numbers are expected to wilt in the coming months, however. In February, the coronavirus pandemic seemed far off, but it hit the jobs market like a freight train in March.
According to data announced Thursday by the DEO, more than 74,000 individuals applied for unemployment benefits in the week ending March 21. That shatters Florida's previous record of 40,403 set in 2009 as the state reeled from the Great Recession.
There's a caveat, however. Historically, only about one in nine people who qualify attempt to collect the benefits. And the benefits they receive are among the nation's lowest — just $275 a week for 12 weeks.
A small silver lining, if you will: the state has waived job search requirements for recipients and the stimulus package passed by Congress Friday will bolster state benefits by $600 a week through the end of July.
OFR resources
The Office of Financial Regulation highlighted resources this week it is providing for Floridians to find information about their financial service providers during the coronavirus outbreak.
Information on state-chartered credit unions, mortgage services and other financial services are included in the resources announced by OFR Commissioner Russel Weigel. The assistance is to lend a hand to stakeholders, including on how the novel coronavirus might affect markets.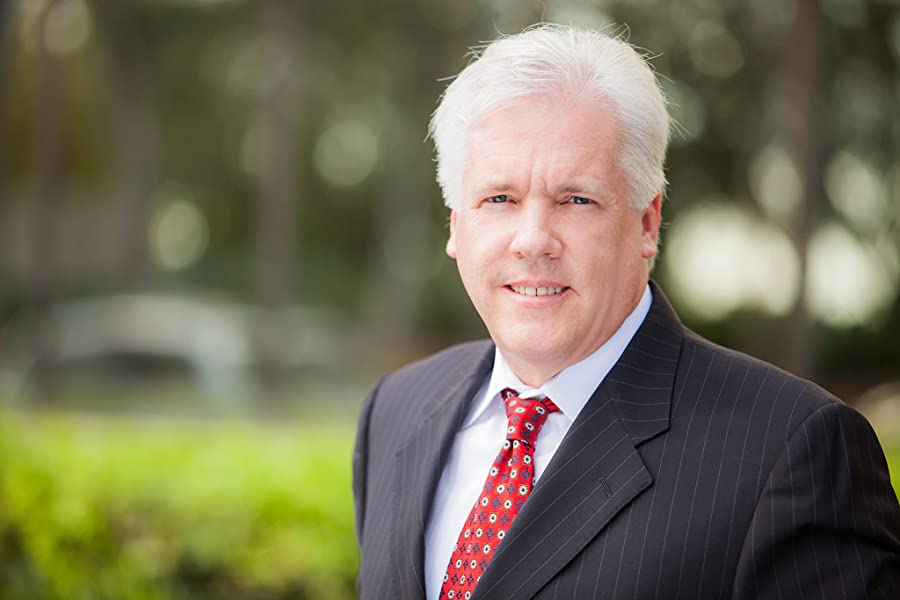 "It's our priority to ensure that Floridians have these important resources at their fingertips as individuals and families respond to the financial impacts of COVID-19," he said. "OFR understands that financial businesses and professionals are navigating a complex and evolving situation that poses many operational challenges to their employees, customers, and members."
OFR continues to work with state and federal agencies to communicate the latest developments regarding COVID-19 to the financial services industry. Earlier in the month, the office guided the state's securities professionals regarding the disease.
"Financial services providers across the state are ready and willing to work with the people of Florida," Weigel said. "OFR urges consumers and businesses to be proactive and contact their providers about programs and services that may be available to help."
OFR's notice includes links to several divisions within the department and other federal and national offices.
Faith in Florida
Faith in Florida is calling on DeSantis to release inmates with minor and nonthreatening criminal charges to curb the spread of the novel coronavirus virus, also known as COVID-19. Florida has more than 1,800 residents that are infected with the virus — and these numbers are rapidly growing.
Faith in Florida recently issued a statement that voiced their concern about the conditions in Pinellas Sheriff Bob Gualtieri's jail. It says the conditions in his facilities are abysmal, including intense overcrowding that forces incarcerated individuals to sleep on the floor.
"This is a virus that every single person, regardless of any past circumstances, must take seriously," said Rhonda Thomas, executive director of Faith in Florida. "Many people are behind bars now because they couldn't make bail. It is a known fact that detention and prison facilities do not have the space and medical resources to handle this, and if a person is being detained for a minor offense, they need to be released."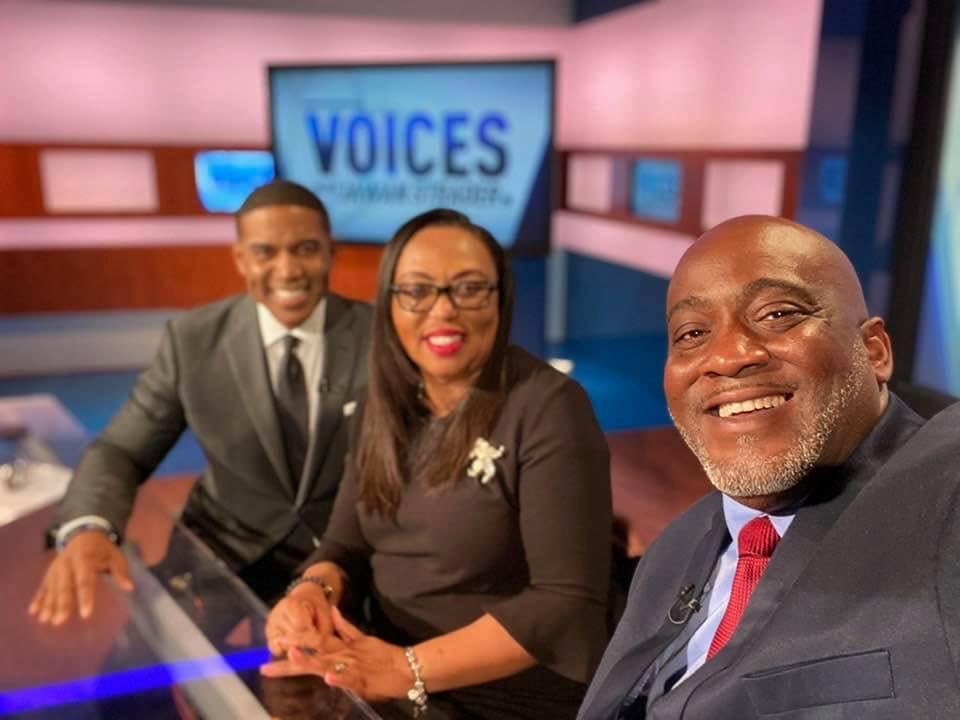 Miami-Dade State Attorney Katherine Fernandez Rundle announced last week that her office is working on a plan to release people who have been jailed for misdemeanors and nonviolent felonies. Other states and local governments, such as New Jersey and Cuyahoga County, Ohio, are also taking steps to reduce their jail populations. New Jersey has announced that it was releasing up to 1,000 inmates from county jails. Cuyahoga County has released over 200 prisoners.
"We need the leadership of our governor to implement this practice across the state so that people who are not a threat may be released to their families, and simultaneously we can ensure they are out of an environment where their health and well-being is in danger," said Nanci Palacios, deputy director of Faith in Florida.
Coronavirus update with Rep. Dane Eagle
Rep. Dane Eagle is trying to educate his constituents on the facts about the novel coronavirus, also known as COVID-19, to counter the misinformation that's out there.
Eagle recently held a tele-town hall to hear concerns from residents of his district, which encompasses Lee County. It currently has 66 positive cases. Three people have died, and 23 people have been or are currently hospitalized.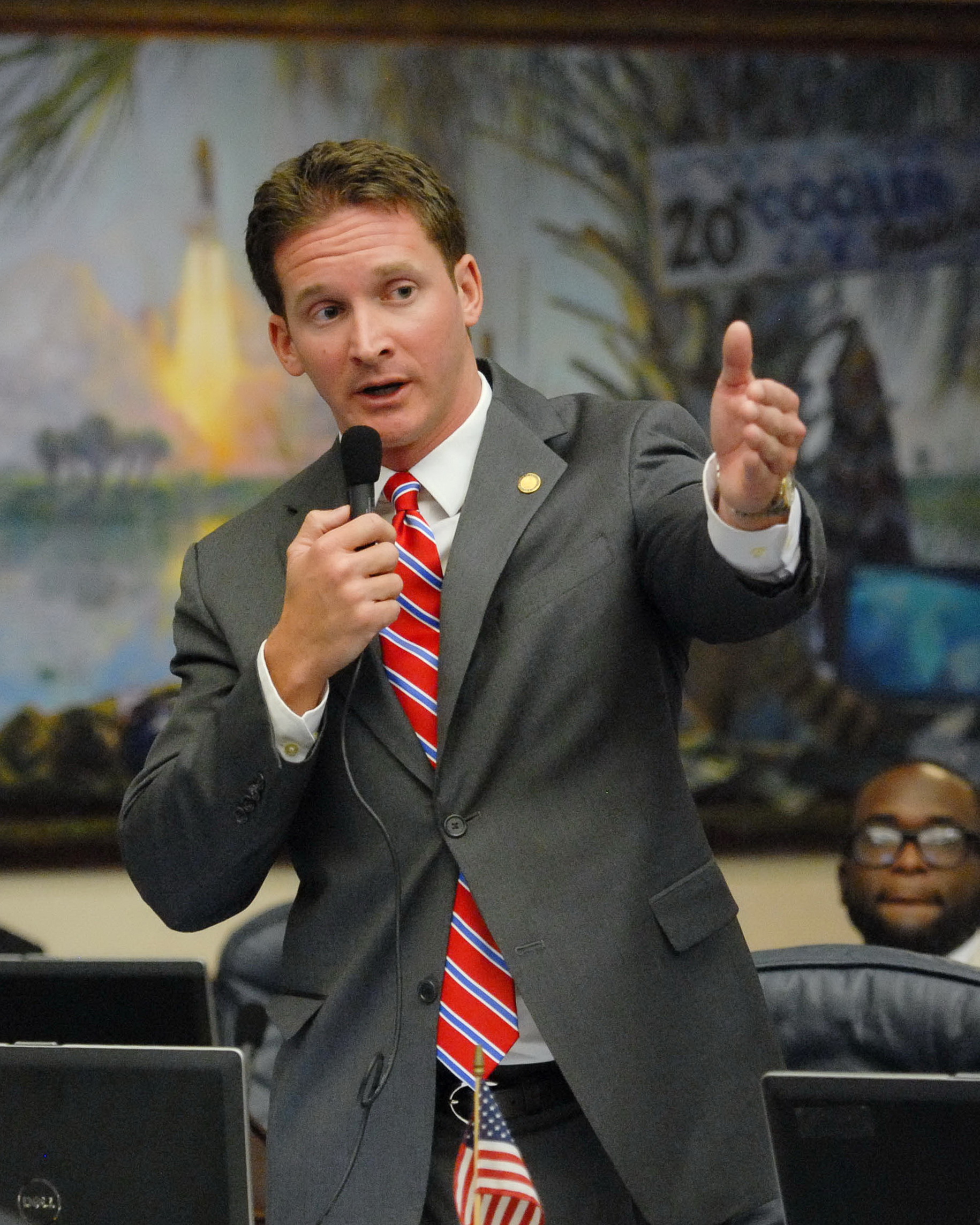 Eagle says the county has decided not to issue a mandatory shelter-in-place order at this time. But residents are being encouraged to stay home as much as possible and practice social distancing.
This is the busiest time of year for Lee County, but Eagle doesn't see a lot of people out and about. The beaches are closed, and the tourists have gone home.
"It is eerily quiet right now," he said. "So people have been, for the most part, from what we've seen, they've been following the guidelines that have been put out there."
Eagle is splitting his time between his job as a lawmaker and real estate agent. His wife is a chiropractic physician who is still seeing patients. He says she screens her patients for the coronavirus by asking questions about their health and travel history.
"Basically, there's three-to-four simple questions," he said. "Do you have a cough or a fever in the last 14 days? Have you traveled?"
The Cape Coral Republican says he's working to help small businesses weather the economic impact of having bars, nightclubs and restaurant dining rooms shut down.
In the evenings, the Eagle clan has been checking a new Netflix documentary series that has gotten a lot of people talking even through a pandemic. "Tiger King: Murder, Mayhem and Madness" is about Joe Maldonado-Passage, best known as Joe Exotic, the controversial tiger breeder and former owner of a private zoo in Oklahoma. He's currently in prison on charges, including murder-for-hire and violating the Endangered Species Act.
Coronavirus update with Randy Fine
Lawmakers are connecting with their constituents in their districts even as they're hunkering down at home and practicing social distancing to stem the spread of the novel coronavirus.
Higher Education Appropriations Subcommittee Chairman Randy Fine says he's been keeping in touch with members of his district through social media. Brevard County currently has 13 cases of COVID-19.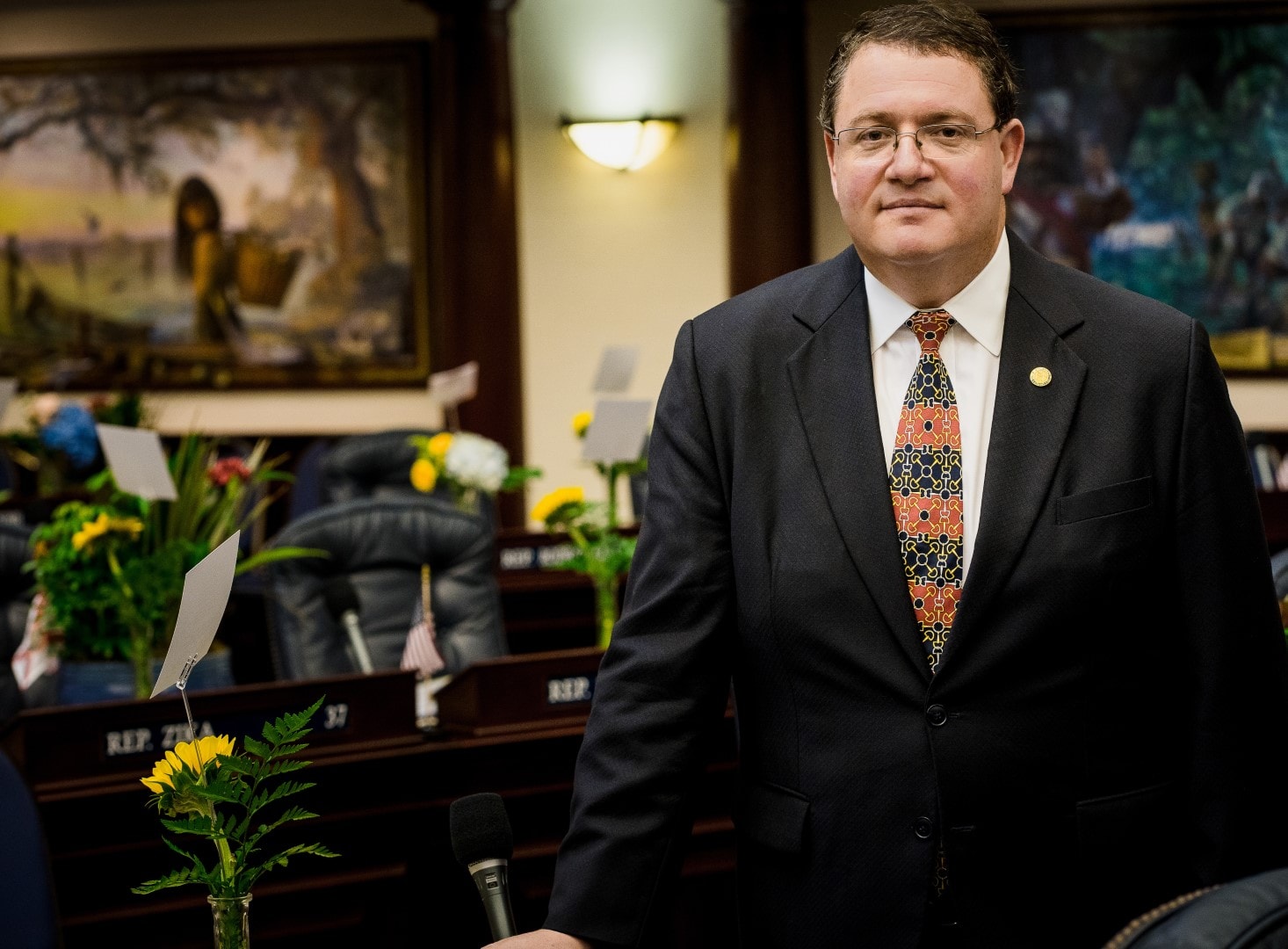 He says he hears a lot of extreme views on what the state needs to do.
"You have one group that says 'We need to lock down statewide, you know, bring out the tanks and have them monitor the streets and arrest anyone who leaves their house,'" he said. "There's that extreme. And there's the extreme that says this is all fake and it's just the flu and their constitutional rights are being trampled and get out your guns."
The local and county beaches are still open, and Fine says there's a lot of concern about whether there will be crowds of people gathering there this weekend to soak up some sun — and possibly spread the coronavirus. State parks and the Canaveral National Seashore have been closed because of the pandemic.
Fine says he supports DeSantis' decision not to close all the beaches in the state.
"I know he's not making any of these decisions without thinking everything through," he said. "I trust him, and I haven't seen him do anything that I have disagreed with."
Florida's unemployment claims for last week totaled more than 74,000. Fine says he's surprised the number isn't higher. State claims appear to be lagging the nation's, at least by a few days.
"Never before in the history of our country has our government asked people not to work," he said. "So, of course, there's people who are unemployed, and we're going to have to figure out how to take care of them."
Fine says he's speaking daily with the CEO of Health First in Brevard County. Fine says they're everything House Speaker José Oliva "doesn't like" because they offer health plans, provide primary care and own hospitals.
Fine says that while they have concerns about having enough supplies and hospital beds, they currently have what they need to take care of patients.
Coronavirus update with Jason Fischer
Rep. Jason Fischer of Jacksonville says he's hearing a lot of anxiety from his constituents about when the coronavirus threat might go away.
Duval County currently has 74 cases. Three people have died there.
He says people are worried about losing their jobs or have already lost their jobs. More than 74,000 Floridians filed unemployment claims last week. Fischer says people in his district just want to know when things will get back to normal.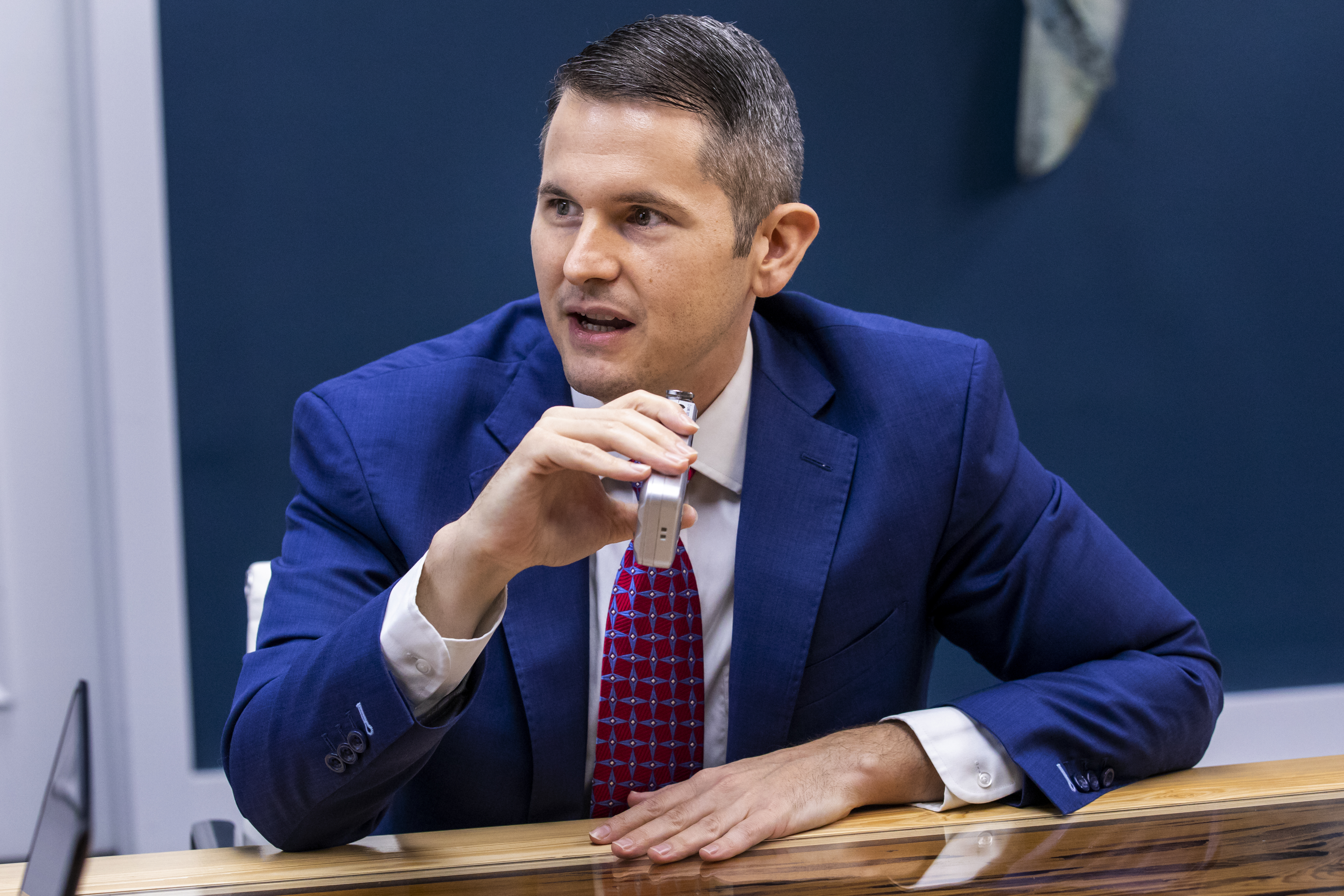 "What I've tried to tell people is 'We're working on it, we're doing everything we can to try to keep companies going and try to make loans available to people.' The state has a bunch of resources that are available, and so we've either helped people sign up for the disaster loans or tried to make sure they get access to the federal things that are available. Just trying to connect people with information."
The state closed bars and nightclubs for 30 days on March 17. Restaurant dining rooms are closed for the duration of the state of the emergency, which expires May 8.
Fischer says some businesses, even though they were mostly takeout restaurants, have decided to close temporarily. Many of them are smaller establishments and consist mostly of Chinese restaurants.
He says he hopes the closure of some Chinese restaurants in Jacksonville is not because of any unfounded connections between Chinese food and COVID-19. However, that's a trend seen throughout the U.S.
"I'd like to think we Americans are better than the stereotypical kind of thing like that," he said. "It's hard to say exactly why, (but) they seem to be particularly hit hard by it."
That issue hits home for Fischer, whose wife is from Singapore. They have three children.
Fischer says there's a need for more N95 masks in Duval County. But he praised the response of Jacksonville Mayor Lenny Curry and DeSantis to the pandemic.
Coronavirus update with Shevrin Jones
Broward County has the second-highest number of positive cases in the state of the novel coronavirus cases, also known as COVID-19.
Rep. Shevrin Jones says people in his district are worried. There are currently 504 cases, and three people have died. He says they're concerned about three things: their children and their education, their rent and mortgage payments, and when they'll be able to go back to work.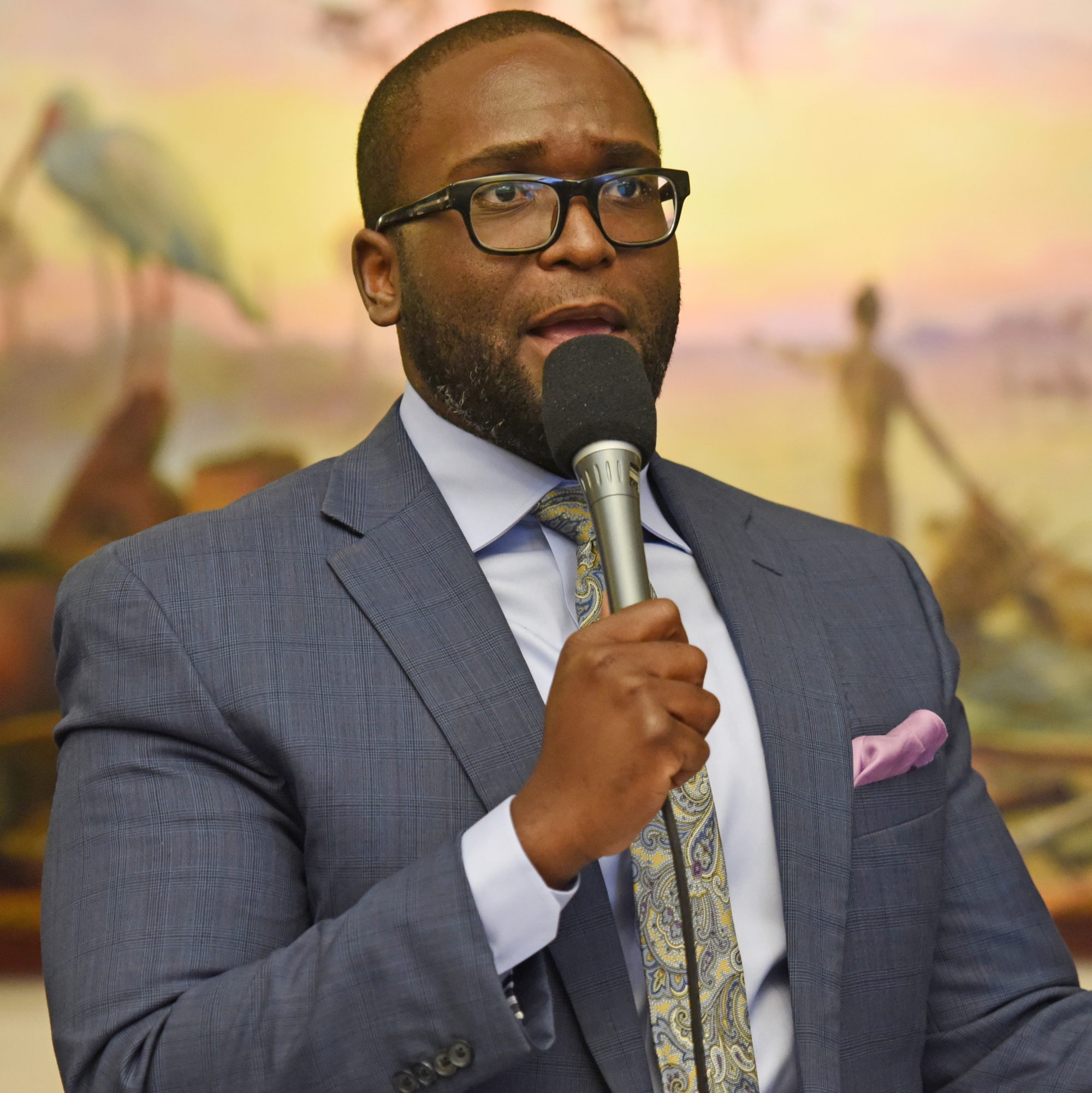 "I have a large number of service workers in my district," he said. "Some of them are extremely scared. So when we ask about what our constituents are saying, I can't hear enough whether through Facebook messages or text messages, that people are just overly concerned about, will their day-to-day life continue to be interrupted, and if so, for much longer?"
Broward County issued a stay-home order that went into effect early Friday morning. It urges people to remain at home, unless they work for essential businesses.
He commends DeSantis for shutting down the beaches in Broward County but says he needs to do more. DeSantis has issued an executive order requiring travelers from New York to self-quarantine for 14 days. But Jones questions how that's going to be enforced.
"Those people are not going to quarantine themselves for 14 days because no one's watching that," he said. "So, it's a bit of malpractice."
Jones is also pushing DeSantis to issue a statewide stay-at-home order, which he laments has become a political issue.
Jones blasts the Governor for suggesting the economy could begin moving forward while practicing social distancing and that there hasn't been any data proving that closing schools have been effective in containing the spread of COVID-19.
"I don't think people want to see the amount of deaths, which we are currently experiencing," he said. "I mean, these numbers are not getting any lower. So what I don't want is us to have to go back on our word, saying 'We shouldn't shut businesses down, we shouldn't shut the state down, That's politics."
Coronavirus update with Kionne McGhee
Miami-Dade County sees the highest number of positive cases of novel coronavirus than any other county in the state.
Miami-Dade currently has 763 positive cases, but just one death. It's a mortality rate far below what some other counties are seeing. Broward County has presently 614 COVID-19 cases; Palm Beach has 194.
House Minority Leader Kionne McGhee is running for a seat on the Miami-Dade County Commission, but he says that's taking a back seat to his current state responsibilities.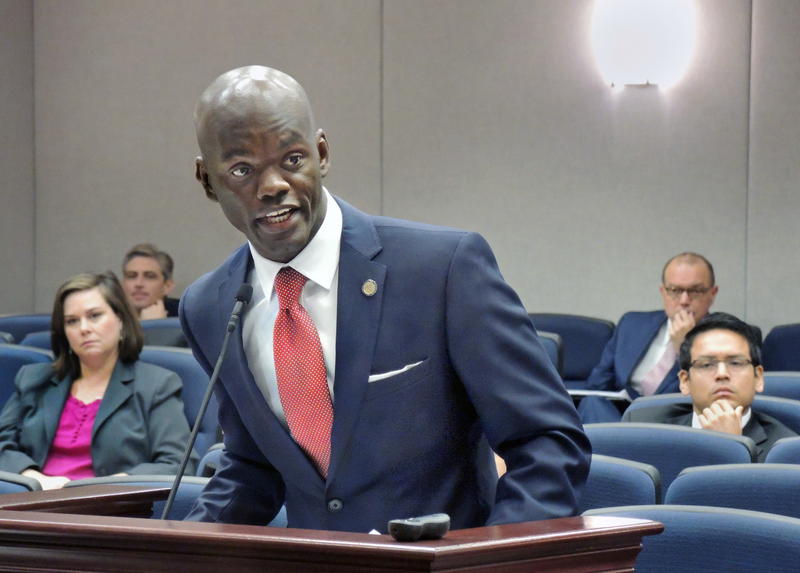 He says he's meeting with constituents, delivering food, passing along updates on the coronavirus, and meeting with local officials.
"That's consuming my time," he said. "Everybody's asking questions. People want answers because they feel that the federal government is not giving them those answers, so they're looking toward their state representatives to give them those answers and rightly so."
Miami-Dade County Mayor Carlos Giménez signed a safer at home order requiring all individuals to stay at home except to engage in essential activities like grocery shopping or to address emergencies. The order went into effect on March 26 and will expire when a county state of emergency is lifted. The order sets a minimum threshold, and other jurisdictions within the county may impose further restrictions, and several including Miami and Miami Beach have done so.
McGhee says some are asking why there hasn't been a more complete shutdown of the county due to the number of cases.
Giménez has ordered all beaches, parks, and nonessential commercial and retail businesses closed. McGhee says people are still gathering in 10 or more people at private homes and businesses, but at a reduced rate than before.
He says some people with symptoms are unable to get tested because they have no history of travel. He's also heard that hospitals are short of N95 masks, gloves and ventilators.
McGhee says businesses and workers are hurting right now. He's aware of some people who have laid off who have had issues trying to reach the unemployment office or file a claim.
Coronavirus update with Toby Overdorf
Rep. Toby Overdorf's district includes both Martin and St. Lucie counties.
Martin currently has 16 positive cases of novel coronavirus, which has doubled in recent days; St. Lucie has 14, up from 10. St. Lucie has one death.
He says there's a growing concern about out-of-towners, especially people from New York, who may be spreading the virus. New York has nearly 45,000 positive cases of COVID-19. Two nonresidents in St. Lucie are positive, none in Martin County.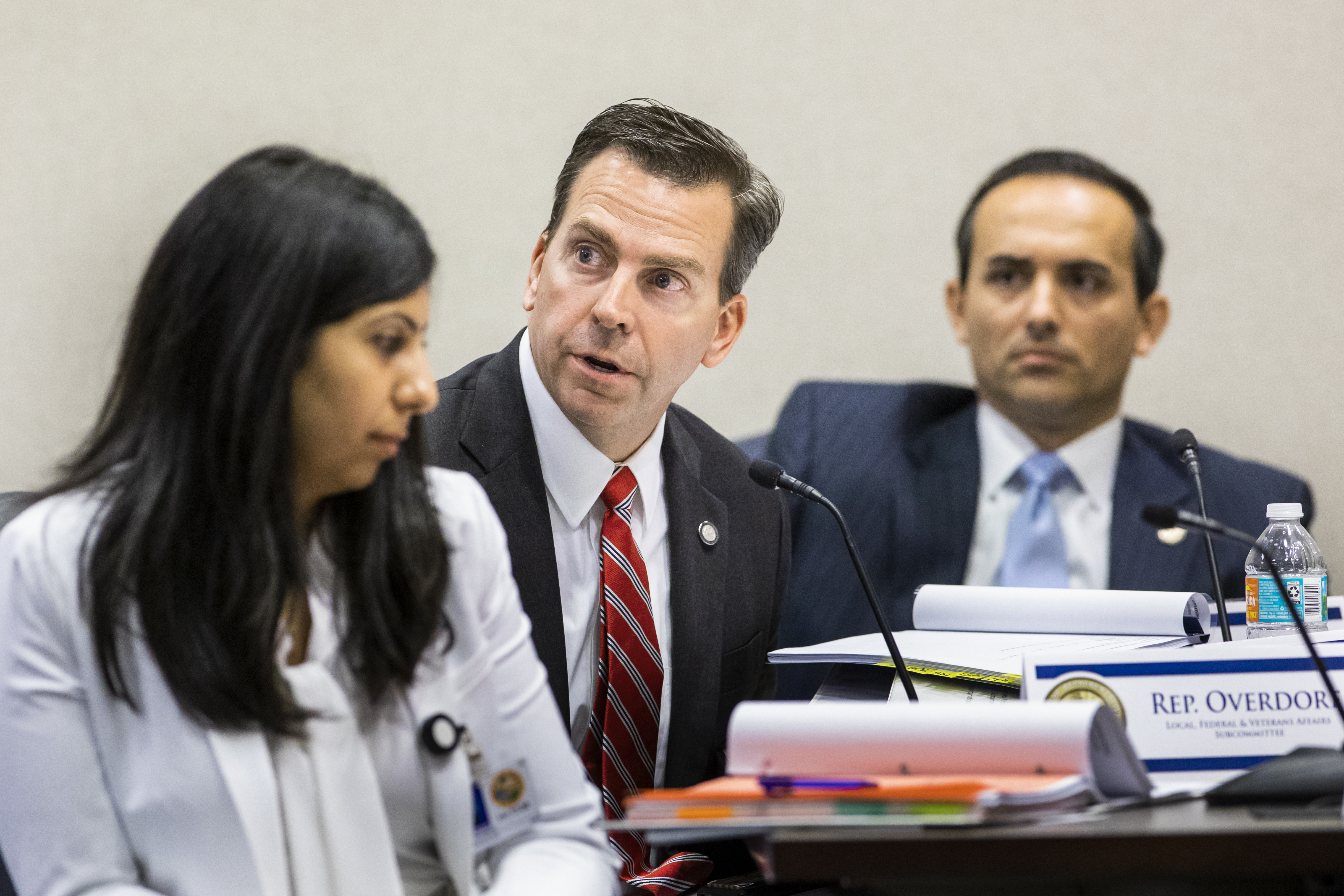 Overdorf notes that there's a massive backlog of testing results that patients are waiting for. He says the Department of Health results have been processed quickly, but ones from the hospitals have lagged behind.
He says state agencies have done a great job coordinating with local officials and giving them the most updated information they have. He also praises the press for helping to get the information out to the public.
Overdorf says, like other areas across the state, the counties in his district see some medical supply shortages.
"I had an urgent care facility call me in a desperate need for some PPE (personal protective equipment), and Martin County came through and was able to help them out with that," he said. "In our area, we haven't been hit as hard, so I think where we are currently is that we're OK."
Overdorf adds that the number of people who have gathered on the sandbar and partied last weekend has concerned county leaders. He says there were probably about 100 boats and a lot of people there.
Martin County has closed boat ramps this weekend to prevent a repeat. St. Lucie County boat ramps and marinas are open. The city of St. Lucie has closed its boat ramps.
"People across the county have said this is a serious problem, and I'm just hoping we don't have the same situation this weekend," he said. "Again, with the closing of the boat ramps and the beaches, I don't think we'll have that same gathering."
Coronavirus update with Jackie Toledo
Rep. Jackie Toledo of Tampa calls trying to contain the spread of novel coronavirus "a war."
Hillsborough County currently has 151 cases. One person has died from COVID-19.
County Commissioners approved a "safer at home" order that will go into effect at 10 p.m. on March 27. It requires any businesses staying open to ensure social distancing of at least 6 feet, or they will be forced to close. Officials elected not to implement a curfew at this time.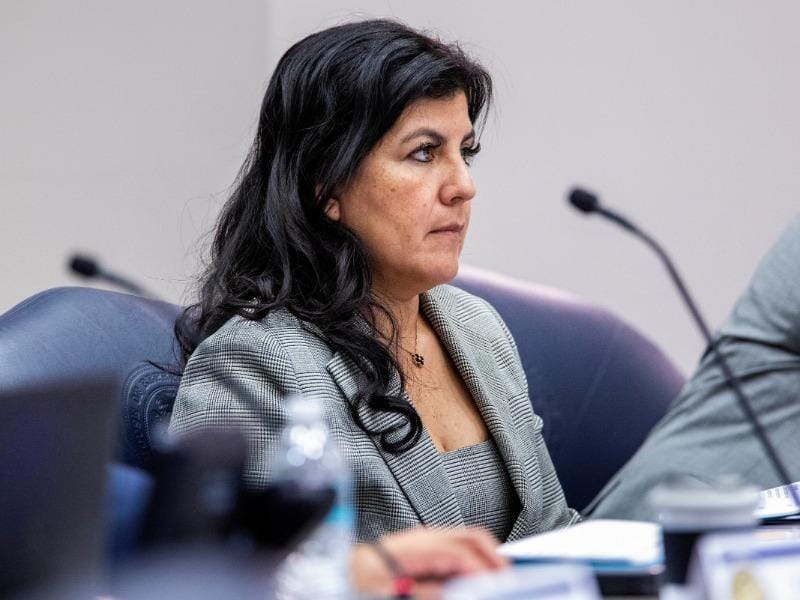 Toledo says she supports DeSantis' decision not to issue a statewide stay-at-home order. She says each community is different.
"I think every county and municipality should have its own plan," she said. "We have different industries than Polk County or Alachua County, so our plan should be different."
Toledo says her constituents who need to file unemployment claims have been unable to reach the state office by telephone. She says they're concerned about how long this is going to last and how long their unemployment benefits will last.
"And then I'm getting calls from small businesses, saying that they are trying to stay afloat, can they be considered an essential business if they don't touch anyone, if they do curbside, just like everyone else."
Toledo says constituents are also giving her ideas about how to kick-start the economy again once the pandemic danger has passed. She says many people are eager to return to their normal routines.
"I think we will be stronger after all this is done," she said. "And we are ready to contribute to the economy. I think most people want to do that. Most people want to help those who cannot work for whatever reason, and that's what I'm hearing from people right now."
She says that some hospitals in her area are well stocked with supplies. But she's hearing from doctors at other medical facilities that some people are not able to get tested. But there's additional testing that is being ramped up that could help make up that shortfall.
Coronavirus update with Matt Willhite
Palm Beach Rep. Matt Willhite is not just a lawmaker. He's also a first responder.
Palm Beach currently has 194 positive novel coronavirus cases, also known as COVID-19. Three people have died; 31 are hospitalized.
Willhite has been with Palm Beach County Fire Rescue for 25 years. He's a firefighter and a paramedic. Just because there's a pandemic and nonessential businesses have closed doesn't mean emergencies have stopped. So, he's on the street getting people the help they need.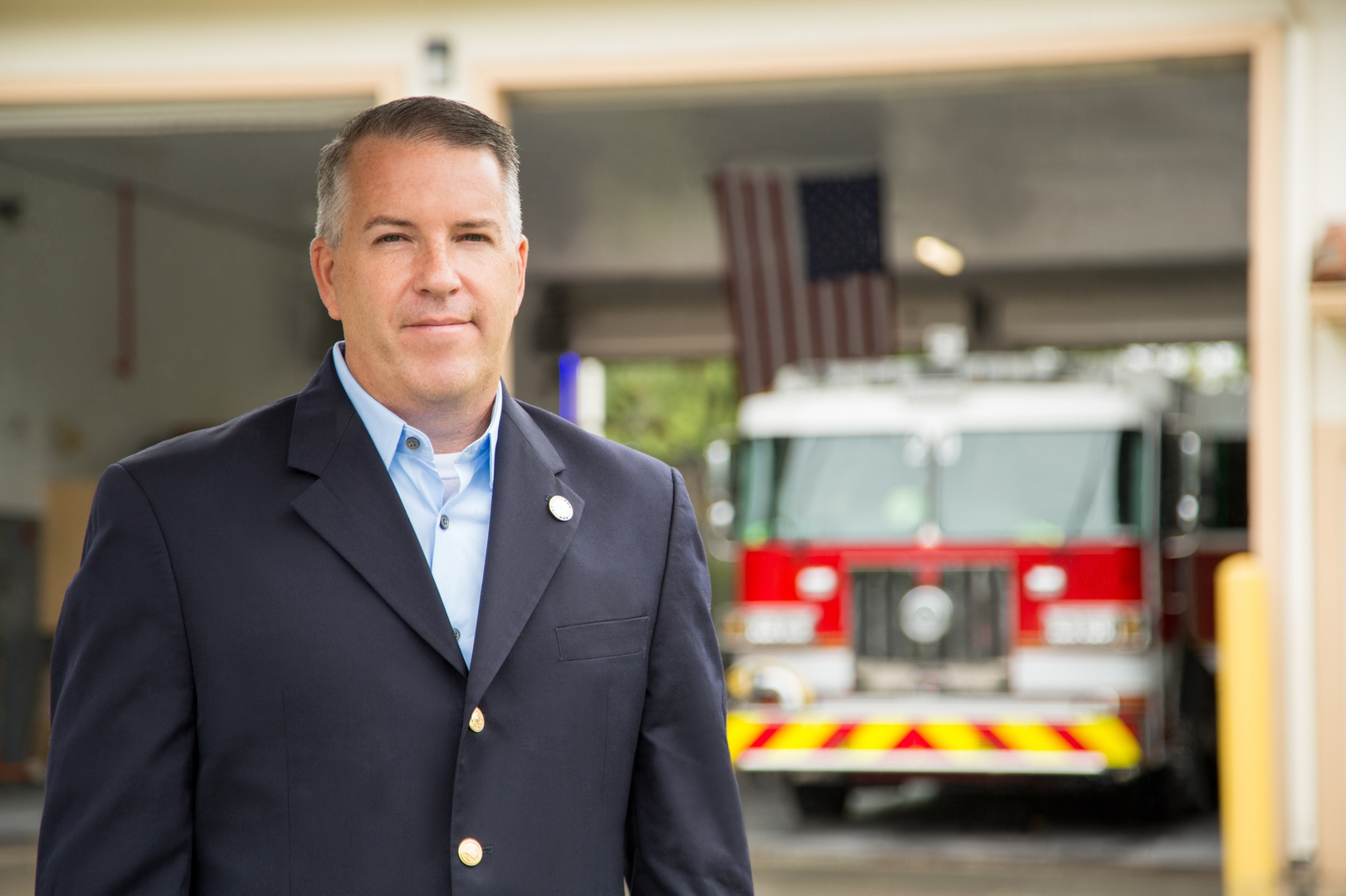 He says because they don't know whether the patients they're interacting with could be infected with COVID-19, they've ramped up safety precautions because they don't want to get infected or bring the virus home to infect their families. They're taking their temperatures and wearing masks and goggles on the calls.
"It's always been a concern with how I wash my clothes, what I bring home in my gear and showering," he said. "But now this is something that I can't see. It's something that I don't know for sure."
Willhite says two firefighters from Del Ray are currently in quarantine because they transported a patient that tested positive for COVID-19, as are a couple in Palm Beach Gardens. Several employees at the fire rescue's health clinic are also self-isolating.
DeSantis says he is planning to expand testing in Palm Beach County, which was something Willhite was pushing for. He also has some concerns about hospitals and other health centers running out of supplies.
"I had a call from a medical facility today that is getting critically low on medical supplies," he said. "You know masks and (personal protective equipment for) shielding themselves from patients. So, they're getting critically low on that."
Willhite is also worried about people's mental health.
"People still have to have the ability to get out a little bit and do things or participate in things," he said. "Or do something at home. Because one of the worst things that people can do with depression or things like that is sit by themselves idly."
Another plea
A fourth person charged with defrauding the city of Lynn Haven has pleaded guilty to wire fraud, U.S. Attorney Lawrence Keefe announced this week.
Joshua David Anderson, who owned GreenLeaf Lawn Care of Bay County, was one of five people charged in a scheme that saw $5 million in Hurricane Michael relief money stolen from the city.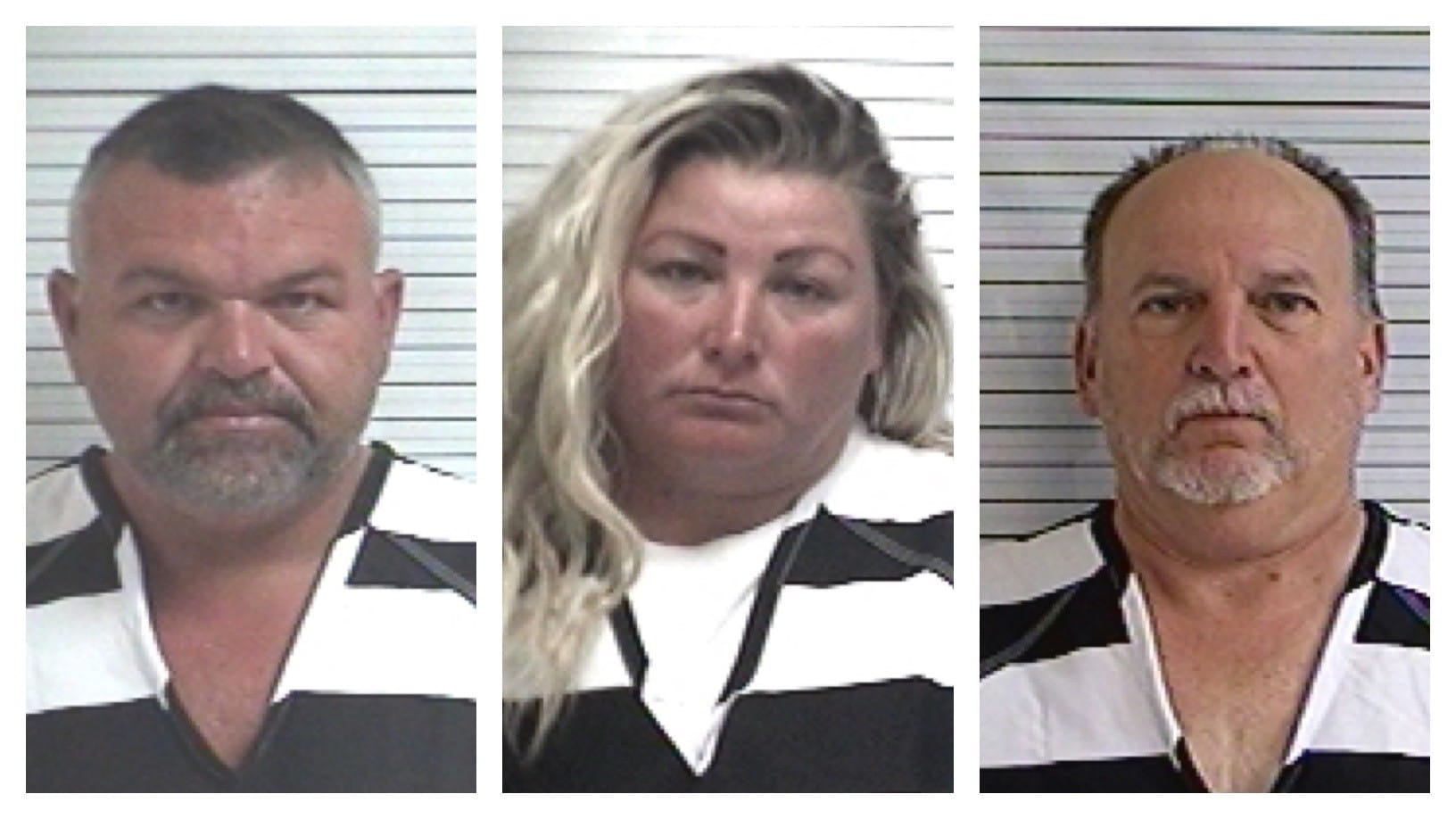 Anderson had billed the city for $16,600 in lawn care services he claimed to have completed despite his employees working on debris cleanup for another person charged in the scheme, Erosion Control Specialists owner David Mitchell White.
Anderson and his employees were paid through ECS, and Anderson attempted to double bill the city for that work.
"The flagrant violation of the public trust revealed in this indictment shows the depths to which some individuals will stoop in order to profit from the suffering of others. This office will not sit back and allow that to happen," Keefe said.
"Public officials and private business owners conspired to steal money that was supposed to benefit the entire community, and now they will face the consequences of their greed-driven misdeeds."
Anderson joins White, former Lynn Haven City Manager Michael Edward White and Shannon Delores Rodriguez in pleading guilty. The fifth defendant, Lynn Haven Community Services Director David Wayne Horton, is currently scheduled for trial on June 1, 2020.
Learning to fly
Embry-Riddle Aeronautical University, an aviation institution, has ramped up free online course offerings on topics ranging from aeronautics and meteorology, to computer applications, history and more. No-cost options are available for the general public as well as Embry-Riddle employees.
"We want to help children keep learning while they are out of school," Embry-Riddle President P. Barry Butler said. "Our faculty members have developed online courses that introduce core concepts and offer enrichment activities to help spark young people's interest in science, technology, engineering and math (STEM).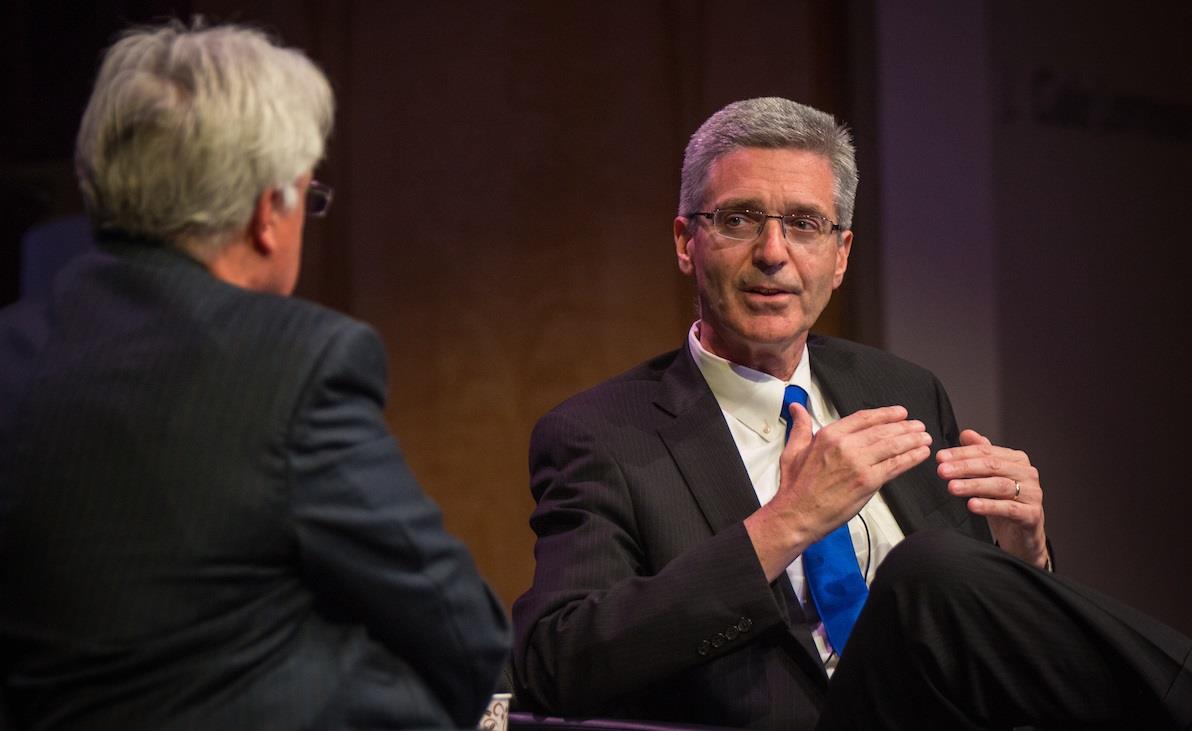 "Aviation is Your Future," a free open online course, offers an introduction to aviation for children aged 8 to 17. The self-paced, six-hour online course helps fuel a passion for aviation by introducing young people to aviation fundamentals.
Students enrolled in this online course can explore aspects of flight such as lift, gravity, thrust and drag. They also will learn to identify the major parts of an airplane, describe the flight characteristics of a helicopter, and discuss the goals of space exploration. The free course is a project of the Women in Aviation International (WAI) Chapter at Embry-Riddle Worldwide, offered in conjunction with WAI.
"We are happy to provide quality content that gives students of all ages the opportunity to master new skills that will serve them well now and in the future," Butler said.
FAMU pitches in
Florida A&M University is lending a helping hand to two state agencies on the front lines of the coronavirus response effort.
The university announced this week that the FAMU Department of Environmental Health and Safety employees Deante Allen and Kevin Timmons hopped in the car Thursday morning for an hourlong trek to Marianna, where they delivered 48,000 gloves to the Agency for Persons with Disabilities.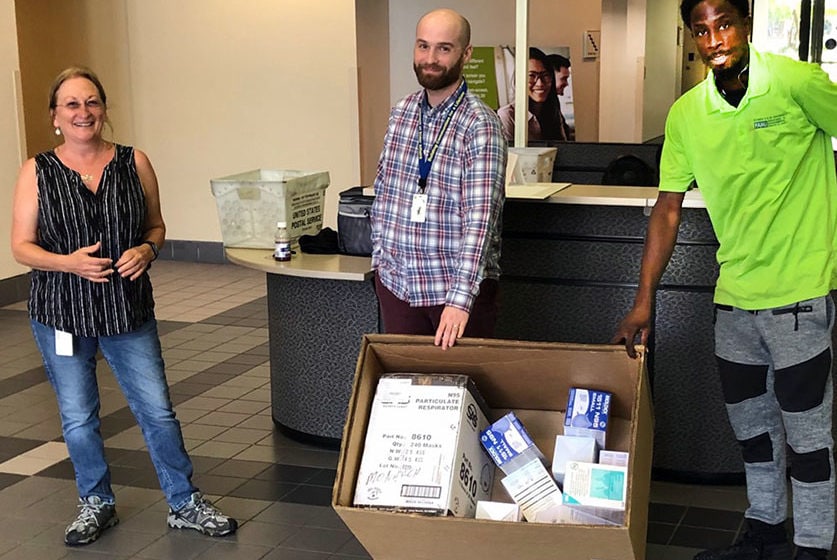 Allen and Timmons came back to Tallahassee in the afternoon to supply the Department of Elder Affairs with 530 face masks and 33 bodysuits.
"We are delighted to be able to provide supplies of personal protective equipment (PPE) to assist the agencies that care for the elderly and the developmentally disabled," said Angela Sutton, director of the FAMU Department of Environmental Health and Safety. "During the coronavirus pandemic, Florida A&M University is mindful of the need to protect our most vulnerable residents. We stand with them in this time of crisis."
The donations followed a call for help from the Florida Emergency Operations Center, which asked State University System institutions to donate whatever PPE items they could spare. State officials also asked universities to help with drivers, trucks, and buses that would be used to deliver food, water, and medical supplies.
Kevin Bailey, assistant director of Programs for the Agency for Persons with Disabilities, was grateful that Rattler Nation answered the call.
"I just wanted to thank you again for the generous and much-needed donation of gloves to help us protect our over 600 residents with developmental disabilities, many over the age of 60, and the 1,800 dedicated staff and contractors that work 24/7 in our facilities," Bailey said. "This chaotic and uncertain time we are living in is truly bringing out the best in people, and you and your university organization are truly a blessing to our amazing residents and staff."
In addition to the donations to state agencies, FAMU's Student Health Services donated PPE to Tallahassee Memorial HealthCare for use by nurses and other front-line providers.
FAMU 8 Strike Team
Eight Florida A&M University faculty and students have been recruited by the Department of Health (DOH) to help the state's effort to fight the coronavirus.
The "FAMU 8 Strike COVID-19 Team" includes four public health professors and four students who will work 12-hour shifts for two consecutive days.
Beginning this week, seven were assigned to Tallahassee, and one was stationed in the Miami-Dade Department of Health. None of the team members will interact directly with patients.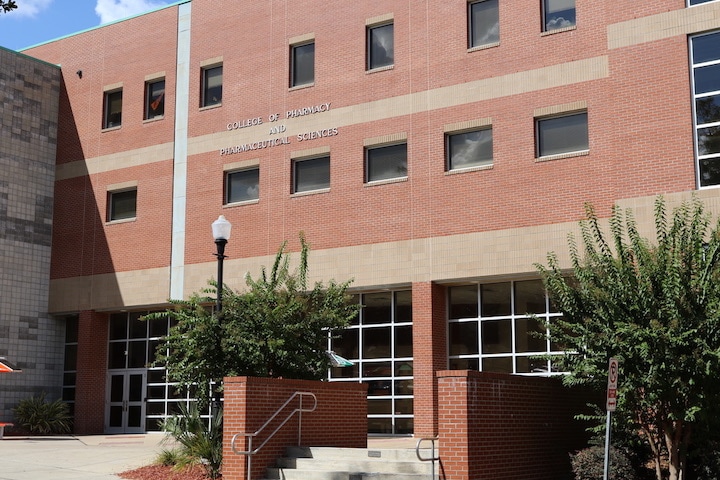 Their assignments include data input, data analysis and health messaging. They also will be receiving calls and questions from assisted living facilities and skilled nursing facilities regarding patients and residents.
Perry Brown is the team leader and a Doctor of Public Health in epidemiology who has been with the FAMU College of Pharmacy and Pharmaceutical Sciences Institute of Public Health for 25 years.
"I am so proud of this team," Brown said in a statement. "They are trained and prepared for this moment — this time."
This month, DOH reached out to public health epidemiology programs and schools of public health across the state to provide support to state and local health departments in addressing the COVID-19 pandemic. The Department selected volunteers from FAMU and other institutions based on quality and specializations.
Cynthia Harris, FAMU associate dean of public health, lauded DOH for reaching out to public health institutions in an interview with Florida Politics.
"It says that Florida is mindful of the magnitude of the problem and mindful of the expertise available at academic institutions," she said.
Here's this week's edition of Capitol Directions: