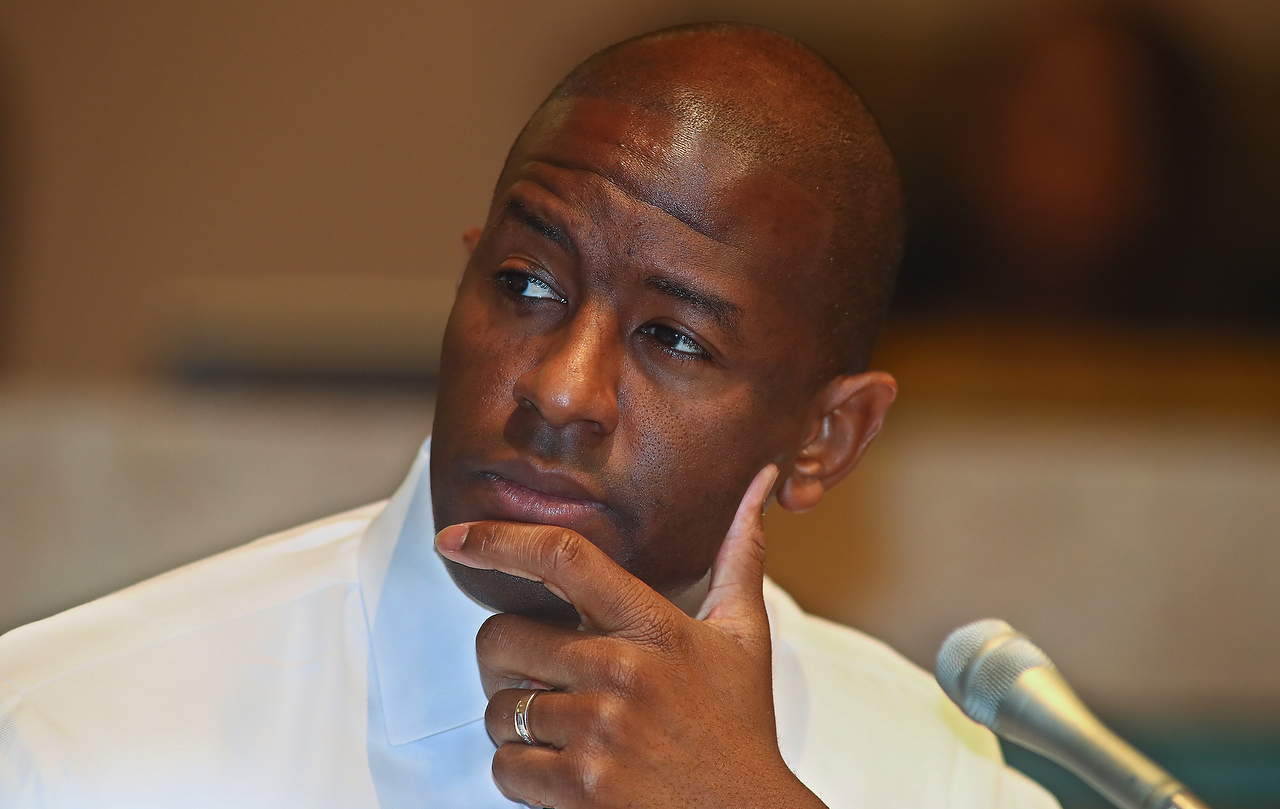 Forward Florida burned through more than $180,000 in March while adding a little over $2,000.
Andrew Gillum's political committee, Forward Florida, ran through nearly $125,000 in legal fees in March, shortly after police found Gillum "inebriated" inside a Miami Beach hotel room when responding to a call for an apparent crystal meth overdose.
Reports filed with the Division of Elections show the committee doled out just under $105,000 to the Perkins Coie law firm and about $19,000 to Stearns Weaver Miller Weissler. Both expenditures were classified as "legal services."
Those sums build on payments to the firms dating back to last year.
Gillum relied on Forward Florida during his 2018 gubernatorial run. The Democratic candidate was edged out by Republican Ron DeSantis while Forward Florida sat on more than $3 million.
Following the loss, Gillum has used the committee to fund a voter registration campaign.
Forward Florida has also sent money to organizations backing Democratic House and Senate candidates in 2020. The House Victory Caucus received $150,000. Senate Victory received $75,000 in what was labeled an "initial investment."
Both contributions pale in comparison to the $450,000 the committee paid to Perkins Coie and Stearns Weaver Miller Weissler in the last two months of 2019.
Orlando attorney John Morgan, a former Gillum donor, has raised hell regarding the candidate's handling of the unspent 2018 campaign cash. Morgan threatened to sue Gillum last year to recoup the money.
Forward Florida's March report also lists a $15,000 payment to MWW Group, a New Jersey-based PR firm, for "communications consulting."
Gillum has temporarily pulled away from the public spotlight following the embarrassing episode at the Miami Beach hotel.
The former Tallahassee Mayor was found with another man who was suspected of overdosing on crystal meth. Gillum denied doing any illegal drugs, instead stating he had drank too much. Police reports state Gillum "was unable to communicate with officers due to his inebriated state."
After the incident, Gillum entered rehab and stepped down from his public-facing roles, including a gig as a CNN contributor.
"This has been a wake-up call for me," Gillum said in a statement. "Since my race for Governor ended, I fell into a depression that has led to alcohol abuse. I witnessed my father suffer from alcoholism and I know the damaging effects it can have when untreated. I also know that alcoholism is often a symptom of deeper struggles."
Overall, Forward Florida burned through more than $180,000 last month. It added just $2,000, though not for lack of trying. The committee has more than $1.8 million in the bank.