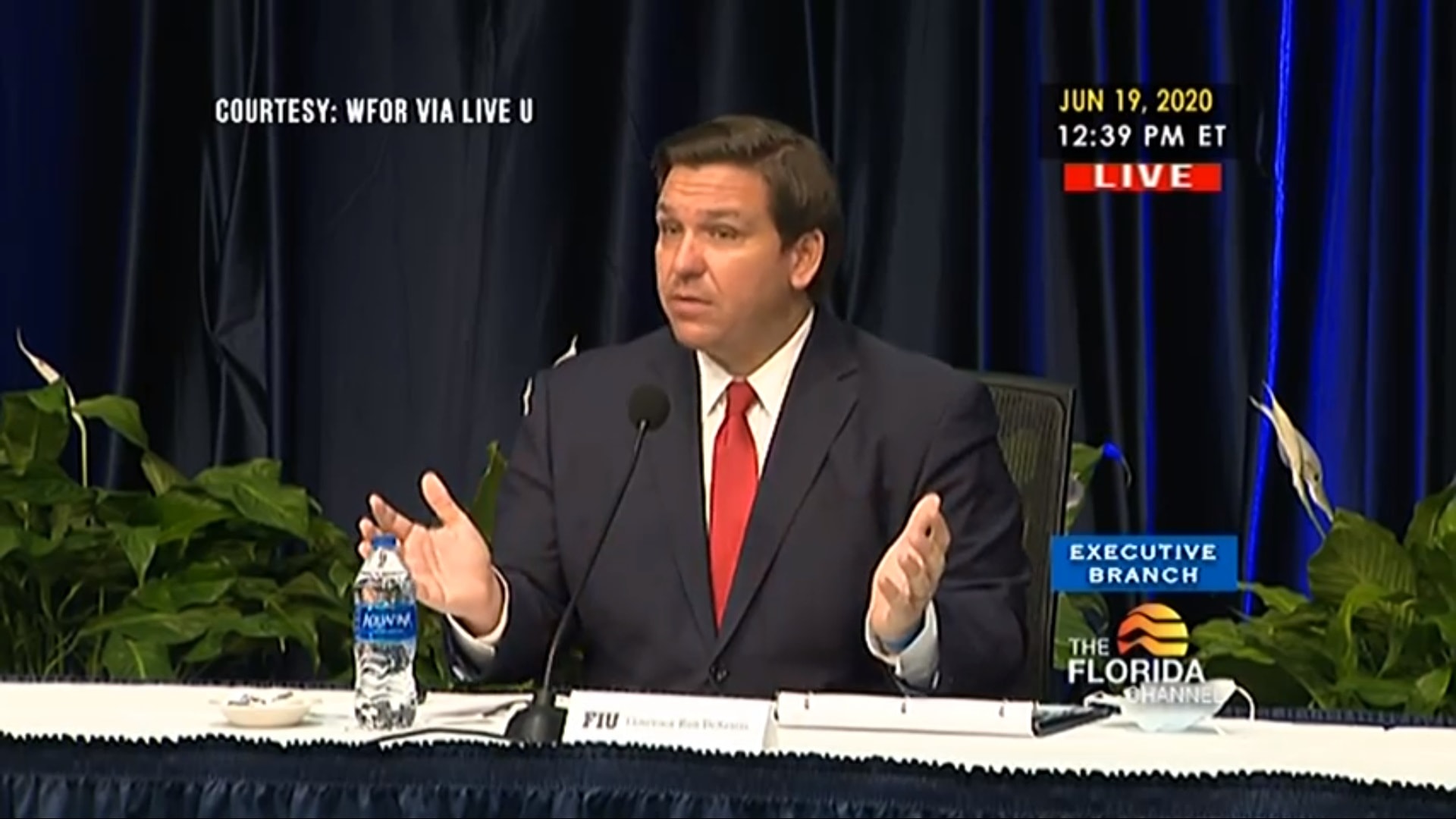 The Governor says there's a "stratification" between young adults and the elderly.
As Florida sees record-setting growth in the number of confirmed COVID-19 cases this week, Gov. Ron DeSantis says the majority of new cases come from young adults.
When access to diagnostic testing was low at the start of the pandemic, the median age of new positives was in the 50s and 60s. But in the past two weeks, the Governor described a drastic shift in the median age toward 37 and younger patients, many of whom are asymptomatic.
"I think that we've started to see some erosion in the social distancing from probably some of the younger population," DeSantis said during a Friday press conference.
That's a shift from messaging the last couple weeks that blamed the growth on expanded testing and migrant farmers and inmates, two groups that don't generally mix with the public. Those factors are still at play, but don't comprise the whole picture.
"At the same time, we have to be honest and say it's skewing younger, but it's also escalating in terms of the positivity, especially in that community," he added.
On Thursday, the statewide positivity rate among people who were not previously known cases reached 10% for the second time this week. The last time that rate was that high was in late April, when health officials first published that metric. Two weeks ago, the rate was 3.2%.
The Governor also cited numbers not immediately available in the daily report. The positivity rate among young adults in particular has increased.
"When the positivity is going up, that's an indication that it's circulating more, at least amongst those age cohorts in the community than it had been previously, so that's something you're watching," he said. "I think you've seen an increase in the positivity the last few days."
The Governor's press office kicked off the evolving message ahead of his appearance at Florida International University with a tweet from spokesperson Helen Aguirre Ferré that highlighted the split pandemics between younger and elderly Floridians.
"In Florida, those testing positive for COVID are younger and affected less severely which is why ICU bed availability is good and deaths remain low," she said.
And in response to a Washington Times article, she stressed that younger patients are at a lessened risk to develop a severe case.
"The younger the demographic, the healthier and stronger they tend to be to fully recover from COVID in a short period of time," she said.
Florida's hospitals have twice as much capacity now than at the start of the pandemic, DeSantis said. But in the state's most populous counties, weekly hospital visits for flu-like and COVID-like illnesses are on the rise.
The developing message didn't change the Governor's Tuesday statements that Florida is not rolling back its reopening progress made to date. Since June 5, Florida has been in Phase Two of three, which includes allowing 100% capacity at retailers and mass gatherings of 50 or less. It also allows bars and movie theaters to reopen, but some chains like AMC are still not opening locations.
To help combat declining social distancing, the Department of Health (DOH) will release public service announcements promoting hygiene.
"If you're just a normal, healthy, younger individual doing things like frequent hand-washing and sanitation, staying home when sick, social distancing and wearing a mask when you can't social distance, those things are very, very important and can help reduce the amount of transmission that we're seeing in those age cohorts," DeSantis said.
The Governor wouldn't go as far as to tie the rise among young adults to protests stirred by George Floyd's death that rocked the nation. DOH had not yet substantiated a correlation, he said, but he offered another reason for the lax voluntary compliance:
"They went through a two-week period watching a lot of people out of doors congregating in massive groups that was on national TV every single day, and I think that that probably sent a signal to some people that say, well OK, well then I need to be able to get on and start doing some other stuff."
In Broward, Duval and Hillsborough counties, Thursday's median age of new cases was in the low 30s. In Orange County, it was 29, and in Seminole County, it was 26.
"I think what you're seeing in Central Florida and Tampa Bay, these are more community cases with younger people and it's passing around the community at a rate that is higher today than it was say maybe three weeks ago," DeSantis said. "So that's something that we've got to dig in for."
DOH reported 3,822 new cases of the virus Friday, a new daily record. In total, 89,748 people have tested positive in the state.