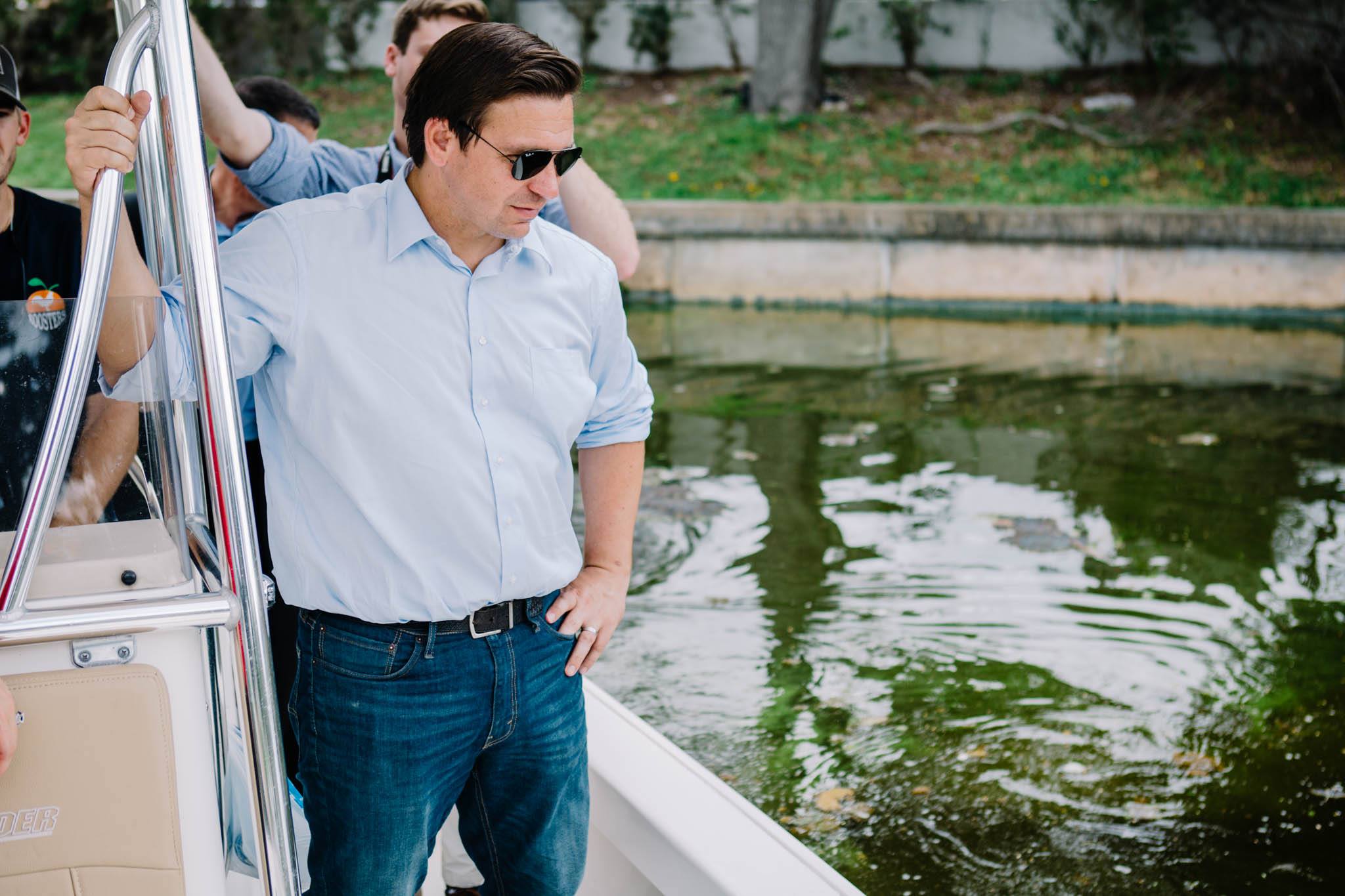 SB 712 was one of two environmental measures signed into law Tuesday.
Gov. Ron DeSantis has signed the Clean Waterways Act, part of the Governor's latest efforts on environmental protection.
The act (SB 712), which the Governor called "probably the most comprehensive bill we've seen in quite some time" during a ceremonial signing in Juno Beach Tuesday, implements several recommendations from the Blue-Green Algae Task Force.
Of those recommendations in the priority legislation are improvements to septic systems, stormwater and agriculture runoff.
"Many wastewater treatment systems in Florida are poorly maintained, and the networks of pipes supporting them have fallen into disrepair," DeSantis said. "As a result of this, even relatively moderate rain events can cause a system to be flooded, forcing a discharge of raw sewage into waterways and estuaries."
In addition to allowing the Department of Environmental Protection (DEP) to preemptively inspect the treatment systems, it would transfer septic tank inspection from the Department of Health to DEP, prioritizing environmental health alongside human health.
Similarly, the act requires the Department of Agriculture and Consumer Services to inspect agricultural sites every two years and keep fertilization records.
DEP Secretary Noah Valenstein noted the commitment DeSantis has made to environmental protection since the start of his term. An executive order on the environment issued on his third day in office created the Blue-Green Algae Task Force to investigate how to prevent algal blooms.
"Under Governor DeSantis' leadership, this legislation is a historic step forward for the state of Florida, which provides a cohesive and multifaceted approach to protecting Florida's waters. My Department's priority is to continue creating tools to promote collaboration among federal, state, and local partners when working towards our shared goal of protection and the preservation of natural resources in Florida," Valenstein said. "SB 712 serves as an essential step in our mission, and I look forward to joining Governor DeSantis and our state's top leaders in our continued efforts to protect Florida's future."
That order also put $2.5 billion over the next four years toward Everglades restoration.
"When the Governor got started, I think everyone was just trying to keep up with him," Valenstein said.
The Blue-Green Algae Task Force says the state needs to regulate sewage treatment and disposal, expand septic tank oversight, implement a stormwater monitoring program and provide transparent reports on water quality. The Clean Water Act advances those efforts.
"Two years in, we have a full-fledged environmental movement going on here in Florida that I think the nation is paying attention to," Valenstein said.
The act, sponsored by Sen. Debbie Mayfield, also puts an end to the "rights of nature" movement, which involves legally declaring that rivers, lakes, forests, estuaries, reefs, or other natural features may have inherent rights against degradation, which can be defended in court.
"I'm so thankful for the leadership of Governor Ron DeSantis and for signing Senate Bill 712," Mayfield said. "This comprehensive legislation addresses the most serious sources of pollution contributing to blue-green algae blooms in our waterways including septic tanks, waste water treatment facilities, stormwater runoff and agriculture."
Everglades Foundation CEO Eric Eikenberg praised DeSantis as an environmental champion, noting the more than $300 million approved with the budget Monday for Everglades restoration.
Also joining in lauding the bill was the state's Chief Science Officer, Dr. Tom Frazer.
"We have an incredible opportunity, through our collective action, to demonstrate to other states in our country and other nations around the world that sound stewardship of natural resources and sustained economic prosperity go hand in hand," he said. "The passage of the Clean Waterways Act and its signing today by the Governor is a demonstrable pledge by the leaders of our state that clean water is a top priority. That bodes well for Florida's future."
And in a post-Session conference, 1,000 Friends of Florida President Paul Owens called the policy an incremental victory and a better place to build from in 2021.
The Governor also signed legislation (HB 1091) raising all sewage spill fines by at least 50% and many civil penalties by 100%. That measure was another named priority this Session.