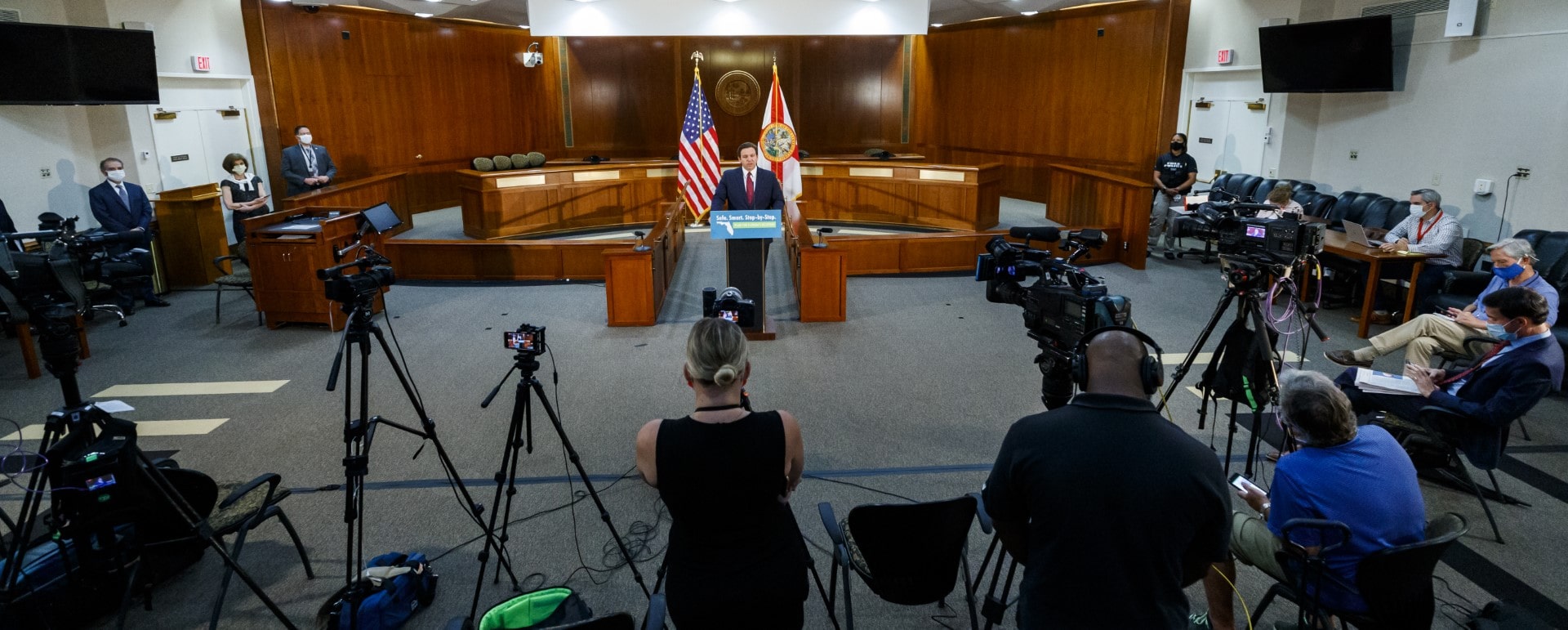 A heckler this week did more to challenge the Governor than reporters have one senator said.
Gov. Ron DeSantis is no stranger to criticizing local and national media coverage of his pandemic response, arguing some of the coverage has been sensationalized. But Senate Democrats took the opposite critique, arguing reporters haven't done enough to hold the Governor accountable during his press conferences.
When a Miami Herald reporter noted during Senate Democrats' Wednesday press conference that the Governor has largely ignored previous requests by the minority party, Sen. Perry Thurston flipped the question on its head in defense of his caucus' efforts.
"I noticed that during the Governor's press conferences, you all in the media ask questions of the Governor as well, and sometimes, I'm wondering are the questions going to be more direct from you all as well," the Fort Lauderdale Senator said.
Thurston also noted a heckler who interrupted DeSantis by shouting, "Shame on you!" at the start of his conference in Miami Monday. That heckler "provided more interaction and incitement in challenging" the Governor, he said.
"When I hear the press conferences, I'm listening, and all I see is the same-old-same-old, him giving excuses, you all asking a question, and him deflecting as if there's absolutely nothing wrong," Thurston added.
Florida Democrats have made a growing list of requests to DeSantis about COVID-19, most of which have gone unanswered. Among other demands, Democrats have called for a Special Session on the virus, a mask mandate, data transparency and a meeting regarding the virus' resurgence.
Meanwhile, the Governor implemented a month-long safer-at-home order, partly meeting a Democratic request, before revealing reopening plans Democrats say moved too quickly. He has also repeatedly extended the moratorium on evictions and foreclosures. However, he gave no credit to Democrats for either of those orders.
Nevertheless, Democrats have sent repeated letters to administration officials and plan to make their own press conferences responding to the Governor's briefings a regular occurrence.
"If we're in Tallahassee, we're holding our mics up, we're standing up, we're saying that this is ridiculous, and this is beyond the pale," Thurston said. "We are past being upset about this."
When the Facebook Live stream closed and Senators believed they had the Zoom room to themselves, they began sharing their private thoughts. But reporters who had connected through Zoom were still connected to the meeting.
Sens. Janet Cruz and Lori Berman agreed the press conference went well.
"We should show up and heckle. That's how we should get our message across," Braynon quipped. "We should all show up at his press conferences with press credentials and heckle him."
During the conference, Cruz had taken an animated and personal approach by invoking her 87-year-old mother and deeming "herd immunity" as a strategy for "impala on the African plains." But after the press conference, she started to take aim at the question by the Miami Herald reporter.
"Samantha (Gross)' question kind of pissed me off a little bit because she was basically saying, 'Don't waste your time,'" Cruz began before a Senate aide cut her off. The aide then began removing unwanted participants from the Zoom call.
"It's ok, it doesn't matter. It's the way I feel. I don't care. Write about it," she joked.