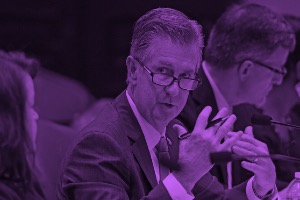 Boyd nabbed one of the biggest prizes in Florida politics.
Gov. Ron DeSantis threw his support behind Bradenton Republican Jim Boyd for Senate.
"Jim is a proven, conservative leader who will fight to balance the budget, keep taxes low, secure the border, and protect our waters and quality of life," DeSantis said.
"I'm proud to stand with Jim because I know he will stand with Florida's hardworking families."
It's not the riskiest of endorsements. Boyd, a former Representative, remains the heavy favorite in the race to succeed Senate President Bill Galvano in District 21.
"Governor Ron DeSantis is leading our state through these extraordinary times, balancing the health of all Floridians with the health of our economy and I am honored to have his support," Boyd said.
Galvano and incoming Senate Republican leadership already endorsed Boyd. So too did the Florida Chamber of Commerce.
Still, he faces both a Republican in the primary and, if he wins, a Democrat in November.
Perennial Senate candidate John "Mr. Manners" Houman jumped into the race in June, and has presented himself as a voice for small business and civility.
Meanwhile, Hillsborough educator Amanda Linton was the first to jump into the race more than a year ago on the Democratic side.
As of July 10, Boyd had $125,507 cash on hand. That was after spending $43,601 in the past few weeks, including nearly $1,800 on campaign signs, more than $24,000 on mailers and more than $10,000 on digital advertising.
Houman reported no financial activity other than a $2,500 loan used to pay his qualifying fee.
Linton, who faces no Democratic primary challenge, has spent considerably less and is sitting on about $7,700.