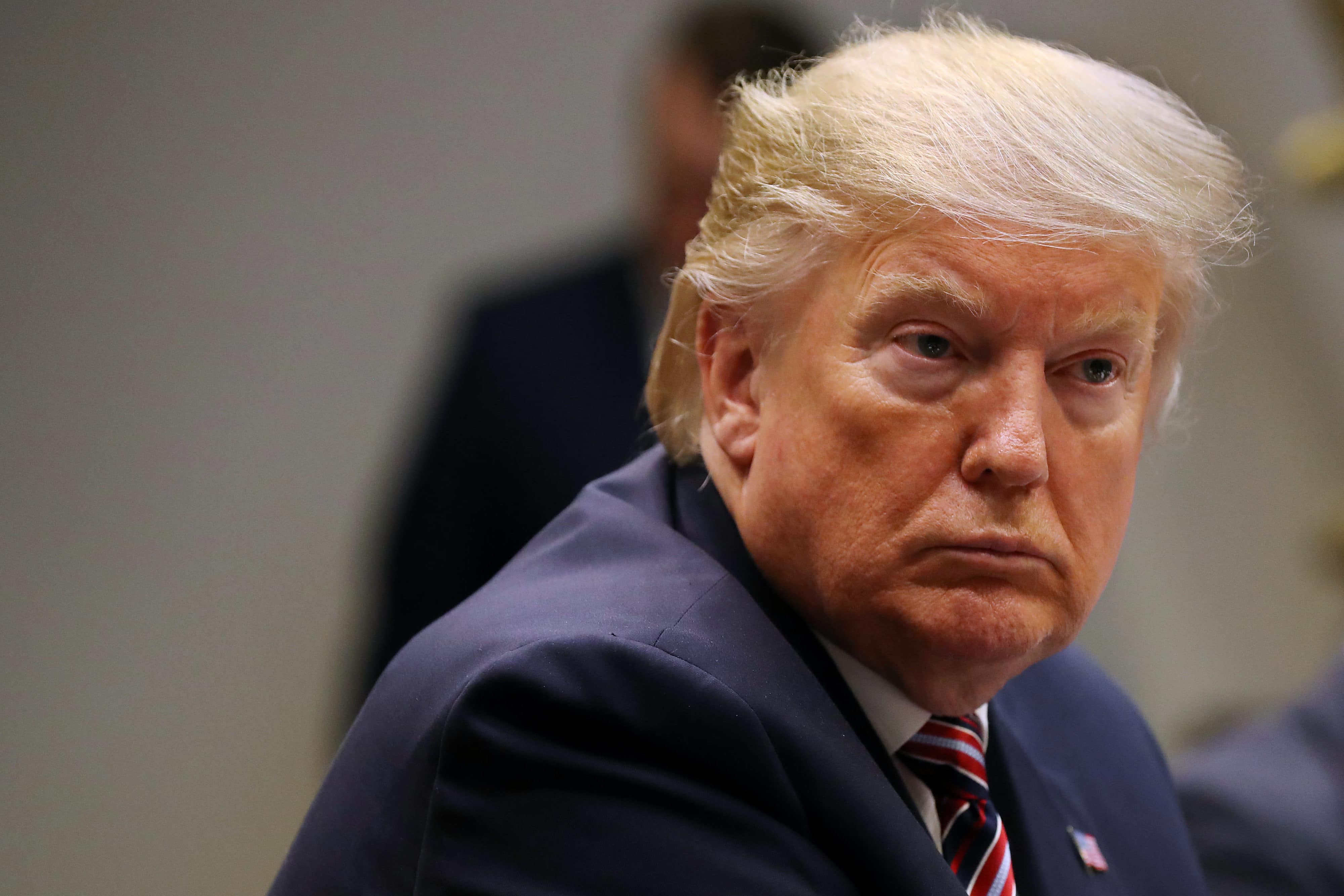 The group said Trump's words embolden hate and violence.
Three members of Congress from South Florida are hammering the President over comments he made at Tuesday's debate where he failed to clearly denounce White supremacists.
Those three Representatives, all Jewish, spoke in part about how President Donald Trump's remarks impacted the Jewish community, which has faced a series of major violent attacks in recent years.
Reps. Ted Deutch, Lois Frankel and Debbie Wasserman Schultz made the remarks on a Thursday virtual conference hosted by the Joe Biden presidential campaign.
"He's willing to embolden the forces of White supremacy," Wasserman Schultz said of Trump. "We face a real and serious threat of domestic terrorism in this nation. We've seen it over and over and over again, and we've experienced it in the Jewish community in particular."
When asked to condemn White supremacy generally — and to condemn the violent right-wing Proud Boys specifically — Trump told the group Tuesday night to "stand back and stand by."
He added, "But I'll tell you what, I'll tell you what, somebody's got to do something about antifa and the left because this is not a right-wing problem." Trump also told moderator Chris Wallace he had no problem denouncing White supremacists, but failed to clearly do so when pressed.
Frankel called Trump's comments "horrifying." Wasserman Schultz called them "appalling."
Deutch, who sits on the House Foreign Affairs Committee, framed the issue in terms of America's foreign policy.
"Foreign policy has to be consistent with our moral leadership. It's the President who sets that tone. And Donald Trump's behavior makes us weaker on the world stage," Deutch argued.
"When Donald Trump says 'stand by' to the Proud Boys, international leaders see that. They know what it means. They're just as concerned as we are that Trump's word can lead to violence. I heard it from members of Parliament from several countries this week after the debate."
Trump attempted to clean up his comments Wednesday, telling the Proud Boys to stand down and allow law enforcement to handle any violent protesters. But Wasserman Schultz argued the cat was already out of the proverbial bag.
"The Proud Boys didn't miss the message from Donald Trump. They heard a rallying cry," she said Thursday. "These extremists are swearing their allegiance to Trump and using his words to activate and energize their violent followers."
Indeed, Amazon and EBay have now blocked Proud Boys merchandise featuring Trump's "stand back and stand by" comments as a slogan.
White House Press Secretary Kayleigh McEnany refused Thursday to clearly state anew that the White House condemns white supremacy. She instead pointed to previous comments by Trump in the past where he condemned the ideology. McEnany declined to offer any new remarks in light of the confusion set off by the President's debate night response.
Wasserman Schultz sees Trump's hedging as a pattern.
"I consider it my distinct responsibility as a Jewish woman to make the world a better place, reflecting upon our values, and speak out against injustice — as our values teach us — wherever I see it," Wasserman Schultz said. "Trump has that chance to speak out against injustice and once again like clockwork, he refused."
South Florida Sun-Sentinel's Anthony Man asked the Representatives whether they consider Trump to be a White supremacist.
"Plain and simple, I think Donald Trump is a racist," Wasserman Schultz argued. "I think he's repeatedly demonstrated he's a racist."
Deutch demurred, arguing he can't speak to what's behind Trump's comments but that they are concerning nonetheless.
"I don't need to explore exactly how Donald Trump feels," Deutch said. "We need to look at what he does and what he says and what he encourages. And that's what ought to concern all of us."
Frankel labeled Trump's immigration policy and COVID-19 response — which has disproportionately affected minority communities — as racist, but declined to call him a racist directly.
Frankel did have harsh words for her Republican opponent in the race for Florida's 21st Congressional District, Laura Loomer.
Loomer has caused controversy for her anti-Muslim remarks and other antics. She supported Hallandale Beach Commissioner Anabelle Lima-Taub after Lima-Taub claimed Rep. Rashida Tlaib of Michigan, a Muslim, might "blow up Capitol Hill." Loomer was also banned from Twitter after calling Minnesota U.S. Rep. Ilhan Omar "anti-Jewish."
Frankel argued the President encouraged Loomer's actions.
"He doesn't just embolden the Proud Boys. He's given permission to a new generation of hateful Republicans just like my General Election opponent here, and these folks spew the same toxic message," Frankel said.
"Who was at her primary night election [celebration]?" Frankel asked rhetorically of Loomer. "Roger Stone and the Proud Boys founder Gavin McInnes, who spoke on her behalf. So this is not something that's just happening in Georgia or Colorado. We see the effects of Trump's character right here in Palm Beach County."
Frankel argued the issue should be in the forefront of voters' minds not just this November, but beyond.
"It's not just enough to win this election. We need to restore dignity to the entire political system and oust extremists and conspiracy theorists from our culture."
Last updated on October 1, 2020