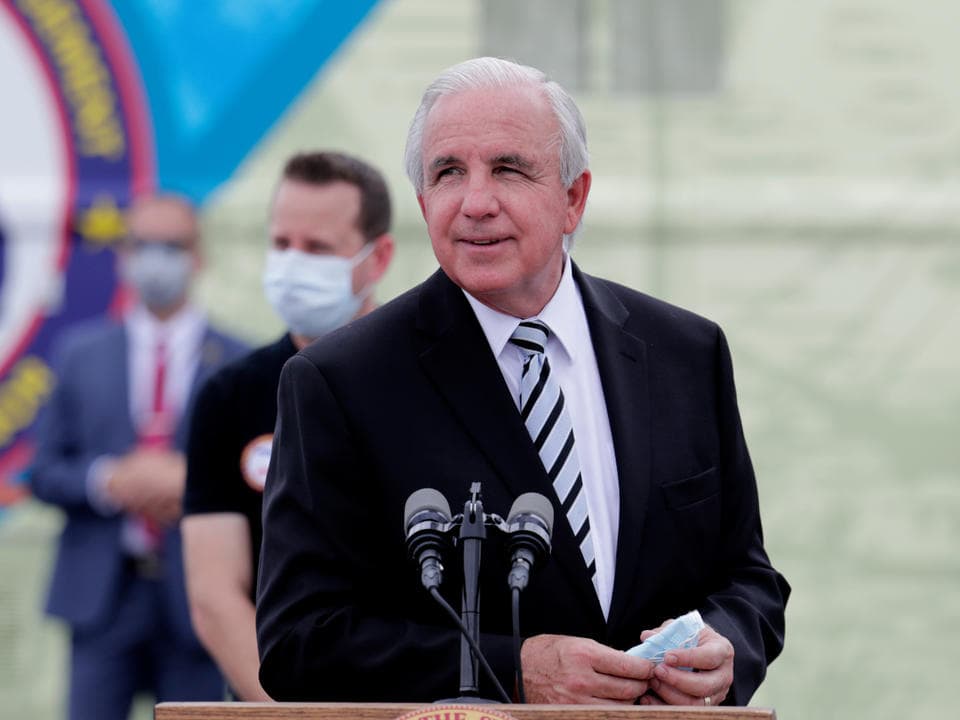 Gimenez is seeking to oust Democratic Rep. Debbie Mucarsel-Powell.
A new Spanish radio ad from the Democratic Congressional Campaign Committee (DCCC) is targeting Republican candidate Carlos Giménez in the race for Florida's 26th Congressional District.
Giménez, the current Miami-Dade County Mayor, is challenging incumbent Democratic Rep. Debbie Mucarsel-Powell for that seat. The new DCCC ad mostly repeats claims from a previous DCCC spot released late last month.
The group goes after Giménez for extending a contract at Miami International Airport with Munilla Construction Management (MCM), one of the firms behind the FIU bridge which collapsed, killing six people. That extension allowed MCM to complete already existing work at Miami International Airport after the collapse.
The extension was separately approved by the Miami-Dade County Commission, however.
The new ad also attacks Giménez for backing a pay raise, which boosted his annual salary by $100,000.
That's true, though it's missing important context. Giménez secured a 67% pay raise in 2018, which pushed his pay from $150,000 per year to $250,000 per year. But years earlier, upon taking office in 2012, he followed through with a promise to cut the Mayor's salary in half. His predecessor earned $300,000 annually.
So while Giménez did secure a pay raise later into his tenure, it's still a net reduction of where the Mayor's salary sat prior to taking office.
Giménez spokesperson Nikki Rapanos has previously called similar claims "lies that have already been proven false."
The ad is titled "Sinvergüenza." That roughly means "scoundrel" in English.
"Corrupt Carlos Giménez has a clear pattern of shamelessly abusing his position to enrich himself and his family," said DCCC Spokesperson Fabiola Rodriguez.
"And now he's running for Congress to take his corrupt scheme national. Why would Florida families ever send this 'sinvergüenza' to Congress?"
Both the DCCC and the Mucarsel-Powell campaign have tried to make the Mayor's two-term tenure an issue in the campaign. Mucarsel-Powell has repeatedly criticized his leadership during the COVID-19 pandemic, arguing his decision to reopen the county in May led to a temporary spike in cases over the summer.
The race is expected to be tight this November. Mucarsel-Powell won the CD 26 seat in 2018 by just 2 percentage points over then-GOP Rep. Carlos Curbelo. The DCCC has also placed Mucarsel-Powell in its Frontline Program, which funnels resources to potentially vulnerable Democratic incumbents in the House.
The district covers portions of Miami-Dade County as well as Monroe County.