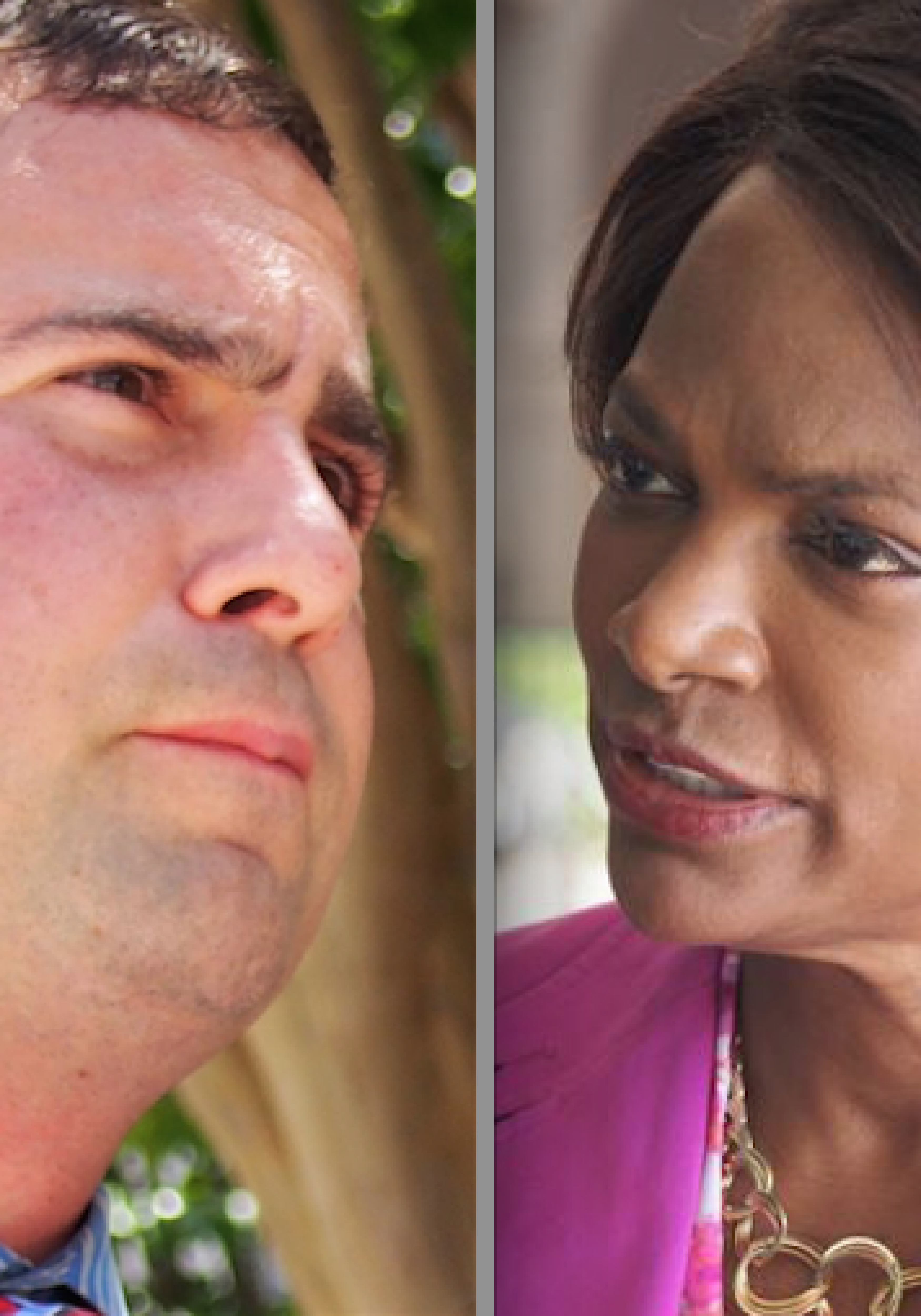 Soto defeats Bill Olson in CD 9; Demings defeats Vennia Francois in CD 10.
Democratic Reps. Darren Soto of Kissimmee and Val Demings of Orlando won third terms in Congress Tuesday night.
Demings, who spent much of past year in the national spotlight, easily dispatched a formidable Republican challenger in lawyer and former congressional aide Vennia Francois to win Florida's 10th Congressional District in western Orange County.
Soto, Florida's only Puerto Rican congressman, defeated Army veteran Bill Olson to win Florida's 9th Congressional District representing southern Orange County, Osceola County, and eastern Polk County.
Unofficial early results showed Demings leading Francois 64% to 36% in CD 10.
Soto was topping Olson 53% to 47% in unofficial early returns for CD 9. Olson actually was winning in Polk but Soto rolled up big vote leads in Osceola and Orange.
Demings had become one of the strongest and harshest critics of President Donald Trump even before she played starring roles on the House Judiciary and Intelligence committees that led to his impeachment, and before she became one of the Democrats' lead prosecutors in his trial before the Senate in January.
That propelled the former Orlando police chief high into the running as a potential vice presidential candidate for six months. However, she never quite was favored over the ultimate nominee, Sen. Kamala Harris of California.
She ran a modest reelection campaign. As a career cop and former police chief, Demings found herself becoming a dominant voice in Central Florida and nationally for calls for racial equality and criminal justice reform, issues she'd always pursued. The messages had broad appreciation in CD 10, which has Central Florida's largest African American community.
Francois came into the race early this year with a strong pedigree, experience from a previous run and as a Senate and House staff member. However, she showed less experience in reading the CD 10 electorate, and sought to attack Demings as being a Washington insider and as anti-Trump. That only worked for Demings in CD 10, which has an overwhelming Democratic electorate.
Now with the business of winning reelection out of the way, a new question likely will follow Demings: If Democrat Joe Biden wins the presidency, might she serve her term?
She also serves on the House Homeland Security committee. Some of her loyalists already are trying to create buzz to support a Homeland Security Secretary appointment, or some other Cabinet or White House appointment under Biden.
Soto may have had his easiest election yet in CD 9. It also has a significantly Democratic electorate, and Central Florida's largest Hispanic community, largely Puerto Rican. In past elections, Soto had to scuffle through highly-contentious primaries, then won the General Elections by underwhelming margins.
This year Soto ran on a platform of completing business, to provide relief for unemployed residents and businesses suffering during the coronavirus crisis, for environmental protection, to help Puerto Rico, for high-tech and manufacturing economic development, and for health care protections.
Like Francois, Olson ran a campaign largely supporting Trump's messages and policies.
CD 10 is a mix of old-Florida rural areas and small towns, and suburban sprawl and rapidly-growing Hispanic communities. Olson's message might have taken some root in the old-Florida areas that are deeply Republican and generally dictate the winners of CD 10 Republican primaries. But the platform fell flat in the increasingly-dominant suburban and Hispanic communities.