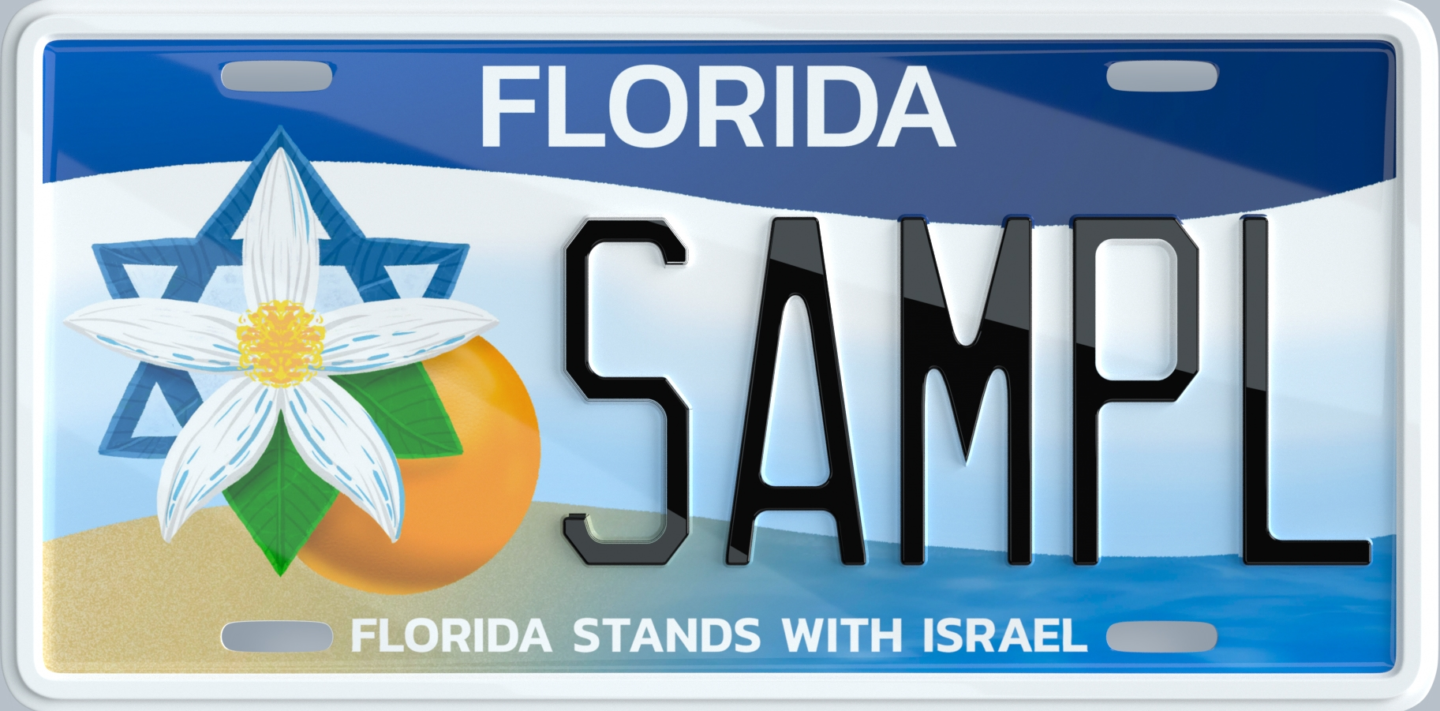 The specialty license plate was one of dozens approved this year.
After a public design contest, the Israeli-American Council has selected a winning design for the state's "Florida Stands with Israel" specialty license plate.
Bocan Raton artist Daniel Ackerman created the design, topping 100 designs ranging from school children's concepts in crayon to highly technical designs by professional artists.
"The concept focuses on Florida's state flower — the orange blossom," Ackerman said. "The beauty of this flower contrasted against the Star of David in the form of a tropical leaf, represents the Florida-Israel relationship and the fruit this partnership bears, ultimately benefiting both states. The symbol interacts with the two waves on top and bottom giving nod to the Israeli flag, Florida's sandy tourist destinations, and Israel's deserts in bloom."
Israeli-American Council CEO Shoham Nicolet and IAC for Action Board Chairman Shawn Evenhaim lauded Florida's relationship with Israel, which includes $4.5 billion in exports to Israel since 1996. Exports in 2018 were $400 million.
More than 120,000 Israeli Americans call Florida home.
"The community came together to participate in this design contest, to celebrate the Florida-Israel relationship and to demonstrate their pride in their Israeli heritage. Thank you to everyone who contributed designs, and congratulations, Daniel Ackerman, on your winning design," they said.
The state opened the door to a "Florida Stands with Israel" plate this year along with dozens of other new plates, the first batch of new designs in years. Gov. Ron DeSantis signed the bill (HB 1135), which lawmakers approved unanimously, into law on the eve of Rosh Hashanah.
Then-House Minority Leader Kionne McGhee and Republican Rep. Scott Plakon filed the initial language creating the plate. They served on the panel of judges with Sen. Aaron Bean, Sen. Lauren Book, former Rep. Jamie Grant — who sponsored the legislation — and Bal Harbour Mayor Gabe Groisman.
Ninety percent of funds raised by the special plates will go to Hatzalah of Miami-Dade Inc., a nonprofit that deploys local paramedics to slash response times, to assist in training and deploying first responders. Pre-sale vouchers are available at floridastandswithisrael.com, and production will begin when 3,000 vouchers are sold.