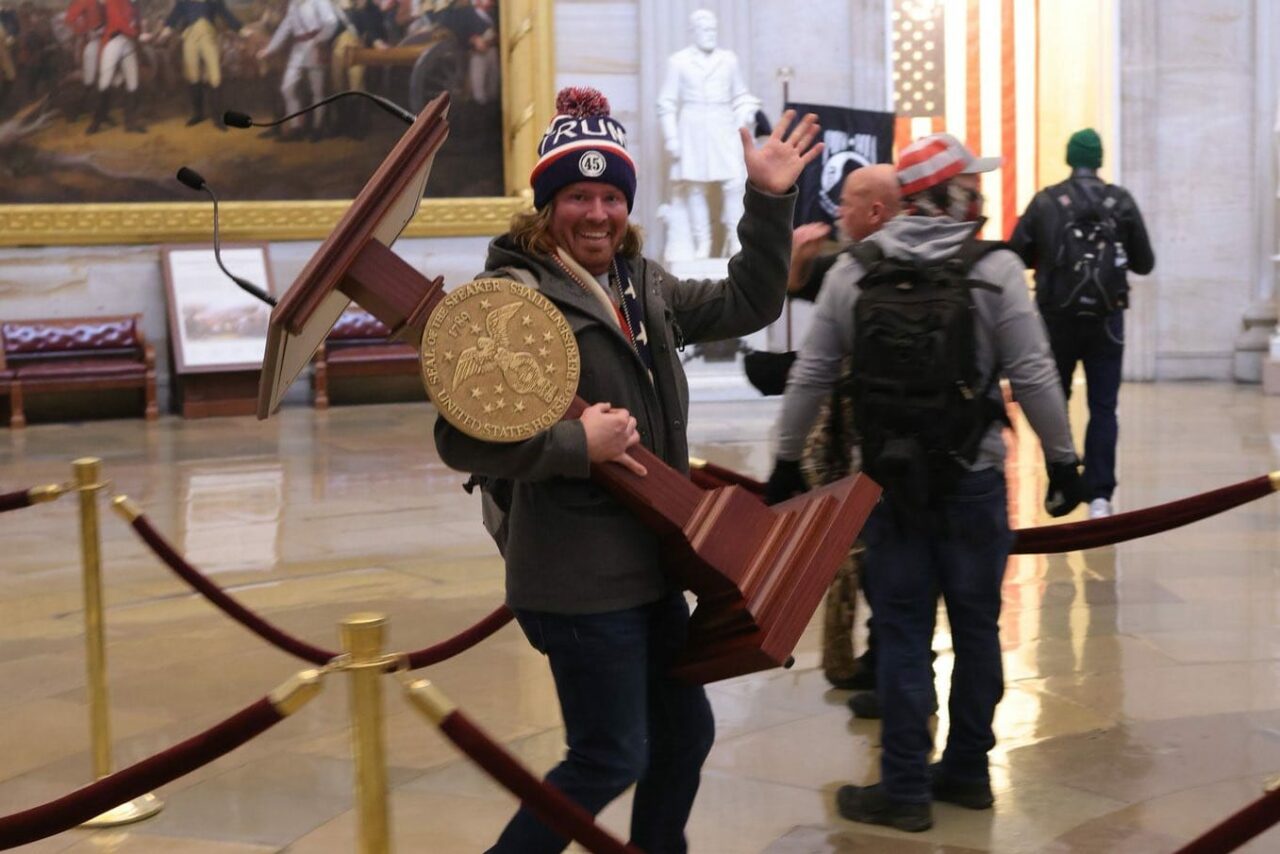 The 36-year-old is being held on a federal warrant.
Pinellas County jail has booked the man photographed gleefully carrying House Speaker Nancy Pelosi's lectern during the breach of the Capitol on Wednesday.
Adam Christian Johnson was booked Friday night on one charge, and is being held on a federal marshal warrant, according to Pinellas County jail records.
The 36-year old is awaiting trial.
Johnson garnered national attention after being photographed at the Capitol riots. The now infamous photo shows Johnson carrying Pelosi's lectern and waving at the camera. The internet has since turned the image into a meme sensation, including one replacing Johnson's face with Hollywood superstar Leonardo DiCaprio.
The pro-Donald Trump riots Wednesday led to the death of five individuals and left the country shaken. The armed-mob stormed the Capitol, leading to the evacuation of members of Congress.
Johnson is one of a growing list of Florida men arrested in relation to the events at the Capitol Wednesday.
Riverview man Matthew Council was arrested Wednesday as Trump supporters breached the Capitol building. Council was arrested for unlawful entry, according to the Capitol Police.
Capitol Police arrested two other Floridians on unlawful entry charges — Michael Curzio of Summerfield and John Anderson of St. Augustine.
The head of the U.S. Capitol Police defended his department's slow response to the breach, saying Thursday that officers "acted valiantly when faced with thousands of individuals involved in violent riotous actions." Washington D.C. Mayor Muriel Bowser called the police response "a failure," according to AP. Police Chief Steven Sund is expected to resign later this month over his department's response.
The riots, and Trump's ensuing response, have led many lawmakers to call for the removal of the President under the 25th Amendment, including House Speaker Nancy Pelosi. Articles of impeachment could be brought to the House floor as early as Monday.