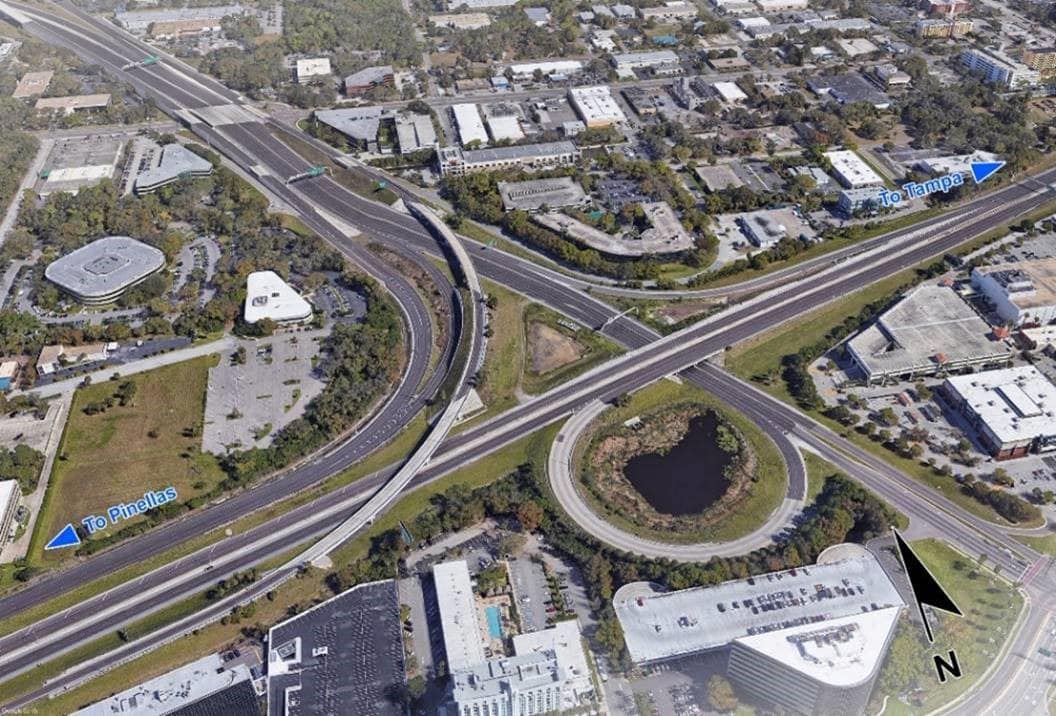 The project was delayed from 2024 to 2026 due to COVID-19 budget cuts.
Nearly 50 Tampa Bay business and community leaders have joined to urge the Florida Legislature to restore the 2024 construction start date and associated funding for the Westshore Interchange.
In a letter spent to House Speaker Chris Sprowls, the business owners request lawmakers restore the project, and its associated funding, to its original schedule.
The Westshore Interchange is the primary connection point for residents of Hillsborough, Pinellas and Pasco counties, linking the Veterans Expressway, State Road 60 and Interstate 275. However, the Florida Department of Transportation delayed the $1.4 billion project from 2024 to 2026 because of COVID-19-related budget cuts.
Gov. Ron DeSantis originally announced $1.4 billion to reconstruct Tampa's Westshore Interchange on Oct. 24, 2019. It would be the largest transportation project funded in FDOT District 7's history.
In the letter to Sprowls, Senate President Wilton Simpson and Senate Appropriations Chair Kelli Stargel, business leaders define the interchange as "our region's most important transportation project."
The group of business leaders who signed the letter include Tampa Bay Lighting owner Jeff Vinik, Tampa Bay Rays President Brian Auld and Ashley Furniture owner Ron Wanek, who were joined by 43 other individuals in sending the letter.
"With the delayed start, and the scheduled completion pushed back to 2030, the region will suffer from huge transportation delays and dangerous bottlenecks that negatively impact commuters and commerce, including passenger and freight access to Tampa International Airport," the letter says.
The lane additions and improvements from the project are expected to help alleviate traffic in the busy corridor that shoots commuters out into a variety of different directions including across the Howard Frankland Bridge to Pinellas County, into Tampa from the bridge along I-275, toward the airport and into the busy Westshore business district that includes more than 4,000 businesses.
The project is also expected to reduce traffic related to bottlenecks where commuters move from several lanes into just one or two in order to get to their destination.
"As our community faces the difficult pandemic recovery ahead, we need to remove hurdles to our economic growth rather than self-inflict them," the letter says.
Business and civic organizations in support of the Westshore Interchange project include a number of regional organizations, such as the Tampa Bay Partnership, Tampa Bay Chamber, St. Petersburg Area Chamber of Commerce and Tampa Bay Economic Development Council.