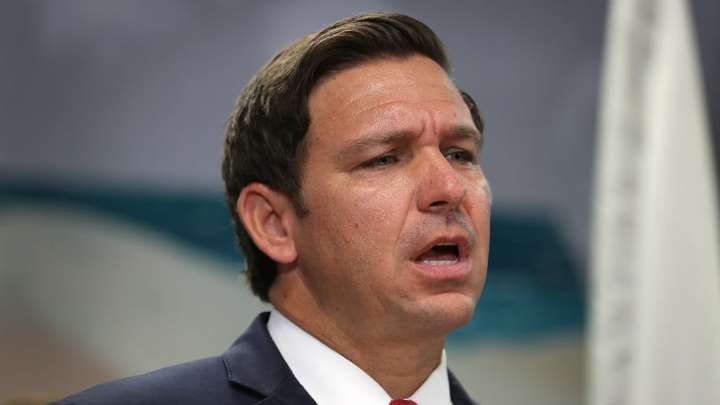 DeSantis stands with Tom Brady.
Gov. Ron DeSantis offered a Super Bowl prediction Wednesday, and it's bound to hearten fans of the hometown Tampa Bay Buccaneers.
Speaking Wednesday in Pahokee, DeSantis predicted a Tampa Bay Buccaneers Super Bowl victory.
"Tom Brady, it will be his seventh Super Bowl and the only time a team has ever won in their home stadium in the Super Bowl, and so, I think a 43-year-old quarterback who was already in my judgment the 'GOAT' coming here and winning will be one of the greatest team sports achievements of all time, in fact in NFL history, if they can do it. You would say 'Dolphins undefeated' and the Bucs with Brady, maybe two of the best."
For the Governor, this enthusiasm for the "Tompa Bay" era of Buccaneers football has been a recurrent theme.
Back in May, DeSantis said he was "really excited" about the Tom Brady era, saying the Bucs had the look of a Super Bowl contender.
"Tom, he works his butt off," DeSantis said, decrying "too many turnovers" by Jameis Winston in 2019.
The Governor's enthusiasm only increased as the Buccaneers melded as a team, with veterans at offensive skill positions and a voracious defense leaving room for error on the other side of the ball.
DeSantis said in October that the Buccaneers could win it all.
"Because you got to bet on Tom Brady making it to the Super Bowl. I would never bet against Tom Brady. So it could be a very exciting few months," DeSantis speculated.
After the Bucs defeated the Green Bay Packers to earn the right to play in the home stadium Super Bowl, DeSantis again doubled down on his Brady affinity.
"In politics if you want a friend, get a dog. In football if you want to go to the Super Bowl, get a GOAT," DeSantis tweeted.