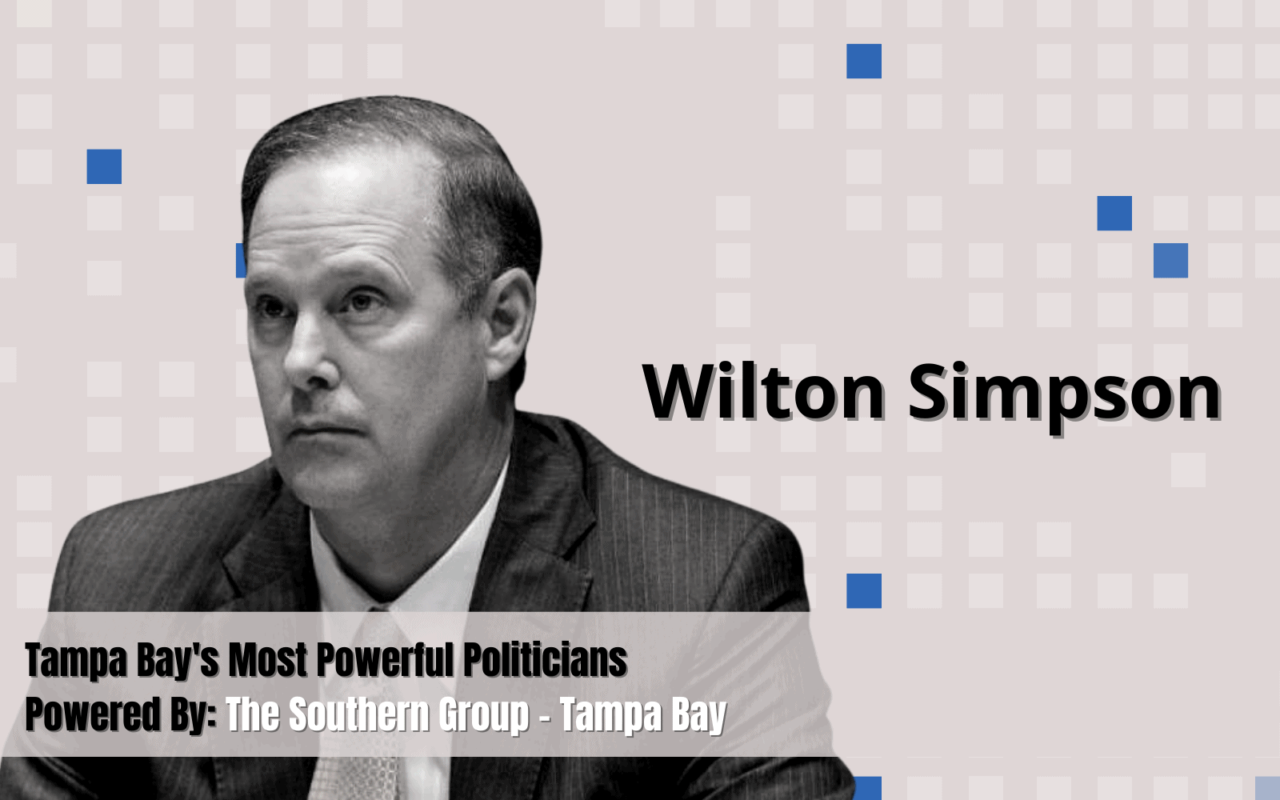 Simpson wields his gavel as Senate President as the state faces tough budget decisions.
Senate President Wilton Simpson held onto his No. 3 spot on the list of Tampa Bay's most powerful politicians after climbing from No. 5 in 2019.
As head of the Legislature's upper chamber, Simpson wields considerable influence throughout Florida and maintains power over the Tampa Bay region by setting policy and funding priorities.
"President Simpson has started his tenure with a great bipartisan effort, and that's critical to the success of our swing district region in Tampa Bay. He understands that the best policy outcomes reflect input from all sides, and crafting workable solutions for all Floridians means having an open door. He is off to a good start for Tampa Bay and Florida," said former Rep. Shawn Harrison.
While Simpson has been a steward of conservative policymaking, backing bills protecting or expanding gun rights in Florida, he has also been a friend to pro-environment Democrats by supporting water quality improvements and funding in the state.
Before taking the gavel, Simpson helped secure $2 million to clean up the Homosassa River and another $10 million to restore the Kings Bay habitat. Simpson also supported record funding for restoration in the Florida Everglades and voted in favor of restoration projects for all of Florida's natural springs.
He also supported bans on offshore oil drilling.
Most recently, Simpson called for more restoration funds to go to areas north of Lake Okeechobee as most of the focus has so far been on the south side of the lake, which often faces harmful algal blooms that are released from the lake and contribute to red tide outbreaks.
But this year, as Senate President, Simpson's role is both sweeping and daunting. As the state faces a $3.3 billion revenue shortfall, crippled by COVID-19-related losses, particularly from the state's usually booming tourism industry.
Simpson will be forced to make tough budget decisions to accommodate the ongoing economic crisis facing the state while still ensuring adequate resources for Florida residents, both in his home region and throughout the state.
Simpson has already said that water quality spending won't be affected by budget cuts."
Unlike his counterpart in the House, Speaker Chris Sprowls, Simpson tempers his conservatism at times to work across the aisle. Ahead of the 2021 Legislative Session, Simpson named three Democrats to committee leadership posts, including Tampa Sen. Darryl Rouson to chair the Agriculture Committee, Plantation Sen. Lauren Book to lead the Children, Families, and Elder Affairs Committee, and North Miami Beach Sen. Jason Pizzo to chair the Criminal Justice Committee.
Simpson has also taken a measured approach to COVID-19 precautions, often implementing rules stricter than those imposed in the House. Those include reserving rooms for the public to view committee meetings while still practicing social distancing and a partnership with Florida State University to provide remote testimony for those wishing to address senators during meetings.
Simpson also limited concurrent committee meetings to three to promote social distancing.
"Have you ever seen a Senate President who cares more about Florida's future? From taking care of the environment, to foster care reform, Wilton Simpson leads our state with a passion. He believes in Florida's roots and has a strong sense of duty, with a plan to leave this state better than he found it," said Seth McKeel, managing partner for Southern Group in Tampa Bay.
Simpson, an egg farmer by trade, is also backing a bill this year to expand protections for "agritourism" in the state by restricting the types of civil lawsuits individuals can bring against farming activities.
That protection mimics other bills Simpson supports to implement liability protections for businesses and health care providers against COVID-19-related suits, a measure Republicans support. Still, many Democrats worry would offer blanket immunity to bad actors.
Simpson's support for another bill, one that would crackdown on violent or otherwise destructive protests, shows that even though he sometimes takes a moderate approach to leadership, he's still willing to carry the conservative torch.
The measure, SB 484, would enhance penalties for defacing public monuments, make it a crime to destroy memorials, and would require mandatory restitution for the cost of repairs or replacement to those memorials. It would also criminalize a process known as "doxing," in which individuals post private information on public forums like social media if the information was shared with the intent to "threaten, intimidate, harass, incite violence … or place a person in reasonable fear of death or great bodily harm."
Gov. Ron DeSantis proposed the measure ahead of the Jan. 6 insurrection at the U.S. Capitol but afterward spotlighted the attack as a reason to pursue the legislation aggressively.
Democrats have come out against the bill, noting that it is "overkill" and an effort to quash Black and Brown residents' voices. DeSantis floated the proposal in response to protests against police brutality that peaked in the summer after George Floyd's death at the hands of Minneapolis police.