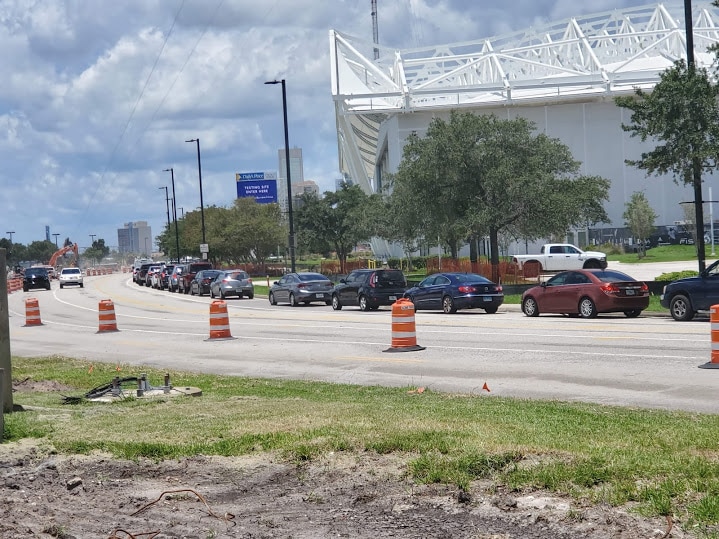 Positive testing rates are soaring throughout the region.
The five-county First Coast region has tallied more than 97,000 cases of COVID-19 and topped more than 1,300 deaths caused by the pandemic, according to Florida Department of Health data released Monday.
There have now been 97,645 COVID-19 infections in Northeast Florida and 1,161 deaths caused by the affliction. The First Coast positivity test rate also exceeded 15% in every county except one and the average positive test rate for all counties was 17.26% Monday. Only St. Johns County did not break the 15% mark and it still had a 12.93% positivity rate for those people getting coronavirus tests.
Jacksonville broke the 64,000 mark for infections Monday with a total of 64,225. Jacksonville has now recorded 753 deaths due to the pandemic.
Jacksonville's positivity rate Monday was 15.05%. That's the second highest rate in Jacksonville for the past two weeks with the highest positivity rate at 22.48% recorded on Dec. 28, a day that saw unusually high rates throughout the state and turned out to be a single day anomaly. Jacksonville's rate has been below 10% only once in the past half month when on Dec. 24 it was 9.06%.
Clay County now has 11,886 infections and 188 deaths caused by COVID-19. The positivity rate in Clay was 16.09% Monday. Clay has been averaging a 14.82% daily positive test rate since Dec. 21 with the highest rate of 24.73% recorded on Dec. 28, again when rates were unusually high. Clay's positivity rate has not dipped below 10% in the past half month.
St. Johns County recoded 13,858 cases of COVID-19 as of Monday with 117 deaths. St. Johns has averaged a positivity rate of 13.35% in the past two weeks. Since Dec. 28, St. Johns has recorded a positivity rate of more than 10% every day. But it dipped blow that level on Dec. 23 and Dec. 25 with positivity rates of 9.38% and 9.57% respectively.
Nassau County now has 5,124 cases since the outbreak began and 67 deaths with a 23.84% positivity test rate as of Monday. Nassau has averaged a daily positivity test rate of 19.27% in the past two weeks falling below 10% only once on Dec. 24 when it was 7.9%.
Baker County recorded 2,552 total infections as of Monday with 36 deaths, a figure that hasn't change since Dec. 15. The positivity rate in Baker is 18.37% and that county has averaged a 17.83% positivity rate since Dec. 21.
There are now 1,376,692 cases of coronavirus in Florida and 22,415 deaths attributed to the affliction across the state.